Cedars-Sinai Study Indicates That Parkinson's Disease May Start Before Birth
Edward Kim Follow |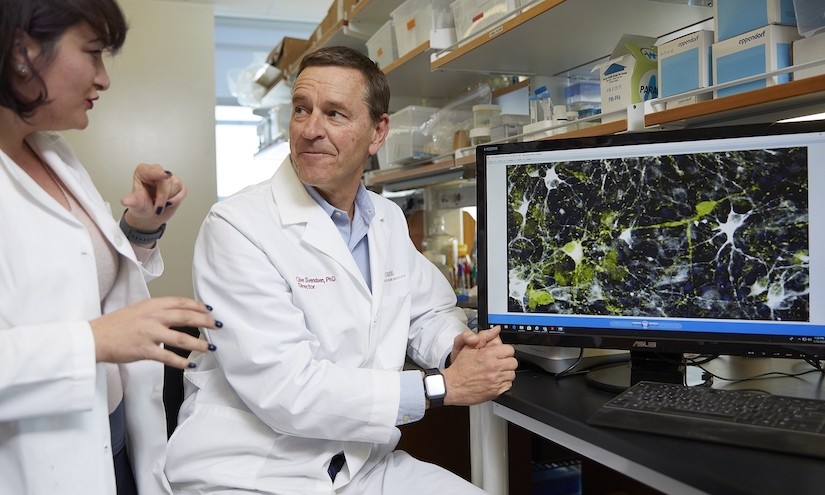 Image: Nur Yucer, PhD, a project scientist, and Clive Svendsen, PhD, director of the Cedars-Sinai Board of Governors Regenerative Medicine Institute and Professor of Biomedical Sciences and Medicine at Cedars-Sinai. Photo by Cedars-Sinai.
Parkinson's Disease
Parkinson's disease is a neurodegenerative disorder that affects predominately dopamine-producing neurons in the brain. Nearly one million will be living with Parkinson's disease in the US this year, according to the Parkinson's Foundation. This is more than the number of people diagnosed with multiple sclerosis, muscular dystrophy and Lou Gehrig's disease—combined.
About 60,000 Americans are diagnosed with Parkinson's disease each year, and more than 10 million people worldwide are living with it. Incidence of Parkinson's disease increases with age, but an estimated 10 percent of people with Parkinson's disease are diagnosed before age 50. This is called young-onset Parkinson's.
Cedars-Sinai Researchers Find That Some With Young-Onset Parkinson's May Have Been Born With It
Researchers at Cedars-Sinai, led by Clive Svendsen, PhD, director of the Cedars-Sinai Board of Governors Regenerative Medicine Institute and Professor of Biomedical Sciences and Medicine at Cedars-Sinai, reported in a study published in Nature Medicine that they found that patients who develop young-onset Parkinson's disease may have been born with dysfunctional brain cells that go undetected for decades.

The research team generated special stem cells, known as induced pluripotent stem cells (iPSCs), from cells of patients suffering from young-onset Parkinson's disease. These iPSCs—which can produce any cell type of the human body, all genetically identical to the patient's own cells—were used to produce dopamine neurons from each patient to analyze their functions.
Two key abnormalities were observed in these neurons:

Accumulation of alpha-synuclein, a protein whose accumulation occurs in most forms of Parkinson's disease.
Malfunctioning lysosomes, which could cause a build-up of alpha-synuclein. Lysosomes are organelles in a cell which normally are involved in digestion and waste removal.
Our technique gave us a window back in time to see how well the dopamine neurons might have functioned from the very start of a patient's life... What we are seeing using this new model are the very first signs of young-onset Parkinson's. It appears that dopamine neurons in these individuals may continue to mishandle alpha-synuclein over a period of 20 or 30 years, causing Parkinson's symptoms to emerge.

- Dr. Clive Svendsen
New Hope for a Cure
After testing a number of drugs on the abnormal dopamine neurons, the researchers discovered that a drug called PEP005 (ingenol mebutate) reduced the elevated levels of alpha-synuclein in both the dopamine neurons in the dish and in laboratory mice. A gel formulation of PEP005 is marketed by LEO Pharma as Picato and is FDA-approved for the treatment of actinic keratosis, a scaly skin patch that develops from years of exposure to the sun. According to the Mayo Clinic, a small percentage of actinic keratosis lesions can eventually become skin cancer.
Michele Tagliati, PhD, Director of the Movement Disorders Program and Vice Chair and Professor in the Department of Neurology at Cedars-Sinai, said the research team next will study how PEP005 might be delivered to the brain and whether or not the abnormalities found in young-onset Parkinson's patients also exist in other forms of Parkinson's.
Young-onset Parkinson's is especially heartbreaking because it strikes people at the prime of life. This exciting new research provides hope that one day we may be able to detect and take early action to prevent this disease in at-risk individuals.

- Dr. Michele Tagliati.
Edward Kim is Managing Editor of Equities.com.

_____
Sources: Equities News, Cedars-Sinai

DISCLOSURE: The views and opinions expressed in this article are those of the authors, and do not represent the views of equities.com. Readers should not consider statements made by the author as formal recommendations and should consult their financial advisor before making any investment decisions. To read our full disclosure, please go to: http://www.equities.com/disclaimer.
---
Discover: Trending Events
---
You May Also Like
| Symbol | Last Price | Change | % Change |
| --- | --- | --- | --- |
| AAPL | | | |
| AMZN | | | |
| HD | | | |
| JPM | | | |
| IBM | | | |
| BA | | | |
| WMT | | | |
| DIS | | | |
| GOOG | | | |
| XOM | | | |
| BRK.A | | | |
| FB | | | |
| JNJ | | | |
| WFC | | | |
| T | | | |
| NFLX | | | |
| TSLA | | | |
| V | | | |
| UNH | | | |
| PG | | | |