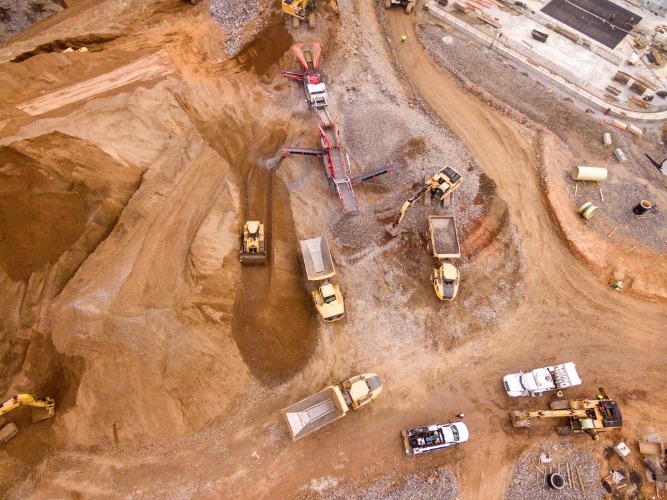 [Photo by Shane McLendon on Unsplash]
Colombia may not be your first consideration when looking to invest in the gold stock market, but the country offers a motherlode of opportunities for those who know where to look. Many high-profile Toronto Stock Exchange-listed firms are increasing spending and exploration in Colombia this year, with the world's gold market starting to show signs of recovery following two years of steady declines. In a country where gold is in abundance, it makes great sense to examine shares in companies that have Colombian gold mining operations.
The Colombian Gold Market

Despite controversies over the potential environmental damage of gold mining, gold is becoming a key growth engine in the country, with Colombian mining investments expected to hit US$1.5 billion per year as the government increases legal certainty to businesses and auctions off mining sites to international firms. The Colombian Mining Association has been working to secure more gold mining guarantees for businesses, in a bid to increase foreign direct investment. Once, gold mining sector investment generated US$3 billion per year for the Latin American country, but investment fell to record lows of zero in 2015/2016.
As the world economy continues to improve and major gold mining firms such as AngloGold and EcoOro report growth, more and more international gold mining firms are looking to Colombia as part of their expansion plans, and are choosing to invest in the country's mines.
Rightwing Colombian President Iván Duque Márquez has vowed to increase investment in the country, and many predict that mining will be at the top of his agenda, with new legislation designed to support foreign and local investor in the sector. After all, Márquez has a history in the mining industry – his father Iván Duque Escobar was the Minister of Mines and Energy.
Increasing Investment

With a significant increase in business expansion in Latin America, some of the world's most renowned gold mining companies have announced plans to up their budgets in Colombia in order to take advantage of its precious metals resources. Continental Gold CNL:CA, for example, says that it will drill 73,500m this year after discovering high-grade resources, and another of its gold mining construction projects is set for completion in the coming months.
Antioquia Gold AGD:CA has begun testing a plant at the Cisneros project in Antioquia, using new equipment and processes that are designed to save time and increase accuracy, and the firm will continue to ramp up its treatment rate to maximize capacity in the country.
Gran Colombia Gold GCM:CA is another company in the gold mine race, with its total gold output increasing to 218koz Au in 2018 – 25% up on the year previous, thanks in part to its Segovia Operations in Antioquia, which helped to produce 193koz Au in the period.
Gran Colombia Gold has said that it expects production from Segovia to reach up to 199koz in 2019, and the firm has announced plans for another 20,000m of exploration drilling that is set to focus on Silencio, Providencia and Sandra K, as well as setting up brownfield drilling on its Cogote vein system. Company CEO Lombardo Paredes said he expects production will increase to 250,000oz Au over the next three years thanks to investments of more than US$60 million, the Carla mine in Remedios, and by increasing capacity at its Maria Dama plant to 1,500 tons per day. Additionally, the firm has pledged US$7 million for infrastructure investment to support increased mining and production from the deep levels of El Silencio.
As companies such as GCM increase their production capacity and take a more aggressive approach to gold mining in the country, it is clear that the gold stock market in Colombia is on the up. Investing sooner rather than later will pay dividends and allow you to grab a slice of the market before multinational investors and corporations sweep in to inflate share prices.
Challenges in Colombia

Whilst everything may appear positive in the world of Colombian gold mining, the country faces significant challenges. There is an ongoing legal debate over mineral exploitation, and where each new site can and cannot be built. Colombia's Constitutional Court has already reaffirmed that the state has a final say in exploring the subsurface, although local authorities should also be able to voice concerns. Vague language in a recent report on mining has only added to the debate and many residents are now working to protest against the government over new and existing mines, citing environmental concerns and health implications.
Minera Quebradona Colombia S.A, a subsidiary of AngloGold Ashanti AU is facing a slew of setbacks after work at its gold project in Antioquia was given a suspension order from the town's mayor. Residents of Jerico, close to the mining site, argued a large-scale mining development was bad for their health. AngloGold Ashanti said it was not carrying out exploration work on the site, but studying soils to determine the viability of a project. Political challenges and a suspension mean it may be put to rest to avoid an expensive legal battle.
Quebradona, which has invested more than US$65 million in Colombian gold mining, saw its block cave mining operation suspended in 2017 after a referendum which overwhelmingly voted against it. Such closures demonstrate the fractious nature of mining and highlight the importance of protecting assets and viability through government support and reassurance. Whether they will get such support from the Colombian government remains to be seen.
With AngloGold Ashanti, Gran Colombia Gold and Continental Gold recovering from dips in share prices and all announcing mining investments in Colombia for 2019, there has never been a better time to get involved. Gold investors should exercise caution when they look to international markets but can rest assured knowing Colombia's gold market shines brightly…