With the DOW (DJI) 800 points off the highs along with a news cycle that feeds both bulls and bears, I think it's safe to say the equity backdrop is confused at best. It's difficult for strategists to suggest full steam ahead with alarm bells going off everywhere even though the underpinnings of our economy are still strong and maybe improving. In the last month, defensive stocks including Utilities, Real Estate and Consumer Staples have been the best performers. Add the fact that we've seen significant outflows from equity ETFs into Fixed income and the above suggests the market has several issues to overcome before we're going to break out to all-time highs.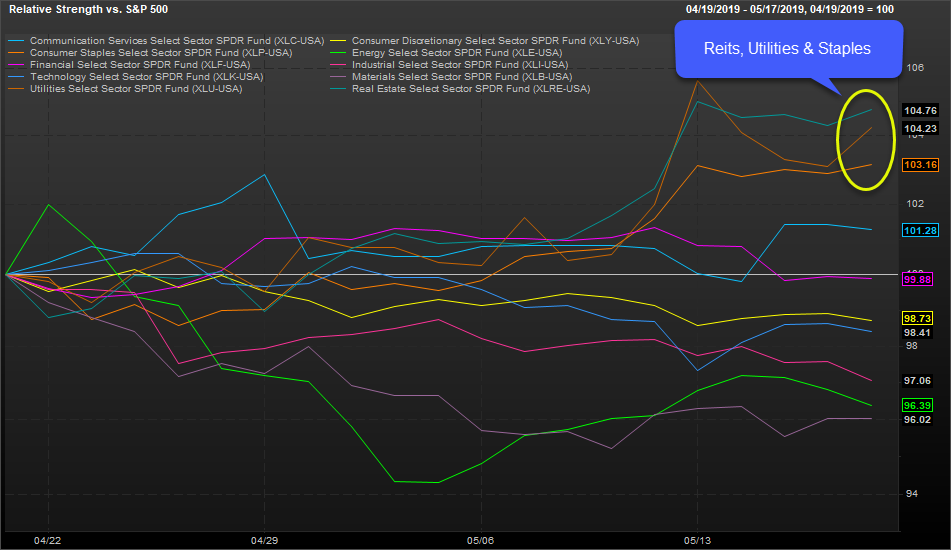 Investors had all but priced in a Trade Deal and of course today we know that China never intended to make one. They didn't just set out to change some of the language. It was an attempt to all but rewrite entire sections that had been agreed to. Today, traders are responding to every tweet from the President moving from risk-on to risk-off and back again, hoping for negotiations to get back on course.

Deal or No Deal?
Sooner or later we're going to have to come to grips with the unpleasant reality that there may not be a deal. At least not one that is acceptable from an economic or political perspective. When you go into a negotiation, especially one that will be the compass for the two largest economies on the planet, you have to be prepared to walk away. For the moment, the President has done just that but with 2020 looming, the pressure to get something signed will continue to rise, a fact that isn't lost on China's President Xi who isn't faced with the political albatross of a free election.
While Xi has the advantage of lifetime employment he isn't without challenges. China's economy continues to unravel but with massive stimulus simply could simply run out the clock.
Today, it's almost conventional wisdom that China has been a bad actor on trade, and Americans on both sides of the aisle are demanding action. Resolve is high until it starts hitting your paycheck and lifestyle. While the math doesn't work for China when it comes to tariffs, they can target specific industries, and of course today, U.S. farmers are on the front lines of the battlefield while most of us are in the rear.
Casualties of War
Many of the hardest hit Americans including farmers and ranchers still seem to be on board with the President's strategy. According to CNBC; a March CNN/Des Moines Register poll of registered Republicans in Iowa found 81% approved of how Trump is handling his job, and 82% had a favorable view of the president, an increase of 5 points since December. About two-thirds said they'd definitely vote to re-elect him. The poll had a margin of error of 4.9 percentage points.
Time and a dwindling savings account can change those numbers quickly especially if the mind set changes from "fair trade" to "no trade." What will the political calculus be at the White House if in fact that moves from perception to reality?
The administration has promised an aid package of $15 Billion for farmers on the heels of $11 Billion last year but with Soybeans hitting a 10-year low, the challenges are real and getting more difficult with each passing day.
In other parts of the economy, economists worry that eventually inflation will rear its ugly head, a dynamic the bond market doesn't seem to fear at all. When it comes to economic predictions, and my two sources of information are economists or the market, I'm going with the market every time. For now, bonds say the inflation argument isn't a threat with U.S. 10-year rates close to 1-year lows at 2.38%.
Economists also seem terrified that GDP will fall off a cliff with recession all but inevitable if a trade deal doesn't come to pass. Could it happen? Sure, it could, but it likely suffers from the same analysis used to predict what would happen after Y2K, BREXIT and for that matter the election of Donald Trump. Water seeks its own level, and I suspect commerce will go on.
The cost of no deal
Initially, Americans will pay higher prices and China will pay for it with lost jobs. Over time, supply chains will move and adjust while U.S. companies re-think their commitment to an inflexible China. Other countries like Vietnam could be the direct beneficiary of little progress in trade negotiations.
Some suggest we should turn to long established trade organizations like the WTO to help resolve the impasse. Given China's self-declared status as a "developing country" in the World Trade Organization, my confidence isn't high.
Meanwhile, back on the market front lines we have a busy week ahead. In addition to the usual suspects including earnings from key retailers like Lowe's LOW and Best Buy BBY giving us additional insight on China and supply chains, Wednesday's FOMC minutes loom large as a point of reference for traders and investors. Economists are voicing a rising opinion that the Fed will cut rates sometime between now and December with the probability of a hike close to zero.
The end of week trading may provide the bigger tell on the market. Just how much risk-on equity exposure will investors be willing to carry over a long Memorial Day weekend? Add another brick to the "wall of worry."
---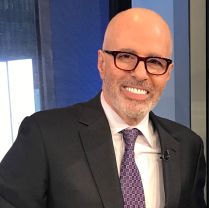 About the author: David Nelson, CFA CMT is the Chief Strategist of Belpointe Asset Management. He is a frequent commentator and guest on CNBC, Fox Business, Yahoo Finance and Bloomberg where he discusses markets, economics and individual securities. David founded his own investment firm, DC Nelson Asset Management, in October 2000. Prior to this, he was a portfolio manager at Lehman Brothers' New York City office from 1997-2000. From 1995-1997, he played an active role in management at Morgan Stanley Dean Witter's flagship New York City office. Previously, he was a Financial Consultant for Merrill Lynch. He is a Chartered Financial Analyst (CFA) and Chartered Market Technician (CMT), designations issued solely by the CFA Institute and CMT Association.