Cardiva Medical, a privately-held medical device company focused on developing and commercializing innovative vascular closure technologies, announced today that it has received FDA approval for an expanded indication of its VASCADE Vascular Closure System. Already approved by the FDA for use in arterial closure since 2013, VASCADE is now also approved for use in 5-7F femoral venous closures. This expansion creates an opportunity to better treat patients undergoing interventional cardiac catheterization procedures, while also greatly increasing the available market for VASCADE.
The VASCADE System consists of a thrombogenic bioabsorbable collagen patch and proprietary collapsible disc technology that is clinically proven to safely and effectively stop bleeding (hemostasis) while minimizing complications. Unlike manual compression, which is the current standard for femoral access site closure, VASCADE does not require prolonged, heavy pressure and extended bed rest to ensure hemostasis.
Source: Cardiva Medical
VASCADE has performed exceptionally well for our current patients, and this new indication will empower many physicians to use VASCADE for vein closure. Successful vessel closure, and enabling a patient to walk as soon as possible after their procedure, are critical factors for recovery from interventional procedures. The ease of use of the VASCADE system and its compelling clinical data will make it an attractive new option for closure following vein procedures.
– Joseph De Gregorio, MD, chief of invasive cardiology, Englewood Hospital and Medical Center, New Jersey.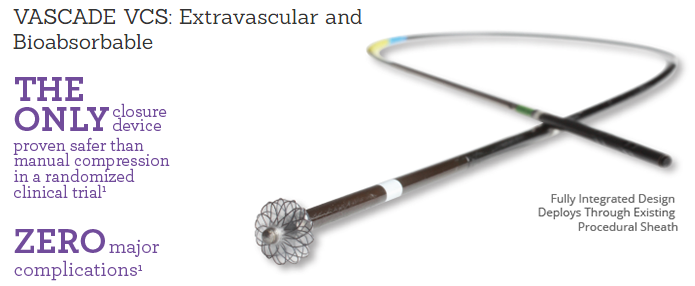 Source: Instructions for use and / or summaries of safety and effectiveness data of commercially available leading brands (VASCADE, AngioSeal, Mynx, Perclose, Starclose, Exoseal), as cited by Cardiva Medical.
This expanded indication is an exciting milestone for Cardiva Medical, as it expands our market potential and further differentiates our company and our innovative technology. We are pleased that the new indication will allow us to extend the proven benefits of VASCADE closure to a broader group of patients.
– John Russell, President and CEO, Cardiva Medical.
Please email us at [email protected] to see our Case Studies and Testimonials.
Please click here for information on our new trading platform.