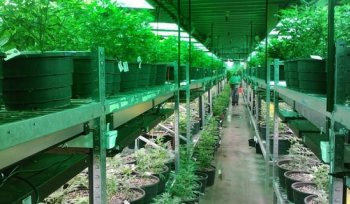 Like the industry itself, employment and investment in cannabis businesses are rising. Yet, it remains true that special risks apply to cannabis enterprises beyond what is seen with "conventional" businesses.
The risks notwithstanding, there should be no surprise at the growing numbers who seek opportunity in the rapidly rising cannabis industry. This is particularly true of investors, as well as seasoned professionals from other industries with experience building and running companies. Many are drawn by the strong double-digit market growth rates and notion that we are witnessing the beginnings of what will ultimately become major consumer and wellness product market sectors. In addition to a growing number of marijuana-themed public stocks, rising private investment from funds and investor networks are providing capital to businesses.
A primary market growth driver is states' adoption of new cannabis laws, and permitting of businesses to produce and distribute. As many as a dozen states may approve full legalization by the 2016 election cycle - similar to what exists now in the states Colorado and Washington - and by some estimates, that could fuel a doubling in size of the national market. Furthermore, international markets are also growing.
---
---
Yet, risks faced by cannabis companies and their investors are substantial. Marijuana lists as a Schedule 1 drug on the Controlled Substances Act (i.e., deemed highly addictive with no therapeutic value, in spite of growing evidence to the contrary), and remains illegal at the federal level. Federal enforcement actions, though seemingly on the decline, could hit cannabis companies and contract markets as they have in the past. There's also no guarantee that states with existing cannabis regulations won't amend laws in the future that could counter market growth.
With Great Potential, Comes Great Risk
Public marijuana stocks have been a wild ride. Most trade on thin volume and have minimal financial reporting. Some have proved to be thinly veiled "pump-and-dumps", causing FINCEN to warn investors about the potential for fraud in marijuana stocks. Some investors have gotten burned, and some employees of those companies have also paid the price.
While these risks must be taken seriously, a growing number of investors and professionals are bullish on the cannabis enterprise outlook and jumping in. I jumped in as an investor and industry professional after years of working in investment banking, attracted by the chance to build companies and a new industry all at the same time.
Cannabis company management is coming of age and rapidly professionalizing. Many companies are now lead by a blend of pioneer entrepreneurs and professionals with backgrounds in areas such as finance, legal, marketing and technology. Some corporate offices look like what you'd expect to find at successful start up companies in Silicon Valley.
Managing a cannabis company is both exciting and challenging. Opportunities abound as markets open, ventures and partnerships are explored and sometimes cast, and new products are developed and launched. The excitement is often tempered by the reality of dealing with daunting challenges in this industry. Some stem from state vs. federal law conflicts, such as lack of access to financial services and onerous tax treatment.
Will investors and professionals in the cannabis industry be rewarded for their contributions and risk management?
There's a great narrative to support the case, but absolutely no guarantees. Nonetheless, increasing numbers are putting their financial and professional chips on the table.
DISCLOSURE: The views and opinions expressed in this article are those of the authors, and do not represent the views of equities.com. Readers should not consider statements made by the author as formal recommendations and should consult their financial advisor before making any investment decisions. To read our full disclosure, please go to: http://www.equities.com/disclaimer