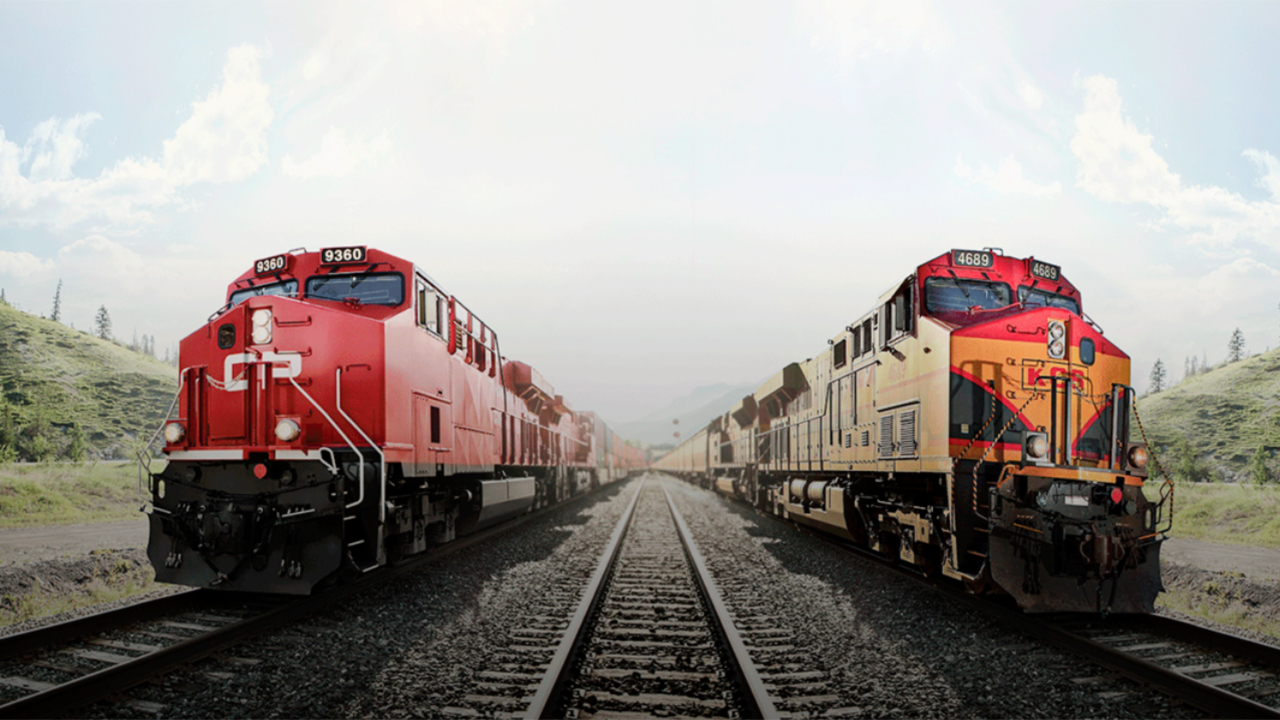 Image source: Kansas City Southern
Canadian Pacific Railway Ltd (NYSE: CP ) announced Sunday that it has agreed to buy Kansas City Southern (NYSE: KSU ), creating the first rail network through the US, Canada and Mexico.
According to a press release, Canadian Pacific Railway will acquire Kansas City Southern for approximately $25 billion in cash and stock plus the assumption of about $3.8 billion in debt.
Shareholders of Kansas City Southern will receive 0.489 of a Canadian Pacific share and $90 in cash for each KSU common share held, the companies said. The deal values Kansas City Southern at $275 per share, representing a 23% premium based on Friday's closing prices of the respective companies.
The new, combined company would operate about 20,000 miles of railway, connecting ports on the Gulf of Mexico, Atlantic and Pacific coasts, employ 20,000 people and generate about $8.7 billion in annual revenue, the companies said.
The acquisition has unanimous support from both boards of directors but needs approval from the US Surface Transportation Board. The companies said they expect that process to take until mid-2022.
Following regulatory approval, the combined company, Canadian Pacific Kansas City, will be headquartered in Calgary, Alberta, and Canadian Pacific Railway chief Keith Creel will serve as chief executive officer.
Shareholders in Kansas City Southern are expected to own 25% of Canadian Pacific's outstanding common shares after the deal, the companies said. Canadian Pacific said it will issue 44.5 million new shares and raise about $8.6 billion in debt to fund the transaction. Financing has been committed for the new debt.
In a statement, Creel said, "This transaction will be transformative for North America, providing significant positive impacts for our respective employees, customers, communities and shareholders."
It will also bring "together two railroads that have been keenly focused on providing quality service to their customers to unlock the full potential of their networks, said Creel, adding that both companies "have been the two best-performing Class I [annual revenue greater than $250 million] railroads for the past three years on a revenue growth basis."
The announcement comes after a revamped US-Mexico-Canada trade pact took effect last year, replacing the Clinton-era North American Free Trade Agreement,
Creel said, "The new competition we will inject into the North American transportation market cannot happen soon enough, as the new USMCA Trade Agreement among these three countries makes the efficient integration of the continent's supply chains more important than ever before."
The companies also highlighted the environmental benefits of the deal, saying the new single-line routes that would be created by the combination are expected to shift trucks off highways and cut emissions and build upon their "shared science-based pledges in line with the Paris Agreement" to create "a more sustainable North American supply chain."
According to Railway Age, if approved, the merger would be the first Class I transaction of its kind since 1998, when Norfolk Southern Railway and CSX Transportation acquired 58% and 42%, respectively, of Conrail.
_____
Source: Equities News