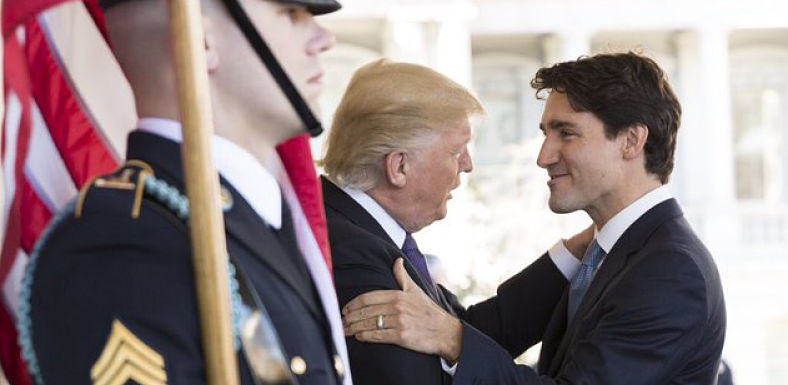 Seriously?
President Donald Trump, citing the National Security Act has slapped a 25% tariff on Canadian steel and a 10% tariff on aluminum entering the US effective midnight June 1, 2018.
Prime Minister Trudeau stated that Canada being considered a national security risk is absurd and unacceptable.As the USA's closest friend, Canada has supported the US in every war they have fought, partnered with NATO, NORAD and the G7 and have the often described 'longest undefended border' in the world.
Canada and the US have shared values, common interests and geography that have made us more than friends and allies. Trudeau commented that it is absurd that national security should be used in the same sentence as Canada because our aluminium is in your fighter jets and our steel in your tanks. Trudeau called the Trump administration's national security argument "inconceivable" and called the tariffs "an affront to the Canadians who died" alongside Americans in battle.
I understand that Trump may use the national security terminology as an excuse to levy the unbelievable tariffs on Canada but we are not amused. Everything about the tariffs is wrong and an affront to our friendship.
The effect on Canada by invoking national security as a means of trade protectionism must have been underestimated by the Trump administration. This is inexcusable and unprecedented. It is wrong. This posture is detrimental to the world and is highly regrettable.
Make no mistake; this protectionism is the turning point in Canada-US relations. U.S. Secretary of Commerce Wilbur Ross said today that this is just "a blip on the radar and we will get over it" – really?
Canada was the largest exporter of steel to the United States by value last year, according to data from Wood Mackenzie. As expected, Canada will retaliate. As the US is so fond of saying 'a measured and appropriate response' to the US tariffs will be taken by Canada.
Effective July 1 (our national birthday), Canada will impose a "dollar-for-dollar" surcharge on a number of products coming into Canada from the US. They were carefully chosen since the idea of the tariff came up in March and are designed to affect products that Canadians can find in Canada or a non-US market. A lot of thought has gone into this and as much as possible end-use products won't be targeted.
Foreign minister Chrystia Freeland called our retaliation "the strongest trade action Canada has taken in the post-war era." "This is a very strong response, it is a proportionate response, it is perfectly reciprocal," Freeland told reporters.
The trade war will effectively match the US tariffs of roughly $16.6B and cover everything from steel and aluminum in all its' configurations, wire and pipeline material. It will affect roughly one hundred product categories from coffee and meat to plywood, pesticides, toilet paper to kitchen and bathroom appliances.
Prime Minister Trudeau has been to the US about fifteen times in the past few months trying to make the NAFTA deal work. Minister Freeland has met with her counterparts about one hundred times. The US government was intransigent then and now seems hell-bent on isolating itself from the rest of the world.
Trudeau offered to meet directly with Trump last week to have 'the big guns' finalize the deal between Canada and the US but was rebuffed by Trump who demanded a sunset clause as a pre-condition to meeting. The sunset clause would have NAFTA end after five years. Trudeau said no Canadian Prime Minister, and certainly not him, would ever agree to terms that required renegotiation every five years.
The CEO of the Hamilton Chamber of Commerce, the steel capital of Canada, said it is a very sad day and the worse day for trade in the US' 200-year history. He predicted chaos will happen at borders and called on the Canadian government to make our surcharges start immediately.
Early reports on US media showed surprise to our reaction to the tariffs. The US people probably think anything we do will have little or no effect on them. Trade tariffs will ultimately affect your own citizens in the end. When the US placed tariffs on the Canadian softwood lumber industry it lead to higher home prices in the US. Every price increase is always passed on to the consumer.
Canada has emphatically stated that it will protect Canadian workers and business interests. The problem is that this is not a war Canada can win. We will eventually run out of products to place tariffs on and in a lot of cases America will easily find new sources in the supply chain.
I suspect that complaints to the World Trade Organization will indicate that the US tariffs are illegal since we are still covered by the NAFTA.
This will be the worst trade issue that has come out of the states in its' history.Trade is a tit for tat situation. For every action there is an equal reaction. Things like this have a way of getting out of hand fast.
Canada is even surcharging maple syrup though I really don't mind buying Canadian maple syrup over the US counterpart – it's better!