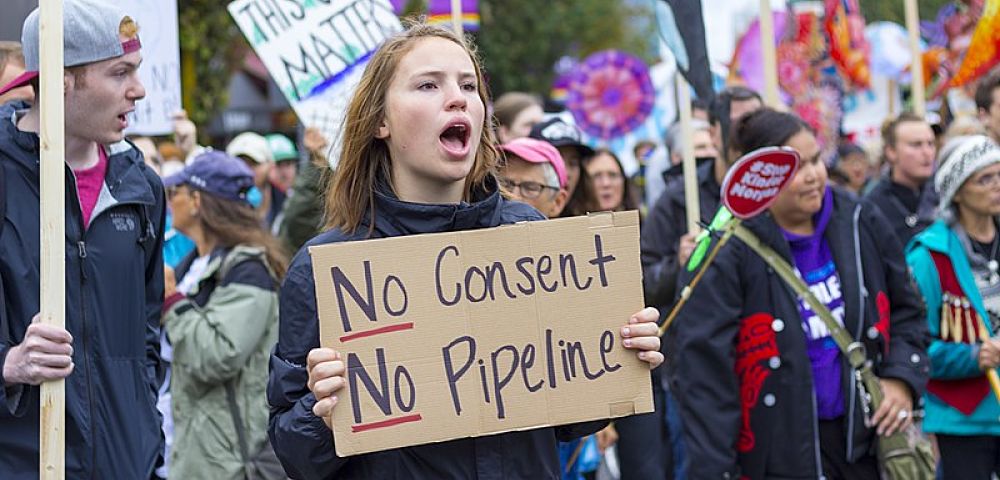 Image via William Chen/Wikimedia
British Columbia is a pristine forested province with rich coastal waters full of dolphins and whales, loved by all, and certainly a tourist destination as witnessed by the numerous cruise lines plying the waters from Seattle to Alaska. We've thought of oil exploration, LNG plants and coal but have sought to be a green province.
Alberta, our provincial neighbor to the East, on the other hand, is oil rich, yet with a depressed economy with the Calgary Flames hockey team and Banff as their only jewels. It also has the oil/tar sands, a blight upon the earth that from the air resembles a Martian landscape. While the earth seeks sustainable energy, Alberta continues to supply Asia and America with fossil fuels.
OK, I drive a car and rely on oil like the rest of BC but when are we going to say- enough! My wife wants to buy an electric car, a Tesla (TSLA), but we'll need to save a bit more for that. She is on the right track though, and apparently the rest of the world agrees that sustainable power is the future. All the while Alberta continues to pump and flog their bitumen thick sludge to refineries in BC, and who knows where else, the world is desperate for energy alternatives. Our unleaded gas in Vancouver is roughly $5.81 (CDN) per gallon, the highest price of fuel in North America, yet it is produced a mere 1,000 miles away.
Alberta's latest venture is the Trans Mountain Pipeline from Alberta through BC to the Vancouver suburb of Burnaby where it will be pumped onto ships and then sailed through our waterways to Asian markets. Hmmm!
British Columbia is a huge province and when I spoke to an environmental engineer about it, he asked me how anyone could fix a pipeline leak deep in the primal forests of BC. There are not enough tankers, specialists and emergency systems in place to manage a spill of any magnitude. Heaven forbid if we have another Exxon Valdez fiasco off the coast of Vancouver. Yet the government in Ottawa says all environmental concerns have been met.
Let's not even think of eco terrorists who reared their ugly head a few years ago, blowing up pipelines in BC. Then there is the transport of oil from Burnaby through Vancouver by tanker to ports in Asia. A spill in Vancouver or even on the coast would be devastating to the ecology, tourism, fishing and more.
Yet, the federal government, after much 'consultation' with Canadians, has approved the pipeline. When we voted for Prime Minister Trudeau, we thought it would bring a new vision to the country, yet he has proven to be a lame duck more concerned with indigenous reconciliation and native lands claims on a daily basis, while pushing an oil pipeline though First Nations land. While the world seeks energy sustainability, Trudeau acts like Nero watching Rome burn (using oil of course).
Prime Minister Trudeau promised in his election platform to achieve an "ambitious North American clean energy and environment agreement" that would make the continent the "world's most efficient and responsible energy producer" (the Guardian, Feb. 9, 2018).
According to the Guardian, under an access to information request, Trudeau was actively working with oil lobbyists to make the Keystone pipeline work after Obama had scuttled it. Big oil has infiltrated even the top level of government.
Sure some First Nations approved it, but there are dozens of First Nations in BC that said no to the pipeline. It doesn't matter because our governing fathers in Ottawa ran it through the Canadian National Energy Board that approved it in 2016.
Here's the issue! Alberta wants to send their oil to other markets and British Columbia doesn't want another pipeline going through its land. The federal government agrees for the betterment of Canadians the pipeline MUST be built.
This is not a new issue. In 1951, under an act of Parliament, the Trans Mountain Pipeline was authorized and built. It has been in operation for 67 years. They now want to add another pipeline under the existing one. It should be 'grandfathered' as some say, but why risk it?
The CBC reported that a Simon Fraser University study found that the BC government coffers will get a "tiny" benefit from the Trans Mountain expansion, with Alberta and oil sands producers the main beneficiaries.
On the cost side, the report also "takes issue with Kinder Morgan's (KMI) numbers. The company's most expensive spill scenario puts the cost at $100 million to $300 million while the study figures it would be in the "multibillion-dollar range" if oil spills in a populated area. Kinder Morgan has vastly underestimated the worst-case costs for a catastrophic pipeline rupture.
When there was a small spill of several thousand litres of oil from a ship in Vancouver's harbour in 2015, it took hours for it to be reported and days before anyone did anything about it. What if there was a real disaster?
There were at least seven federal court cases against the expansion, with the federal government siding with the oil cabal. According to Wikipedia, "in November 2017, Minister of Natural Resources Jim Carr stated that the federal government had sent a letter in support of a dispute resolution process to the National Energy Board, in order to expedite any future disputes over provincial or municipal permits impeding on the expansion. BC environmental minister George Heyman accused the federal government of interfering with an independent review of the project, arguing that "it's both a highly unusual and a highly troubling intrusion on a province's right to enforce its own permits, its own regulations and the interests of its own citizens."
The provincial government, the NDP, was elected in 2017, by a majority of voters on a platform to deny Trans Mountain access to BC land for the pipeline. The Prime Minister Trudeau claims that it is "for all Canadians" and Alberta's Premier Rachel Notley says it is a "constitutional crisis".
As the situation stands, Alberta is threatening a trade war with British Columbia in terms of BC products and freezing gas supplies (sure we hate it but we still need some of it). Alberta already tried to blockade our fine BC wines for sale in Alberta and are determined to find other nefarious ways to force us to capitulate.
Shortly after Trans Mountain/Kinder Morgan (HQ in Texas) gave a May 31, 2018 ultimatum for closure on the deal, Alberta's Notley announced that Alberta may 'buy into' the deal making it a stronger deal for the federal government to support.
According to the CBC (April 11, 2018) "Kinder Morgan (KML) must have a clear line of sight on the timely conclusion of the permitting and approvals processes before we will commit to full construction spending," KML company president Ian Anderson said.
According to Kinder Morgan, the company requires 13 federal permits, six of which are complete. Alberta must issue two permits, both of which are in the process, while BC is supposed to issue 45 permits; just eight of those have been completed.
Will the future of the world (forget about BC for the moment) be forever tied to the oil industry or will we embrace the sustainable energy sources that are trying to come to the forefront?
Some wiser people than me have suggested that most of the world's governments, in this case the Canadian government, are increasingly being controlled by global brands/corporations. If you consider how these mega conglomerates exert pressure on zoning, trade laws and political decisions, we could be heading into a situation where countries will be replaced by corporations and their shareholders.
What I do know is that if the pipeline is forced upon BC, the Liberals will face significant opposition at the polls in the next election. While Canadians are well-known for our pacifist good nature, there comes an issue that is a call to action – being threatened by Alberta is it!