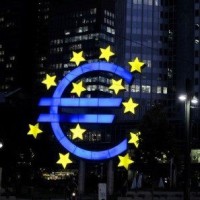 European QE is off and running. However, one question is: will the European Central Bank (ECB) be able to find enough bonds to buy?
It may seem like a strange question from the perspective of the U.S. QE experience, but U.S. QE was carried out at a time when the supply of debt being sold by the government was plentiful.
The highest-quality European debt doesn't have that luxury.
Here's the math. The ECB has pledged to buy €60 billion of debt each month until at least September 2016, and longer if its inflation target is not reached. It is already buying €13 billion of assets each month, meaning that it will have to buy €47 billion more -- and that total is expected to be made up of government bonds.
It will split its bond purchases up among the Eurozone's member states according to their size; countries with more people and higher GDP will account for a greater share of purchases.
That means, for example, that Germany will account for about 25 percent of the ECB's buying -- about €12 billion per month, or a total of more than €200 billion in Bunds between now and the September 2016 end date for the program.
However, Germany is planning a net issuance of less than €25 billion in new Bunds eligible to be bought as part of the program during that time.
Where Will the Bonds Come From?
Data Source: JP Morgan Chase
That means that German debt will have to be bought from other holders, such as other central banks and large financial institutions. Many may be loath to part with their Bunds, for a variety of reasons. Banks and other financial institutions have regulatory requirements governing their capital quality; Bunds are about the highest quality capital an institution can own. Financial institutions, such as insurance companies and pension funds, also have their own mandates to hold a given proportion of assets in high-quality debt.
Some analysts believe these holders will be induced to sell as ECB buying drives the price up -- and rates even further down, if that can be imagined. Others believe the ECB will find difficulty in meeting its targets. If it does, it may need to broaden its buying beyond the highest-quality government debt, and buy other European paper.
We continue to believe that it is possible that other central banks may find themselves following the lead of the Bank of Japan (BOJ) and purchasing risk assets -- i.e., stocks. Obviously this possibility is distant for the ECB, which faces an altogether more difficult environment than the BOJ, requiring a political mandate that's qualitatively more difficult to secure. However, we simply note that the full shape of European QE has not yet formed: we don't know what we can ultimately expect.
Investment implications: Euro QE is about to be underway. Its precise shape is still uncertain. The ECB may find difficulty meeting its targets if not enough institutions will part with their European bond holdings. We will watch closely as implementation draws closer this month. We continue to believe that other central banks besides the Bank of Japan will be buying stocks before QE is over. And in any event, a scarcity of extremely high-quality capital for the world's financial institutions will continue to be bullish for the highest-quality stocks: blue chip dividend payers.
DISCLOSURE: The views and opinions expressed in this article are those of the authors, and do not represent the views of equities.com. Readers should not consider statements made by the author as formal recommendations and should consult their financial advisor before making any investment decisions. To read our full disclosure, please go to: http://www.equities.com/disclaimer