Senator Bob Hertzberg (D – Van Nuys), representing California's 18th Senate District, advanced two key legislative items last week in the emerging growth areas of blockchain technology for corporations and cannabis finance. According to the Senator's website, Sen. Hertzberg, who represents nearly 1 million residents of the San Fernando Valley, is committed to looking at the big challenges facing California, "determined to work on governing for the next generation, not the next election."
SB 838 would enable the use of blockchain technology to create a more secure method to issue and transfer corporate share certificates, while SB 930 would help financial institutions safely conduct transactions with licensed cannabis businesses. Sen. Hertzberg presented SB 838 before the Senate Banking and Financial Institutions Committee, while SB 930 cleared its first hearing in that Committee and faces a vote in the Senate Governance and Finance Committee this week.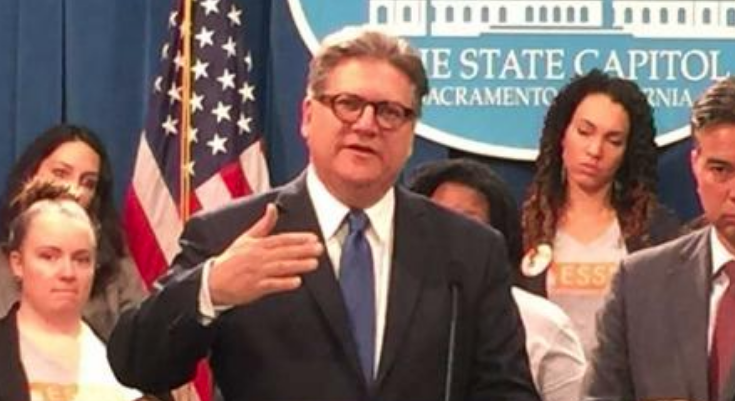 Source: Sen. Bob Hertzberg
SB 838 would permit corporations to use "blockchain technology or one or more distributed networks" to record and keep:
Names and addresses of all of stockholders of record
Number of shares registered in each name
All issuances and transfers of stock
The world around us is changing, and government must adapt with these rapidly evolving times. California needs to continue our legacy of taking on new and developing technologies, especially ones like blockchain, which is being embraced worldwide and presents a strong level of security that is resistant to hacking.
– Sen. Bob Hertzberg.
SB 930 creates a limited purpose state charter bank license that would be administered and regulated by the Department of Business Oversight. Privately-funded banks that receive this charter would be able to issue checks to accountholders to be used to:
Pay state and local taxes and fees
Pay vendors from California for goods and services provided to the cannabis business
Pay rent
Purchase state and local bonds and other debt instruments
The Department of Finance estimates that California will collect $600 million in cannabis taxes in the upcoming year. According to Sen. Hertzberg's press release on SB 930, cannabis businesses face security risks because of the volume of cash in their possession, as these "businesses arrive to government offices with duffel bags of cash to fulfill their tax obligations."
Everyone agrees that there has to be a better way for cannabis companies to do business. They simply cannot and should not have to continue to run their businesses like black market operations. We've been seeing tremendous interest and getting input from stakeholders across the state, and I'm confident we're going to get this done.
– Sen. Bob Hertzberg.
Please email us at [email protected] to see our Case Studies and Testimonials.
Please click here for information on our new trading platform.