~ Financing supports near-term initiation of Phase 2 trials in essential tremor and spinocerebellar ataxia ~
Essential tremor is the most common movement disorder and among the most common neurological conditions worldwide. Patients with essential tremor suffer a rhythmic trembling of the hands, head, voice, legs or trunk, and some patients endure an internal shaking feeling. It affects at least 10 million people in the US, according to the International Essential Tremor Foundation, with many millions more worldwide. That number may vastly underestimate the true prevalence of the condition, as many people with essential tremor never seek a medical diagnosis. Once known as familial, benign or hereditary tremor, essential tremor is often confused with Parkinson's disease although it's eight times more common than Parkinson's.
Source: International Essential Tremor Foundation
Cambridge, Massachusetts, based Cadent Therapeutics is developing therapies to treat movement and cognitive disorders such as essential tremor, schizophrenia and spinocerebellar ataxia, a rare disease marked by progressive damage to the cerebellum, the region of the brain that regulates motor control and balance. The company is focused on modulating the central nervous system's ion channels and ion channel receptors, which are critical for regulating the strength, timing and integration of communication between and within neurons and neuronal networks.
Cadent announced today that it has secured $40 million in a Series B round of financing led by Cowen Healthcare Investments and Atlas Venture, with participation by Qiming Venture Partners, Access Industries, Clal Biotechnology Industries and Novartis Institutes for Biomedical Research, a unit of Novartis NVS.
The company also announced that Bob Dagher, MD, has joined Cadent as it Chief Medical Officer. Dr. Dagher was most recently the Senior Medical Director for clinical development services in neuroscience at Covance. Prior to that, he served as VP and Head of Medical Affairs at Dyax . Previously, he served in roles of increasing responsibility at Sanofi-Genzyme SNY and GlaxoSmithKline GSK.
In a short amount of time, Cadent has achieved several important milestones, and with this financing we are well positioned to continue to execute on our mission of improving the lives of people with neurological disorders. We are excited to have advanced our lead program into clinical development for two progressive neurological conditions, and we are encouraged by the potential of our second program, which is in preclinical development for the treatment of schizophrenia. This progress plus the confidence from our investors is exciting, and we look forward to continuing this momentum into 2019.

– Michael Curtis, PhD, President and CEO, Cadent Therapeutics.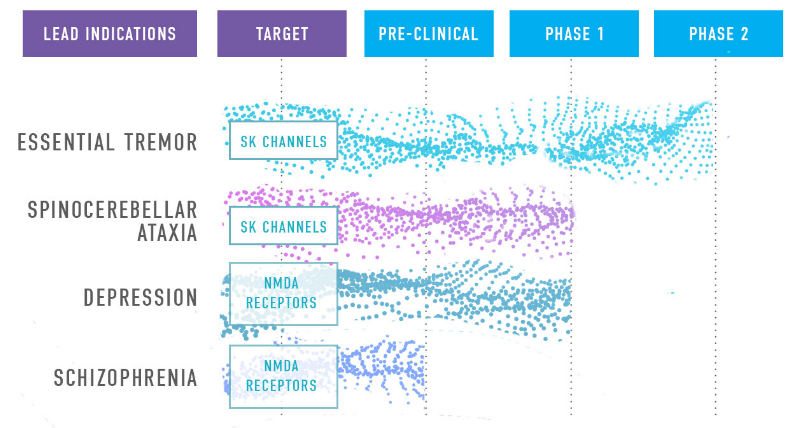 Cadent's lead program, CAD-1883, is an SK channel positive allosteric modulator candidate for the treatment of essential tremor and spinocerebellar ataxia. SK (small conductance calcium sensitive potassium) channels are ion channels that regulate the amount of potassium that enters a cell. Allosteric modulators bind to a secondary binding site on the target molecule rather than the primary (orthosteric) receptor site, and this binding causes the primary receptor to change shape to increase (positive modulation) or decrease (negative modulation) affinity for its binding molecule. Cadent's positive allosteric modulators are designed to "boost the signal" of neurons to restore balance to the brain's rhythms.
In preclinical disease models, CAD-1883 has demonstrated the ability to regulate neuronal firing, improve motor control and reduce tremor. The company's second candidate is in preclinical development to address NMDA (N-methyl-D-aspartate) receptor hypofunction in people with schizophrenia. The NMDA receptor is critical for learning, memory and neuroplasticity, the ability to form new neuronal connections. NMDA receptor dysfunction is a significant contributor to cognitive impairment in schizophrenic patients. Additionally, Cadent has entered into an exclusive license and collaboration agreement with Novartis to develop NMDA receptor modulators to treat patients with treatment-resistant depression.
Cadent's unique approach to drug development could address a number of challenging neurological conditions for which treatments are limited or non-existent. We are excited to expand our support for the company. The team has made tremendous progress since our initial investment, and we are confident in their ability to continue this successful trajectory. We welcome Tim Anderson (Cowen), Mark McDade (Qiming) and Paul Wotton, Ph.D. (CBI/Access) to the Board of Directors and look forward to working with them as we continue to build the company and advance our programs further in clinical development.

– Peter Barrett, PhD, Partner, Atlas Venture, and Chairman of the Board, Cadent Therapeutics.
Please email us at [email protected] to see our Case Studies and Testimonials.
Please click here for information on our new trading platform.
Please click here to receive our free daily newsletter.