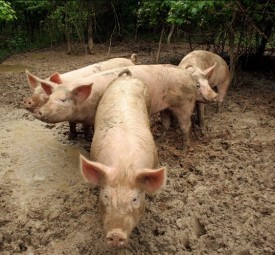 The lean hog futures market has been all over the place this year. The market rallied more than 40% in the first quarter, primarily due to porcine epidemic diarrhea which wiped out more than 10% of the US hog population. Fortunately, the hog population is more manageable than cattle and the market found its equilibrium through most of the summer before declining more than 20% from mid-July through mid-August. This decline nearly wiped out the entire gain for the year before the market rebounded through September. The recently strong commercial trader buying supports the technical test of the 50% retracement level. Finally, expiration of the December futures coincides with a strong degree of seasonality. This is exactly the type of opportunity we look for.
Commercial traders were net buyers last week to the tune of about 9,000 contracts which increased their position by about 15%. This type of buying is classic commercial trader behavior. You can see on this Commitment of Traders hog chart that the commercial traders take a big picture view on value with farmers supplying the selling pressure and packers providing the buying support. Two things become clear looking at the chart. First, they see fair value somewhere around $95. Secondly, commercial traders have generally been net buyers all year. Our research has shown that this is expected to continue and should provide support on pullbacks through the Q1 of 2015.
Friday's outside reversal bar developed as the market exploded off the 50% retracement level of $87.80 after three sessions of trying penetrate it. It's pretty rare that a Fibonacci level holds so clearly but with Friday's low of 87.725, it's hard to argue. The current setup suggests using yesterday's high as confirmation that the move higher will continue. Placing a buy stop above Friday's high of $90.65 would convince me of the market's intentions. Once this order is filled, risk could be limited to the $88.75 area.
Finally, the December lean hog futures tend to follow their seasonal tendencies pretty consistently. Based on the current timing, we expect the late October through December 1st period to hold true to its seasonal expectations and push the market higher.
DISCLOSURE: The views and opinions expressed in this article are those of the authors, and do not represent the views of equities.com. Readers should not consider statements made by the author as formal recommendations and should consult their financial advisor before making any investment decisions. To read our full disclosure, please go to: http://www.equities.com/disclaimer