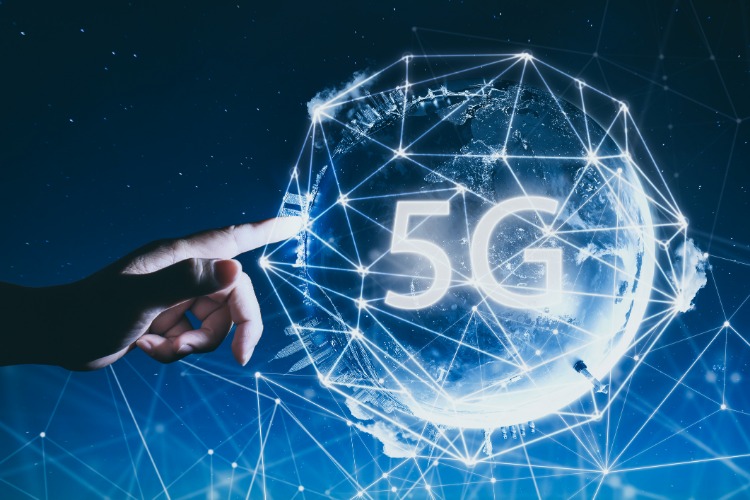 Wireless technology has come a long way.
The first generation of wireless known as 1G was rolled out in the 1980s. The only thing a user could do with 1G was make a phone call.
At times, the call quality could rival that of two tin cans connected by a string.
But wireless tech has made huge advances since those early days.
About every 10 years we've seen a new generation of wireless—1G, 2G, 3G, and today's 4G. Each was faster and more reliable than the previous generation.
As you may already know, we are about to see the next generation of wireless. It's the new 5G technology, which is slated to hit the market this year.
And that creates a big opportunity for investors.
Why 5G Is So Important
To understand why 5G is such a big deal, you must understand one thing: latency.
Latency is delays in sending information from one point to the next. This is different than bandwidth, which is the volume of data being transferred, not the speed of the transfer.
The lower the latency, the faster information can race across a network.
And the 5G network has very, very, very low latency. This core attribute of 5G will revolutionize many industries.
Remote medical procedures are just one example. Low latency will enable remotely located robots to instantly mimic human movements.
This will give doctors the real-time response they need to perform surgery on a patient located anywhere in the world.
The next era of self-driving cars will also depend on 5G. The new technology will allow cars to "talk" to each other in real time.
5G will even change farming. Farm equipment company John Deere is developing 5G technology that promises to radically boost crop yields.
5G is a gamechanger. And there's been a ton of money flowing into 5G-related companies.
Major Investment in 5G Is Already Underway
Companies have already spent over $200 billion on 5G infrastructure.
Most of this money has gone toward building 5G-ready cell towers.
That's a lot of money, but there is much more to come. Research firm Moor Insights & Strategy expects that 5G-related IT hardware spending will reach $326 billion by 2025.
See, to achieve the speed and reliability of 5G requires lots of cell towers.
Today, the 4G network uses 25,000 cell towers across the US. Each one is 100 feet (or more) tall, and they are spaced several miles apart.
The 5G network will need 200,000 cell towers that are much smaller and spaced in a much tighter web across the US.
So in the near term, almost all 5G spending will go to building out the cell tower grid.
When it's ready, 5G speeds will be 20 gigabytes per second. That's 1000x faster than today's 4G technology.
5G will make wireless bandwidth seem infinite. And the companies building the infrastructure for this new technology will be the first to profit.
Picking the Right Horse in the Race to 5G
There are a few ways to invest in the evolution to 5G.
You could buy the stock of companies that maintain and operate 5G infrastructure. These would be stable dividend companies like AT&T T, Verizon VZ, and China Mobile CHL.
These are low-risk, limited-upside investments that will take time to bear fruit.
Things work slowly in the telecom space. We saw this play out when 4G was introduced.
To gain the benefits of the 4G network, users had to replace their 3G phones. Phones aren't cheap, and 3G phone owners had to first be convinced that the new phones and features were worth the money. That took some time.
Instead, I recommend going the "picks and shovels" route. This means companies who build the infrastructure that supports 5G technology.
These companies are making money from their 5G investments right now.
I like to buy companies that sell the "picks and shovels" that industries need… like investing in farm machinery companies rather than agricultural businesses.
In the 5G space, this would be companies that sell the hardware, software, and services to telecom companies.
And we can leverage our bet by owning a company with exposure to the international adoption of 5G technology.
There's only one company that fits these criteria.
Nokia Corp. (NOK)
Nokia NOK is a Finnish multinational telecommunications company. It is the world's third-largest telecom equipment manufacturer after Huawei and Cisco CSCO.
The company is split into two segments:
•Nokia Networks (90% of sales): provides systems and software to build high capacity network infrastructure.
•Nokia Technologies (10% of sales): develops consumer products and licenses technology for the Nokia brand.
Almost all of Nokia's business comes from selling data networking and telecom equipment. That's just what we want, because I expect those types of sales will see big growth as 5G investment ramps up.
The build out of the 5G network will be global, and Nokia is a truly international company
Even better, two of Nokia's biggest rivals—ZTE ZTCOY and Huawei, were blacklisted by the US government. This will shrink NOK's competition in this US market to pretty much just one company—Ericsson ERIC.
The investment flow into 5G from the major telecom companies has already started to climb.
In July, Nokia received a $3.5 billion contract from T-Mobile US, which was reportedly the largest 5G deal ever.
T-Mobile has about a 17% share of the US wireless market, making this a major win for NOK.
This Play Will Take Time… Be Patient
The flow of investment will not, however, hit the 5G market like a giant wave.
It will be more like a steadily rising tide. In fact, NOK management expects 5G investment to be soft in the first half of 2019.
But that's perfect for investors. It gives us an opening to get in before the tide of money starts to rise.
The multibillion-dollar contract from T-Mobile looks like a sign of some early pump priming for more 5G spending.
The other major wireless carriers in the US aren't going to let themselves lag behind in the race to 5G.
I think we will soon see more big 5G contracts make the headlines. As a major player in a market with limited competition, Nokia will almost certainly win a lot more US sales by the end of 2019.
The Sin Stock Anomaly: Collect Big, Safe Profits with These 3 Hated Stocks
My brand-new special report tells you everything about profiting from "sin stocks" (gambling, tobacco, and alcohol). These stocks are much safer and do twice as well as other stocks simply because most investors try to avoid them. Claim your free copy.