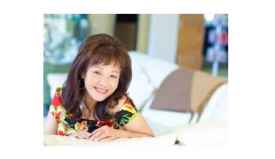 Dora Lau, president of Dora L. Inc., became frustrated with the small selection of beautiful, well priced bras for full figured women and decided to launch Curvy Couture, a collection that uses the latest technologies to create intimate apparel that enhances a woman's curves and makes her feel glamorous and sophisticated. It was her dream come true to help women feel confident about their curves, and each design is her vision. Lau has married the elements of beauty, elegance and the artistry with the need for trustworthy, targeted, comfortable support designed around the distinctions of the curvy female's body. The result is an unparalleled product of functional sensitivity and aesthetic. Known for her commitment to utilizing innovative materials and cutting-edge technologies, Lau continues to raise the bar as she introduces new creations each season.
Available now from 36C to 44H, Curvy Couture stands out as truly exceptional in the marketplace of American lingerie. Dora Lau founded Dora L International, Inc. in 1991 and has served as CEO and President for the past 19 years. She has been the recipient of numerous awards including the Lane Bryant Vendor of the Year Award in 2006 for creativity and innovation and The Avenue Partner of Excellence in 2007. The DLI Management team has more than a century combined years of experience in the Intimate Apparel Industry having worked on such brands as Warners, Olga, Debenhams, La Senza, Contessa, Maidenform, Bodyslimmers, Self Expressions, Agent Provocateur, Oscar de la Renta and Valentino. Since its inception, DLI has serviced customers such as United Retail, Lerner Stores, TJ Maxx, JC Penny, Soma, Nordstrom, Lane Bryant and Victoria's Secret.
Dora L International, Inc. is a Certified Minority Business Enterprise/Women's Business Enterprise (MBE/WBE). Lau earned a BS in Computer Science from Arizona State University, Dora realized her true passion was within the fashion industry and returned to school at the Fashion Institute of Design and Merchandising in Los Angeles where she was honored as Valedictorian. She was nominated as one of the Top 10 Rising Stars with her Evening Wear Collection before directing her focus and talents to the intimate apparel needs of full-figured women. Be sure to visit the Business Rockstars website.
DISCLOSURE: The views and opinions expressed in this article are those of the authors, and do not represent the views of equities.com. Readers should not consider statements made by the author as formal recommendations and should consult their financial advisor before making any investment decisions. To read our full disclosure, please go to: http://www.equities.com/disclaimer