The stock price for 3M MMM has sold off sharply since it posted a high price of 259 back in January 15 this year. It has fallen to as low as 190 in July, but has rebounded a bit since then. Currently 3M is trading around the 212 area.
So, what's next for this stock? Will the recent rebound continue or should we expect further weakness? Well based on the current price action, the evidence seems to point to a short continuation of the rebound before the price starts to come under extreme selling price. Let's take a look at the weekly chart of 3M below and study price action from the lens of the Elliott Wave theory.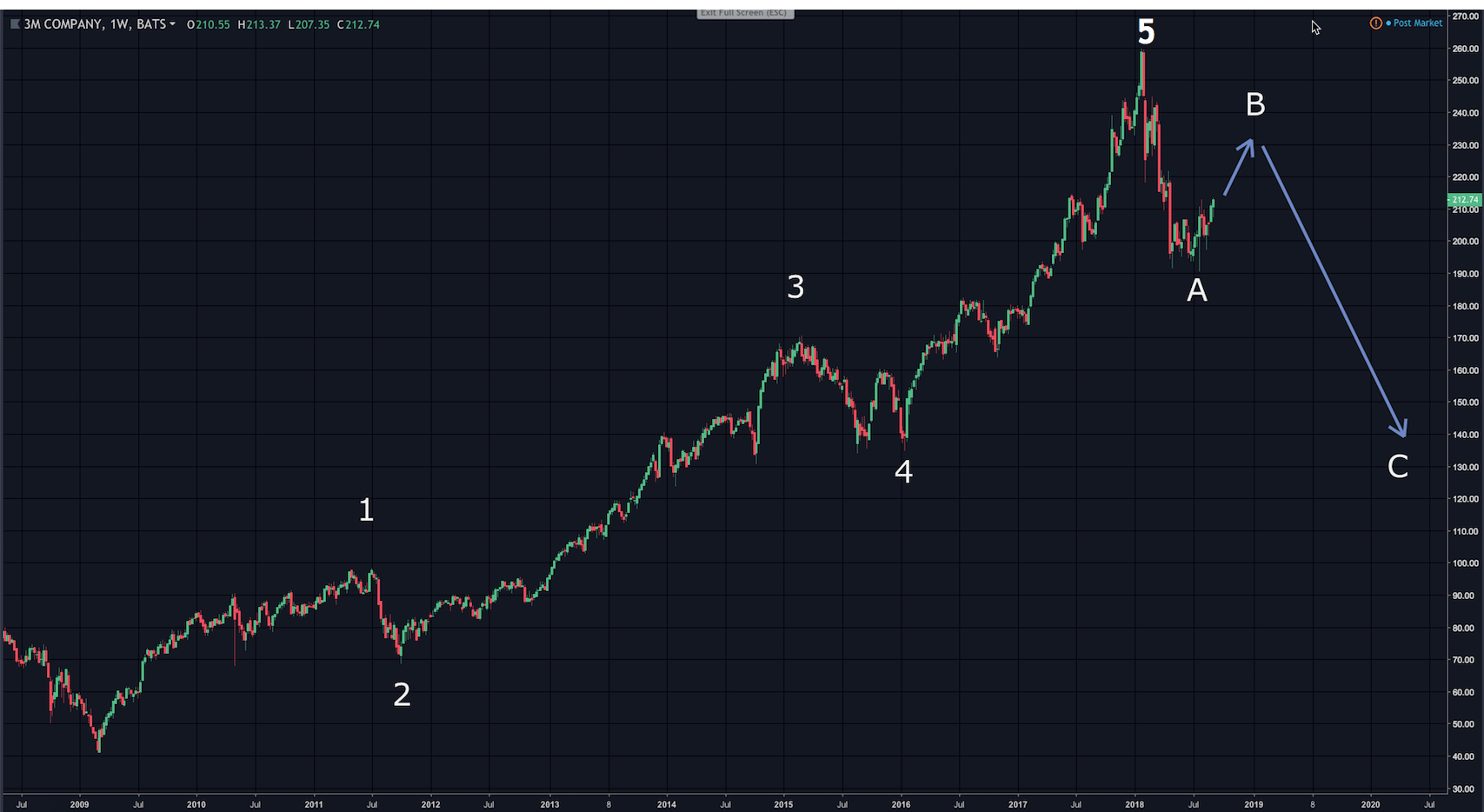 As the chart clearly shows, the 3M stock price had been in a strong uptrend from March 2009 to Jan 2018. The uptrend is an impulse sequence consisting of waves 1,3, and 5 which are in the direction of the primary trend. And these waves are interrupted by the two corrective waves 2 and 4. Following an impulse sequence, we would expect that the price action would begin its corrective phase which usually consists of a 3 wave affair – wave A,B, and C.
We can see that wave A has likely completed and that price is beginning to trade higher, marking the beginning of wave B. We can often expect wave B to retrace approx. 61% of wave A. As such there is still some upside price movement that is likely to occur. Wave B's in an uptrend are what many professional traders refer to as "Bull Traps" because it tends to pull more and more latecomers into the stock in anticipation of a continued trend, but more often than not, it will result in a failed test of the recent high as supply begins to overwhelm the market. So essentially, this would a contrarian play on the stock.
As I noted earlier we can anticipate the beginning of the down move when wave A is retraced by 61%, which in this case would be when 3M trades around the 220 level. When price reaches that level, then we should begin a turning point which will be the start of wave C. This will likely put intense pressure on the stock which should see an end near the horizontal support area near the beginning of wave 4, or about the 140 price point.