In a belated holiday gift to Celgene CELG shareholders, Bristol-Myers Squibb BMY will acquire Celgene in a cash plus stock deal worth $74 billion based on yesterday's closing BMY price. Under the terms of the agreement, Celgene shareholders will receive:
1.0 BMY share – The stock closed at $52.43 yesterday but is trading at $45.80 midday today.
$50.00 in cash
One tradeable Contingent Value Right (CVR) that will be worth $9.00 if the FDA approves all of three specified late-stage Celgene assets by certain dates
BMY shareholders will own 69% of the new company, with CELG shareholders owning 31%. Giovanni Caforio, MD, BMY's Chairman and CEO, will run the combined entity.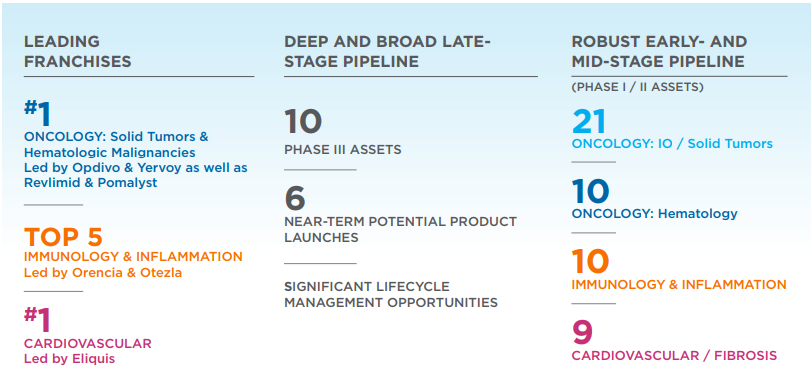 Source: Bristol-Myers Squibb and Celgene infographic, Jan. 3, 2019
Gift for Celgene investors
Celgene shareholders had a rough ride in 2018, with the stock losing 39% of its value in the face of increased challenges to its principal revenue generator, Revlimid for multiple myeloma, which had sales of $2.449 billion in Q3 2018, out of $3.890 billion in total revenue for the quarter. The company provided guidance in its Q3 conference call that it expected full year Revlimid revenues to be about $9.7 billion, or 65% of the $15 billion annual total. Avi Salzman wrote in Barron's today:
The Trump administration has vowed to open up competition to drugs that have enjoyed extensive patent protection. It has highlighted Revlimid as a drug that has drawn complaints from generic drugmakers looking to study it as they develop competitors.
CELG is trading around $83 at midday today, up 25% from yesterday's close, after flirting with the $88 level earlier in the morning. Mr. Salzman, and several Wall Street analysts, are recommending that current Celgene holders should sell into the current strength rather than waiting to see if the transaction actually closes. He cited Geoffrey Porges, Director of Therapeutics Research and Senior Biotechnology Analyst at Leerink, who wrote:
This transaction dilutes investors' exposure to Celgene's patent cliff, relieves Celgene investors of the trials of the company's management decision-making and offers immediate upside that would otherwise take many months, or even years, to be realized.
Mr. Porges sees a risk in BMY's shareholders perhaps not approving the deal, and Mr. Salzman views the deal as a "lucrative escape hatch" for CELG investors, even if selling now means leaving potential upside on the table.
Deal would create a biopharmaceutical giant
If the transaction does close in Q3 2019 as the companies project, the combined company will have nine products that each generate more than $1 billion in annual sales. Additionally, there are six expected product launches in the near term in immunology, inflammation and hematology that the companies believe represent greater than $15 billion in revenue potential to complement the leading programs in oncology and cardiovascular diseases.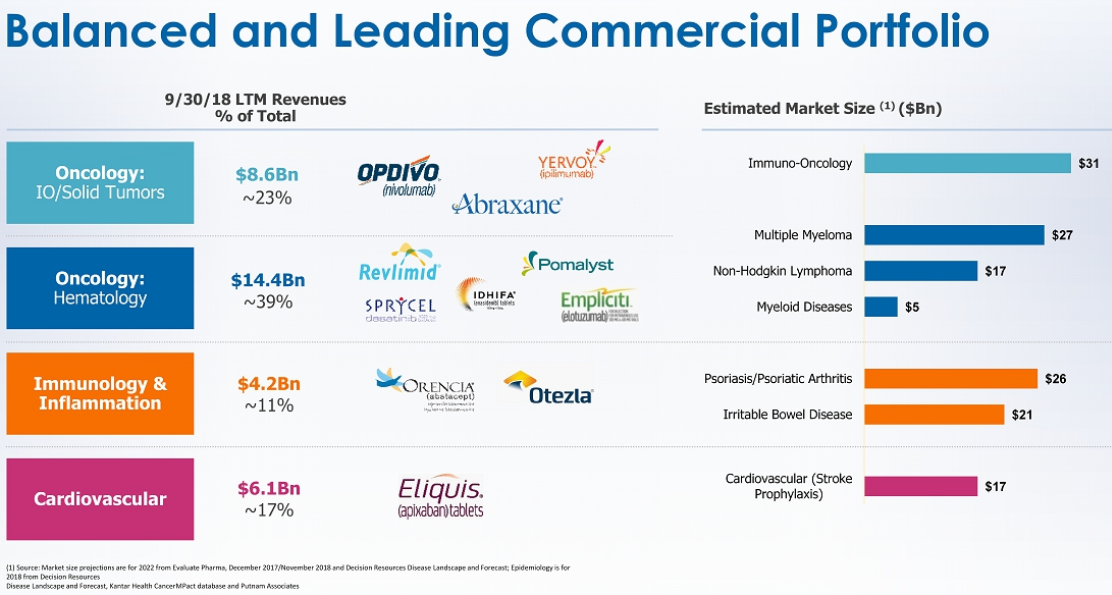 Source: Celgene Form 8-K, Jan. 3, 2019
Bristol-Myers expects the deal to be immediately accretive by more than 40% to EPS in the first year after the deal. The company cited $45 billion of expected free cash flow to be generated over the first three full years after the deal and affirmed its commitment to maintaining its investment grade credit ratings while continuing its dividend policy. The company said it expects to realize "run-rate cost synergies of approximately $2.5 billion by 2022" by achieving "efficiencies across the organization." The "areas of opportunity" in the slide below are a clear roadmap to where the layoffs will be as the new company takes shape.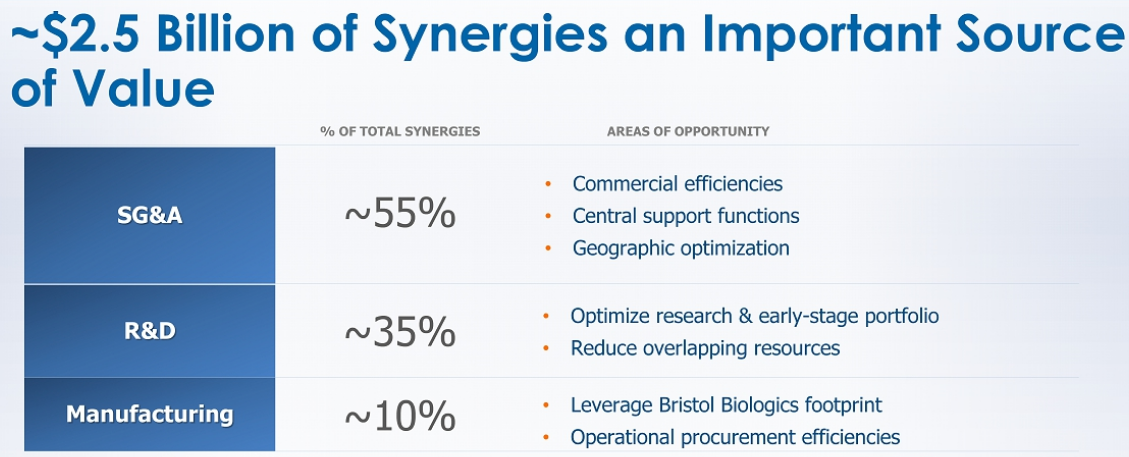 Source: Celgene Form 8-K, Jan. 3, 2019
In a year which is not likely to be as active for biotechnology IPOs as 2018 was, Bristol-Myers Squibb's acquisition of Celgene may mark the beginning of what could be an active M&A year to fill the void, particularly with the decline in valuations sectorwide in the second half of 2018. This acquisition would have been highly unlikely when CELG was north of $100, and there is no shortage of companies that could be in the sights of potential acquirers at current, relatively depressed prices.
Please email us at [email protected] to see our Case Studies and Testimonials.
Please click here for information on our equity trading platform.
Please click here to receive our free daily newsletter.