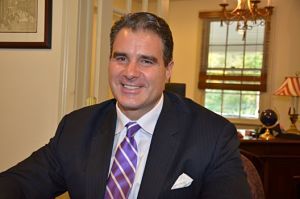 The dramatic decline of the small-cap IPO market has had a lot of consequences, one of which is the rise of private issuances. More than ever, companies are opting out of going public until late in their development and turning to private capital markets. However, private markets lack the sort of openness and liquidity investors find in the public markets.
That's why Gate Global Impact has set out to create a trading platform that brings some of the transparency and secondary liquidity of public markets to private issuances. Equities.com talked with Vince Molinari, CEO of Gate and recognized as one of the "10 Most Influential People in Business Crowdfunding" by Forbes.
Molinari testified on March 4 to the SECs Advisory Committee on Small and Emerging Companies regarding the need for reform in private capital markets liquidity and his and his partner Joe Latona's proposal to amend Regulation ATS (alternative trading system) for trading in unregistered securities. Molinari talked with Equities.com about that presentation and how we can get capital markets to work for the American economy.
EQ: Could you just tell us a bit about the presentation to the SEC and what you had to say?
Vince Molinari: I think it starts from the premise that we've looked very hard and built technology around the primary issuance and the secondary trading of unregistered securities.
Due to a combination of things, including the JOBS Act and private companies now being able to have up to 2,000 shareholders under the changes to 12G under Title V of The JOBS Act, private companies are either staying private longer or permanently because they have access to capital. Their investors can also have liquidity events and make money in private securities before a traditional IPO or Merger and Acquisition event. This is especially important and a powerful tool as our IPO market, particularly for the small- to mid-sized companies, virtually disappeared resulting in a significant decrease in access to capital for smaller and emerging companies.
Gate Global Impact's strategy has been to embrace regulation and overlay innovative technology solutions in order to create this new market infrastructure. The goal is to foster and ensure standardization, best practices, and investor protection in the process of focusing on these emerging asset classes. Last year, there were over $1.3 trillion of unregistered security offerings in the United States versus $1 trillion in our public markets. That's the first time in US history unregistered markets exceeded public markets.
I think when you begin to layer on the removal of the general solicitation ban under Title II of the JOBS Act, we're going to see continued upward trajectory of private, unregistered securities issuances. When you can advertise and access potential investors, on wonderful platforms like Equities.com and various others, the distribution of securities iterates and expands very efficiently, in a transparent and transformative manner.
What we saw happening was this inverted funnel of a lack of liquidity around unregistered or private securities as more investors are discovering private securities as an investable product. On the whole, it's actually very good from the perspective of job creation and the sorely needed flow of capital to this sector. There currently exists, though, a lack of balance between the capital formation process and investor protection in terms of access to liquidity or exit strategies for the investors and it's becoming more of a concern. We need to bring market-driven solutions to this emerging marketplace in order to continue to foster increased capital to our job creators while protecting investors.
I believe the SEC and other Regulators realize that access to secondary liquidity is in and of itself a major tool for investor protection, so there have been more and more conversations around the concepts of venture exchanges.
But the time to regulatory rulemaking and action, even after acts of Congress, is very elongated. I think all of us have certainly experienced this during the JOBS Act, whether it's Reg. A plus or Title III Crowdfunding. It has not been from a lack of effort by the SEC or a lack of engagement with the private sector, but this is new territory as the integration of social Media and Web 3.0 becomes a major factor in our Financial Services industry for the first time in US History. These are complex issues that require dismantling of decades-old regulation and considerable thought in order to balance the mandate of access to capital, orderly markets and investor protection.
As a result, although I am a huge proponent of proposed models like Venture Exchanges, I could easily imagine a period of years for venture exchanges to get structured, approved, and really be up and running and having an impact on the marketplace.
So in the interim as the advocacy and process of advancing Venture Exchanges continues, we need to find something that is regulatory-enabled that imbeds next-level technology and could create that new marketplace for secondary liquidity. We really went back to 1998 and looked at the original issuing release from the SEC regarding ATS. It was kind of eye-opening when you look at a Stock Exchange mandate versus what goes into creating a marketplace to bring buyers and sellers of securities to a single destination. It's literally the same language. The material difference is that an exchange has to have its own Self-Regulatory Organization (SRO) and a broker dealer hosts an ATS, which is of course has FINRA as its SRO.
As we looked into the issuing release more and more, we noticed an interesting phenomenon: the ATS regulations really said that if you're an ECN or a crossing network, you have a decision to make. You either have to become an Exchange or you become a broker dealer that hosts an ATS. Frankly, most, if not all, elected to go the ATS route.
If you remember Archipelago was a disruptive startup technology that became an ATS, went public on the Pacific Stock Exchange, and was acquired by the New York Stock Exchange (ICE) . That network that was designed as a disruptive, start-up technology to address what they believed were market inefficiencies is now the system still used by the New York Stock Exchange today. If you look at the other side, NASDAQ (NDAQ) acquired Island and Instinet, also born out of that same era, and that is very much still the technology still being used by them. These are great examples of how start-up, innovative, and disruptive technologies solutions grew to have a massive impact on our financial services infrastructure
In that same issuing release on Regulation ATS in 1998, the SEC stated The Commission's assessment of the impact that these systems may have on the trading of unregistered securities…and the appropriate regulatory posture to these developments, is still ongoing. It is now 17 years later and Gate Global Impact believes it is time for the SEC to complete the work it started as it relates to ATS and its impact on trading systems of unregistered securities.
We feel we are a pivotal juncture in history where there needs to be an amending of Reg. ATS for unregistered securities in order to give clarity on how it can be utilized as a mechanism to facilitate the orderly, transparent, archived and regulated solution that is an actionable step to enable liquidity of unregistered securities. It's a subject Gate Global Impact addressed in our letter to Keith Higgins, the Director of Corporate Finance for the SEC, from February.
The SEC recognized back in 1998 that the work on unregistered securities and Reg ATS was still ongoing. Let's complete the work now as the need for a regulatory-enabled solution that is streamlined and gives clarity is needed in this growing marketplace more than ever.
That's why it was kind of a call to action to the SEC that this is something under their purview that we be believe can be readily addressed within the Commission's authority. We have a problem in the market. There's a tremendous pent-up need for liquidity, and it's an issue of investor protection. When you have secondary liquidity, it helps drive the primary issuance of capital to companies that need more capital to go out and create jobs and build a healthier economy.
We think that, at a bare minimum, amending Reg ATS for clarity around unregistered securities can be the pilot program for the venture exchanges. We could start to make a difference in creating liquidity very quickly and, as the venture exchanges grow, maybe ATS grows up to be the next version of the venture exchanges. We will have proof of concept and we have action in the market during this pilot program that can deliver relevant data that be used to better understand capital flows and Investor protection during this growth phase. The generation of this data and statistics can be used so we may iterate and ultimately create the best Venture Exchanges possible.
EQ: In recent years we've seen a dramatic decline in small and mid-cap IPOs. You even have some well-publicized comments from Mark Cuban regarding the increase in private issuance and how that's potentially changing markets. What do you think of the current state of the markets and what did you think of Mark Cuban's comments?
Vince Molinari: There's two phenomena there that tie together. I think we had a dislocation or a loss of our middle market distribution and backing. Many people forget that Intel (INTC) was a $15 million IPO in its day. Whether the culprit is Sarbanes-Oxley, decimalization, order handlings, Reg A NMS, or a combination thereof; we've lost a large part if not the vast majority of our distribution in the middle markets. Therefore there are less IPOs of smaller to mid-size. We've had a contraction in the amount of IPOs and an increase in the size of the offerings that get done.
I think as a nation we have a fundamental problem. The public markets are no longer addressing the growth or entrepreneurial companies that are disruptive, innovative, and create jobs. We have this void in the marketplace and, if we can dial it back to Facebook (FB) as a private entity and talk pre-JOBS Act for a moment, what we saw was that they had significant visibility because of their user base. They went from a $2 billion to an $80 billion valuation as a private enterprise raising capital, and having their shares traded and sold.
Investors realize that they can now have alpha creation and make money, maybe similar to what the IPO process used to be, but with private companies remaining private. It created an awareness that there's almost a blurring of the public and private lines now. Private companies are more willing to provide information as a private company because they realize it helps them raise money, and they're not being forced to go public pre-emptively once they hit 500 shareholders under the old 12(g). This allows Private companies to access capital, increase its shareholder base by offering secondary liquidity to their investors, while having an orderly and regulated marketplace
The investors realized there may be a mechanism for them to get capital out and make money or at least post for liquidity in a private security that didn't exist before so I think that is lending to an increase in private investment. I think the operative word is investment. I think this is where I differentiate with Mr. Cuban. He is obviously a brilliant and incredibly successful entrepreneur and creator of wealth.
I think the operative word is investor versus speculator, and this has become a fundamental problem with our marketplaces. We have become very myopic or focused on the very thing that Mr. Cuban was talking about, stocks moving 10, 15, 20 points a day and everybody making money very quickly. They don't even know the company that they're investing in. They were investing in either momentum or a tip or speculation. This type of speculation, that can create bubbles, does not add capital into the system for the companies. It is a stock trade. We have lost some our connectivity to what it means to be an investor in a company, believing in its management and helping facilitate its growth with capital as opposed to a speculator focused on the stock price du jour
I think what the private markets represent is more connectivity to being an investor, understanding the business that you're investing. That includes understanding that there's inherent risk and you could lose money, maybe all of your money. That's why investor protection, suitability, and knowing your customer requirements are important in a regulatory framework to help insure that it's the proper investment and the right risk profile for the investor.
We aren't saying that everybody should invest their full portfolio, but allocating a portion of one's portfolio to private securities, based upon risk tolerance can continue to create a healthy cycle of companies accessing capital for growth while affording investors the opportunity to create potential wealth.
EQ: What sort of reforms or changes would you support to really hone these markets into something you think is going to be most beneficial to investors, companies, and the broader economy?
Vince Molinari: I think we have to look at general solicitation on 4 (1 ½) securities. I think another simple fix is when we look at 144A securities pursuant to general solicitation. An unregistered security of a public company can be generally solicited, but you have to be a qualified institutional buyer (QIB) in order to make that investment. We think that should be modified and should be available to accredited investors.
That is where I think there is some disconnect with how the SEC views Corporate Finance versus Trading and Markets. You can be generally solicited for a Reg D 506 C offering of a private security and accept inbound accredited investors. Yet 114A securities may be generally solicited, but the inbound investor must be a QIB. There is generally more information and data available to the investor, and the unregistered 144A security is tied to a public company with a body of reporting requirements and publically available information. So it seems logical to Gate Global Impact that, with the greater disclosure available in the marketplace, accredited investors should be afforded the opportunity to invest in 144A Securities pursuant to General Solicitation. There seems to be a fundamental disconnect there.
I think you can then layer on an amendment or expansion of the accredited investor rule and create more accredited investors. We have roughly 350,000 accredited investors in the United States and only about 8% or 10% of that number are actually active in the marketplace. That's why educating and creating awareness about the potential to invest in unregistered and private securities that then can be tracked, that could be part of a portfolio and have benchmarking, and can have a level of information and data which allows for the secondary trading of those instruments. This is extremely important to increasing the size of the accredited investor pool, while aiding this group with access to data and information in order to increase their ability to fend for themselves.
EQ: What about the investor populace that isn't accredited? How do you see investment opportunities for those people changing?
Vince Molinari: It is a great question, and a frustrating one for me personally. I testified before Congress back in 2011 on certain bills that became the JOBS Act, including crowdfunding under Title III. I cofounded the Crowdfunding Intermediary Regulatory Advocates and I was the first co-chair of that organization. So I do think that the ability to aggregate retail investors into a common funding mechanism for securities under crowdfunding in Title III could be very powerful.
Unfortunately, we are caught up with a bit of a sand in the gears regarding questions of legislative intent and the the rule-making phase. It's a very difficult process in which we worked closely with the SEC, FINRA, and NASAA. It's not that they're not working hard, they're working incredibly hard, but we're in the first inning of what I would say is this monumental paradigm shift where we're going to see the consumerization of the web reaching over to securities practices. It's a first in US history.
Even though certain provisions of the JOBS Act and different titles may pre-empt certain securities laws or Blue Sky requirements, there is the body of 1933-34 Securities Act that still has to be complied with. I think we are on a trajectory where we have the intersection of financial services, Web 3.0, and social media all converging at the same and it's a struggle to get it right.
I think we're going to see a reinvention of capital formation and distribution of securities over the next five years. Will our financial services companies have more of a social media component to them for distribution? Are social media companies who have a massive user base, that they would like monetize, going to find some sort of securities distribution as a way to achieve that? Are social media companies and financial services firms going to compete? Are they going to be collaborative, particularly on the retail side as you get to mass distribution?
That could be a very powerful engine, but it's going to take time to get right. There are a lot of needs and requirements around investor protection. But we also can't overprotect an investor from themselves pre-emptively and strangle capital formation and that investor's opportunity for creating wealth, even if the risk associated with that is losing money. As these marketplaces continue to iterate, we need to ensure that investors are protected and understand the risks associated with the investment that they're making.
EQ: Do you have any closing comments?
Vince Molinari: I think it's time, particularly as it relates to the revisions to Reg ATS, for the SEC to finish what they started in 1998. It's an incredibly healthy step for everybody in the ecosystem, including the issuer and the investors who need secondary liquidity. It's a time-proven system that is regulated, but a little modification could go a long way in having an impact on creating much-needed liquidity for unregistered securities.
DISCLOSURE: The views and opinions expressed in this article are those of the authors, and do not represent the views of equities.com. Readers should not consider statements made by the author as formal recommendations and should consult their financial advisor before making any investment decisions. To read our full disclosure, please go to: http://www.equities.com/disclaimer