China's pharmaceutical market is second only to the US, with $115 billion in sales in 2015, according to a September 2017 report by McKinsey, while the overall health care sector is projected to grow to $1 trillion by 2020. The most populous country in the world faces increasing medical needs for its 1.4 billion people, evidenced by 114 million diabetic patients and over 700,000 new diagnoses of lung cancer each year. China's FDA is committed to modernizing its approvals process, leading to 35 major new drug launches in 2017 compared to only five in 2016, according to a subsequent December 2017 report by McKinsey.
Brii Biosciences announced its launch today with a $260 million commitment from several leading US and China based venture capital firms, including ARCH Venture Partners, 6 Dimensions Capital, Boyu Capital, Yunfeng Capital, Sequoia Capital and Blue Pool Capital. Brii — breakthrough innovation and insight — aims to accelerate the development and delivery of breakthrough medicines in China through partnerships that it hopes will drive more rapid development than traditional startups. Brii Biosciences' focus is treatments for chronic illnesses with significant burdens, including infectious diseases, liver and lung diseases.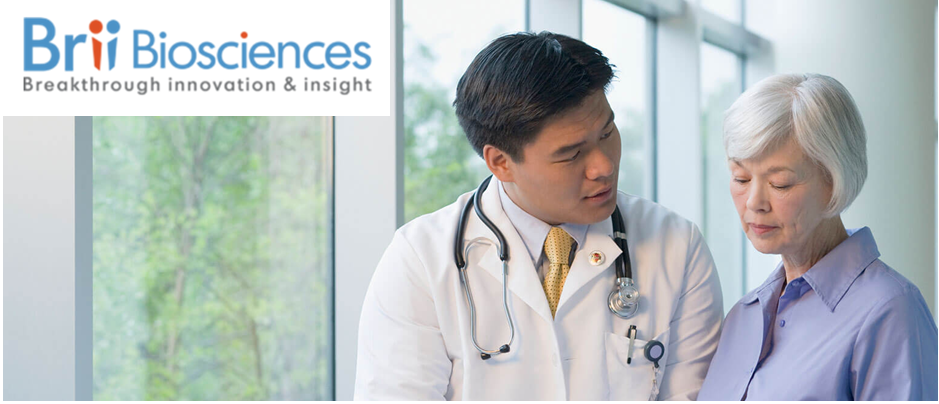 The pace of innovation has accelerated over the past decade, resulting in dramatically better treatments and cures for life-threatening diseases, but the reach of those innovations in China has been limited. Delivering innovative medicines to Chinese patients constitutes not just a market opportunity but an opportunity to significantly improve public health. China needs faster, affordable access to new therapies, and has the public health infrastructure and advanced digital and data technologies to enable that at scale.
– Zhi Hong, PhD, Co-founder, President and CEO, Brii Biosciences.
Brii Biosciences launches with three initial partnerships:
Vir Biotechnology has granted Brii Biosciences options on exclusive greater China rights for up to four assets in Vir's infectious disease portfolio.
AliHealth, the healthcare arm of Alibaba, will collaborate with Brii Biosciences in a digital and data insight partnership to explore disruptive approaches to optimize clinical and commercial development efforts, and ways to accelerate the awareness and uptake of new medicines.
Brii Biosciences has entered into a memorandum of understanding with WuXi AppTec and WuXi Biologics for priority access to WuXi's research and development capabilities.
Brii Biosciences is headquartered in China with offices in Shanghai, Beijing, San Francisco and Durham, North Carolina. Dr. Zhi Hong, CEO, has more than 25 years of experience in drug discovery and development and has brought more than 30 compounds into development, including many that have been approved and launched. He was Senior Vice President and Head of GlaxoSmithKline's infectious diseases therapy area unit, launching Tivicay and Triumeq while leading the HIV business of ViiV Healthcare, a joint venture among GlaxoSmithKline, Pfizer, and Shionogi. Dr. Hong started Ardea Biosciences (later acquired by AstraZeneca) and has held leadership positions at Valeant and Schering-Plough Research Institute (now Merck).
The scientific leadership team at Brii Biosciences boasts strong track records in drug discovery and development from GlaxoSmithKline, Merck, Gilead, Ardea and Medimmune.
Frank Vinluan writes in Xconomy that the company raised the larger than typical sum of $260 million because, according to Dr. Hong, "the company must be ready to pay top dollar for innovation. 'I really want to go after products that will provide a highly differentiated clinical benefit,' says Dr. Hong. 'Because of that, I think it will cost more.' "
Please email us at [email protected] to see our Case Studies and Testimonials.
Please click here for information on our new trading platform.