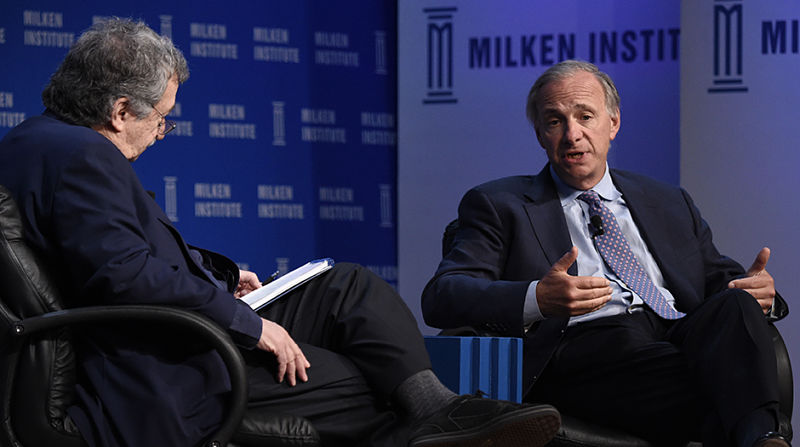 This past week, Bridgewater's Ray Dalio took to Linkedin to discuss why investors should allocate up to 10 percent of their portfolios to gold. His reasons appear to be predicated on: a) an ongoing feud between President Trump and North Korea's Kim Jong-un that has gone from humorous to dead serious; and b) greater odds that Congress will fail to raise the nation's debt ceiling.
Perhaps we shouldn't be too concerned about the second issue, given that National Economic Council head Gary Cohn and Treasury Secretary Steven Mnuchin appear to have quickly learned the ways of Washington. But given the difficulty in assessing the US-North Korea standoff, we think it's hard to argue with Dalio.
---
---
Our only question is: why gold vs. Bitcoin? Despite all of the drama associated with the Segwit adoption, and a hard fork that resulted in the creation of Bitcoin Cash, Bitcoin has powered on. Sure, market sages like Oaktree's Howard Marks believe Bitcoin is an "unfounded fade," in part because people are ascribing "value to something that has little or none beyond what people will pay for it."
But as Envestnet's Zachary Karabell points out in Wired, neither gold nor US dollars have intrinsic value either. And with fund giants like Fidelity getting on the digital currency train and institutions pouring money into digital currency infrastructure, splitting one's doomsday investments between gold and cryptocurrencies seems like a reasonable way to go.
DISCLOSURE: The views and opinions expressed in this article are those of the authors, and do not represent the views of equities.com. Readers should not consider statements made by the author as formal recommendations and should consult their financial advisor before making any investment decisions. To read our full disclosure, please go to: http://www.equities.com/disclaimer