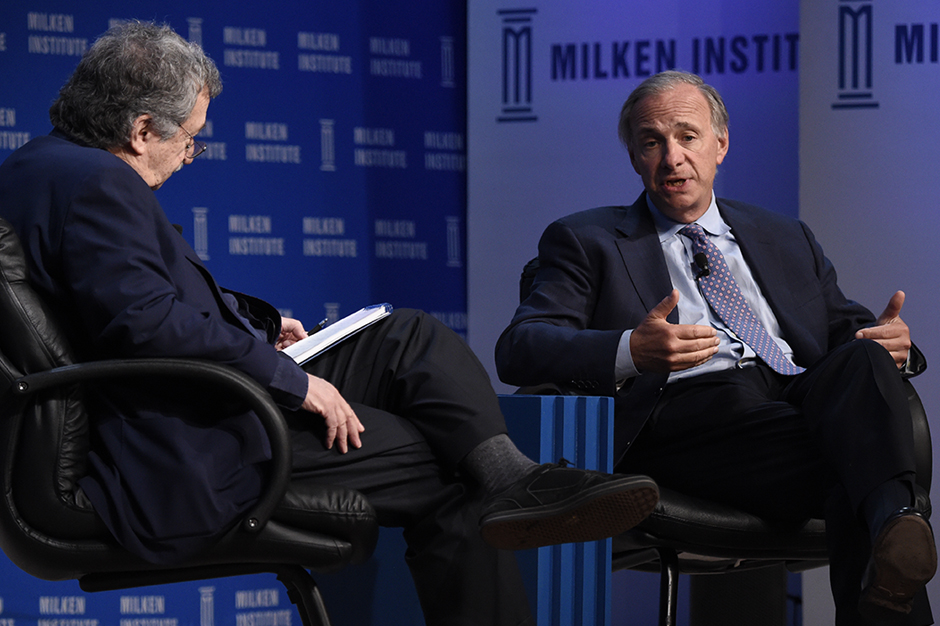 Ray Dalio is the CEO of the world's largest hedge fund: Bridgewater Associates. Yet, what the firm is most known for these days may not necessarily be its out-sized returns or the roughly $150 billion in assets under management. Rather, the company's dedication to a culture of radical transparency and meritocracy of ideas has been increasingly put under a microscope. But according to Dalio, it is the most important factor of the firm's success. He said as much Monday at the Milken Institute Global Conference 2016 during his one-hour interview session with developmental psychologist and Harvard professor Robert Kegan.
As part of Bridgewater's culture, employees are encouraged to fail early and fail often, with the belief that struggle builds strength. It's a mindset that has become wildly popular among startups and entrepreneurs, who have, in recent years, been criticized as perhaps becoming obsessed with failure.
Equities.com caught up with Dalio after his interview to get his thoughts on embracing failure, and whether there's a right way to do it.
"I think the term failure almost seems like an end rather than a step," Dalio told Equities.com. "Failure, you fail. OK, but if you start to realize that you're going to just pause and it's a step, and it's a learning thing, then it's going to help you climb to the next level. If you realize it's a journey or even learn to accept failure as self-discovery of a strength and a weakness. I think the preconceptions of what it's going to be is the thing that's a problem and it stands in the way of personal evolution."
---
---
In fact, Dalio called himself a "professional mistake maker" during his interview. While embracing failure (repeatedly) as a means of a guiding light of sorts to finding success, there is an art to it. And failing for the sake of failing is not a mistake one should make when trying to emulate what's helped Bridgewater become so successful. The firm's commitment to complete honesty, to the point of bluntness, among employees in its feedback process is why it handles failure so well.
"I created it, because I needed it," Dalio said of Bridgewater's culture. In short, the firm gets the most out of the lessons it learns when it fails. So there's an art to failing, but like anything else, there's also a balance.
"I have four sons," Dalio said to Equities.com. "And I told them you could operate in your comfort zone, your stretch zone or your panic zone. So going too far is being in your panic zone, which maybe breaks you. But living in your stretch zone, I think is healthy."
Bridgewater's unconventional principles aren't for everyone, and deserved or not, it's garnered certain criticisms as well. Dalio defended the culture of rewarding "independent thinking", and said the lack thereof is quite possibly the biggest problem affecting mankind.
It really was a fascinating conversation, and luckily, the Milken Institute has uploaded the full session Meaningful Work and Relationships Through Radical Truth and Transparency: A Conversation with Ray Dalio online. It's definitely worth a watch.
Image courtesy of Milken Institute
DISCLOSURE: The views and opinions expressed in this article are those of the authors, and do not represent the views of equities.com. Readers should not consider statements made by the author as formal recommendations and should consult their financial advisor before making any investment decisions. To read our full disclosure, please go to: http://www.equities.com/disclaimer