However, the markets soon recovered, and the shock was not as bad as many had feared. Similarly, there was a knee-jerk reaction in gold, which boosted its price up to the $1,350 level immediately after the vote's results were announced. As the chart below shows, gold prices spiked in the U.S. dollar, in the euro, and in the British pound.
Chart 1: Price of gold in U.S. dollars (blue line), euros (yellow line) and British pounds (red line) after the Brexit vote.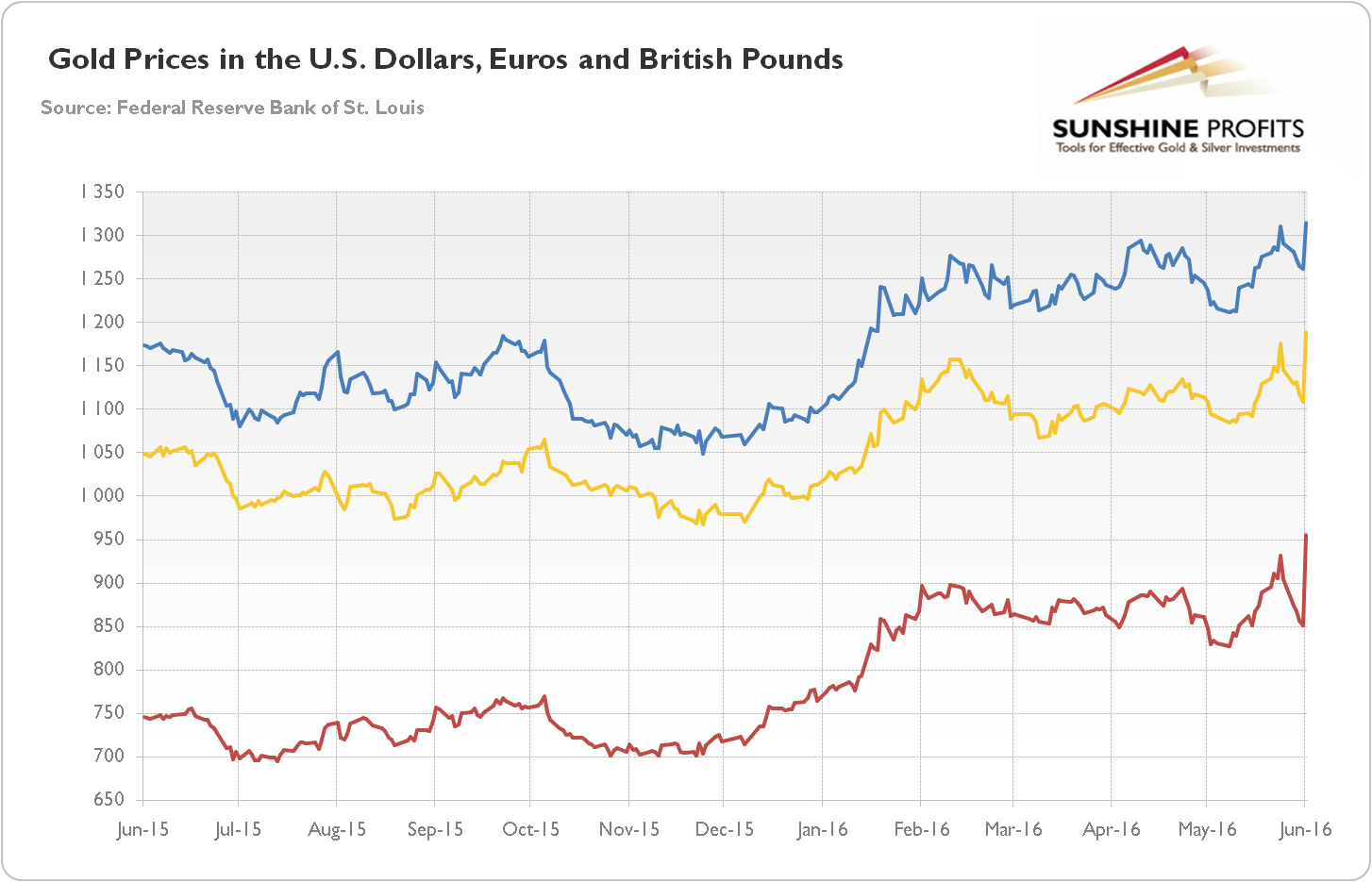 Brexit Vote vs. Brexit
The Brexit vote is often confused with the Brexit itself, i.e. the UK's exit from the EU. In fact, the referendum was not a formal, legally binding trigger for Brexit. As of September 2016, the UK is still a member of the EU and its exit has not been determined yet. Actually, it may take years for the UK to part ways with the EU. It explains why the Brexit vote may entail significant consequences for the gold market, but none of them are immediate.
Brexit and Gold
The potential exit process of the UK from the EU would be long, complex and costly, and it would harm the global economy and generate significant uncertainty and risk-aversion, which should support the price of gold. The biggest risks connected with Brexit are as follows:
The risk that other European countries will also depart from Brussels and that the EU will split.
The risk of a banking crisis in the Eurozone and a replay of the European debt crisis.
The risk that globalization, as we know it, will slow down significantly or even end due to the populist uprising.
These concerns may spur some safe-haven bids for gold, but the consequences of the Brexit vote could be rather small until we see an invocation of Article 50 of the Treaty on European Union or some steps undertaken by other countries to leave the EU.
We encourage you to learn more about the gold market – not only about its performance after the Brexit vote, but also how to successfully use gold as an investment and how to profitably trade gold. A great way to start is to sign up for our gold newsletter today. It's free and if you don't like it, you can easily unsubscribe.