By Dmitriy Gurkovskiy, Chief Analyst at RoboForex
The beginning of March was tough for the Pound. The reason why investors continue selling the British currency remains the same – any news relating to the Brexit one way or another.
Last week, several sources, from both the European Union and the United Kingdom, said that the Brexit talks broke down in a deadlock. The European Union rejected amendments to the Brexit agreement introduced by the United Kingdom. In addition to that, last Wednesday the Lords Chamber passed an amendment that implies a further Customs Union agreement with the EU, which would surely create more problems for the British Prime Minister Theresa May, who was already sick and tired of tackling obstacles on the way to the Brexit.
On Friday, it became known that the talks between European and British policymakers were still in progress, though not without complications of course. However, it was too late: at that time, investors were already worried a lot and not sure whether or not the talks might yet be effective.
This week, the British Parliament will once again vote on the Brexit agreement, but before that, the European Union would like to see amendments relating to the Irish border. This is another factor that is keeping the Pound on its toes.
As we can see in the H4 chart, after breaking the support line of the current channel, GBPUSD continued the downtrend. The price may move into the downside projected channel and fall towards 1.2830. The resistance level is at 1.3100.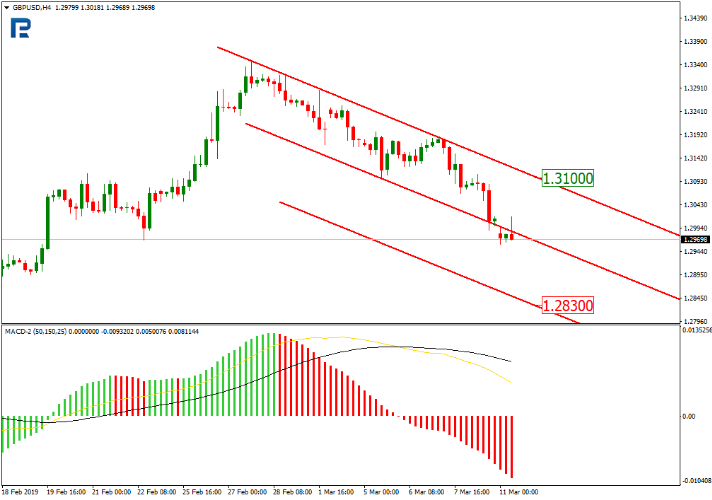 In the H1 chart, the short-term trend has broken the mid-term support line. Stochastic is inside the "oversold zone": it confirms a stable downtrend and may indicate a possible pullback in the future, which may start after the instrument fixes inside a new channel.
Disclaimer
Any predictions contained herein are based on the author's particular opinion. This analysis shall not be treated as trading advice. RoboForex shall not be held liable for the results of the trades arising from relying upon trading recommendations and reviews contained herein.