At least 116 million US adults suffer from chronic pain at a annual cost of $560 to $635 billion in direct medical treatment costs and lost productivity, according to the Institute of Medicine (US) Committee on Advancing Pain Research, Care, and Education. The CDC says that the number of opioid prescriptions dispensed has quadrupled since 1999, but the amount of pain that Americans report remains unchanged, and over 165,000 people have died from prescription opioid overdose since then.
Boston Scientific (NYSE: BSX) announced today that it received FDA approval for its Spectra WaveWriter Spinal Cord Stimulator (SCS) System. It is the first and only system approved by the FDA to simultaneously provide paresthesia-based and sub-perception therapy. The system enables physicians and patients to combine therapeutic options, customize therapy and capture real-time feedback designed to treat chronic and debilitating pain successfully.
The technology works by sending low electrical pulses, which vary in frequency, pulse width and amplitude, to the spinal cord to interrupt pain signals. Paresthesia-based therapy provides pain relief with a light tingling sensation while sub-perception therapy works without that sensation. With the Spectra WaveWriter System, patients can choose to combine both of these therapies to target one specific area of pain or use each therapy as needed to best manage multiple areas of pain. Patients provide real-time feedback using the system's remote control.
We are introducing industry-leading SCS technology to help provide patients with lasting relief from chronic pain. We are committed to investing in research and expanding treatment options for chronic pain by identifying new, non-opioid solutions for the millions of people suffering from this debilitating condition.
– Maulik Nanavaty, President and Senior Vice President, Neuromodulation, Boston Scientific
In a survey of leading public health experts at 10 universities published in June 2017, STAT News forecast that deaths from opioid overdoses, which already kill more Americans under age 50 than anything else, could spike from the current number of nearly 100 deaths a day to 250 deaths a day, if potent synthetic opioids like fentanyl and carfentanil continue to spread rapidly and the waits for treatment continue to stretch into weeks in certain parts of the country. That means that the death toll from opioids over the next decade could exceed 650,000 – almost as many Americans as will die from breast cancer and prostate cancer over that time.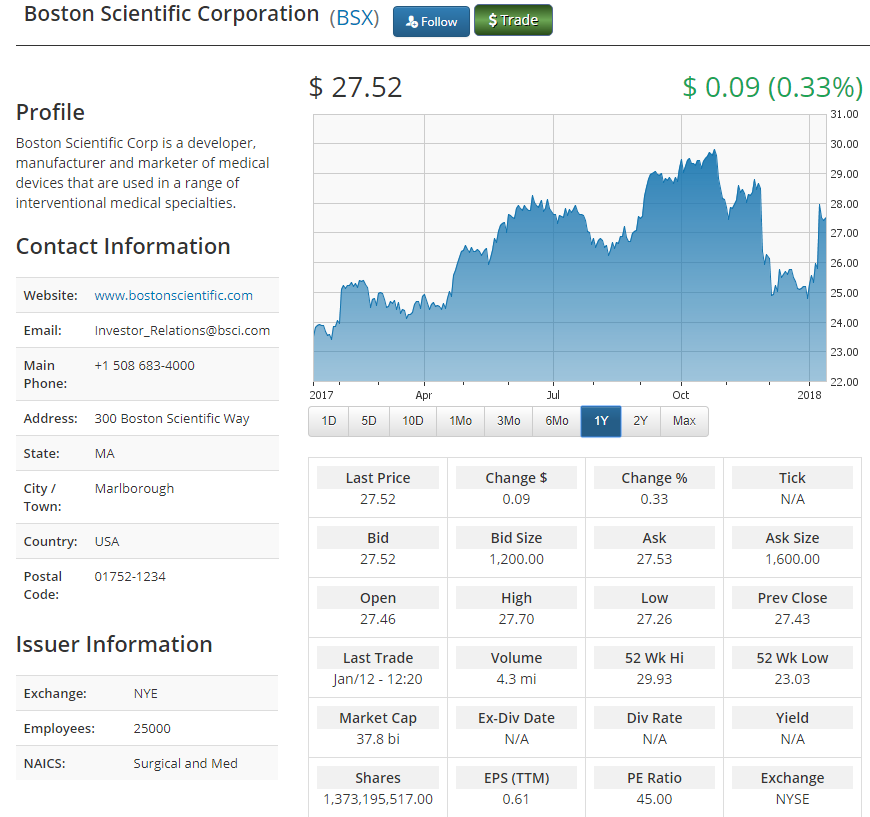 Please email us at [email protected] to see our Case Studies and Testimonials.
Please click here for information on our new trading platform.
Please click here to subscribe to our complimentary newsletter.