Ovarian cancer is the fifth leading cause of cancer death among women. More than two million women in the US are at high risk for developing the disease, which occurs more frequently in those with a family history or with BRCA1 or BRCA2 gene mutations. Women with ovarian cancer are often asymptomatic until late in the course of the disease, and there are no recommended early screening tests and no effective way to biopsy cells in the fallopian tubes. As a result, every year, approximately 300,000 women elect to have preventative removal of their ovaries and fallopian tubes to reduce the risk of developing ovarian cancer. The majority of ovarian cancer diagnoses are made at stage three or stage four of the disease, when the survival rate drops to 30% and 17%, respectively.
Boston Scientific (NYSE: BSX) announced today that it has acquired nVision Medical, a San Bruno, California, based company that has developed the first and only device approved by the FDA — the Mako 7 — to collect cells from the fallopian tubes, offering a potential platform for earlier diagnosis of ovarian cancer. Recent studies have confirmed that several major types of ovarian cancer appear to originate from the fallopian tubes.
BSX is paying $150 million in cash upfront and up to an additional $125 million in potential clinical and commercial milestones over the next four years. The acquisition is expected to be accretive beginning in 2020.
We estimate the near-term market opportunity to be $500 million with the potential to grow to $2 billion as this device is used by more gynecologists to help even more women. We are committed to expanding our women's health portfolio and driving clinical research that will help deliver innovative options for the prevention and treatment of gynecological cancer.
– Dave Pierce, Executive Vice President and President, MedSurg, Boston Scientific.
The Mako 7 device uses patented microcatheter technology to access and collect cells from the fallopian tube during a minimally-invasive hysteroscopic procedure. Initial clinical research has demonstrated that the Mako 7 effectively collects cells which, when tested, correlate with a post-surgery definitive diagnosis of ovarian cancer. Boston Scientific plans to conduct additional clinical research with the nVision device to further establish how the cells it collects from the fallopian tubes can be used to render a diagnosis prior to surgery and help in the decision-making process for women at increased risk for ovarian cancer.
We are excited to develop this technology that one day may play an important role in early detection of the disease and the prevention of unnecessary surgeries, while also serving as a foundation for our broader oncology initiatives in both diagnostics and therapeutics.
– Professor Ian T. Meredith, AM, Executive Vice President and Global Chief Medical Officer, Boston Scientific.
Surbhi Sarna founded nVision upon graduating from college in 2009. Matthew Herper writes in Forbes that Dave Pierce, Executive Vice President of Boston Scientific, "sees Sarna remaining a 'strong advocate' for the nVision technology as Boston Scientific looks to market it."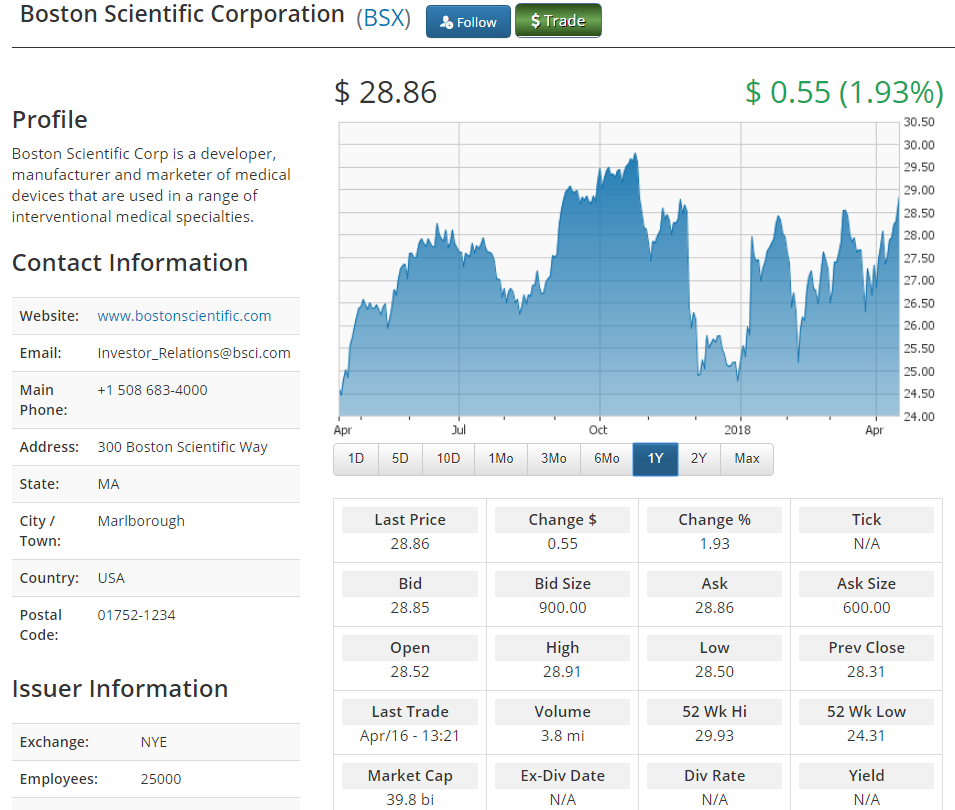 Please email us at [email protected] to see our Case Studies and Testimonials.
Please click here for information on our new trading platform.