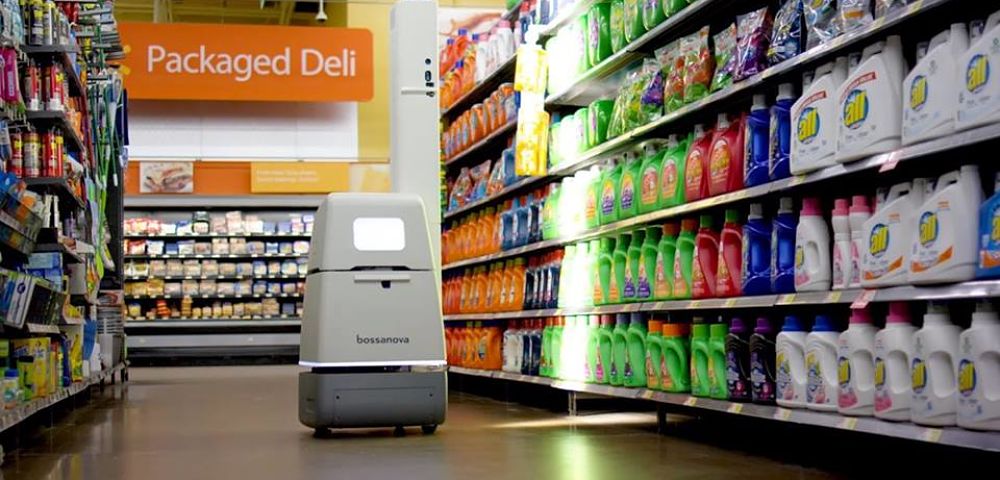 Bossa Nova, a robotics startup, has raised $17.5 million in Series B funding, according to reports on Tuesday morning. Paxion led the startup's funding, which totals $41.7 million. Intel Capital and Cota Capital have also heavily invested in Bossa Nova's technology, which aims to change the way retailers operate.
There are machines so that retailers can count currency, but Bossa Nova is working on an efficient robot that analyzes what is selling on store shelves. The robot roams the aisles on its own using autonomous technology to determine what goods have sold. The data is then sent back to management.
Bossa Nova's robots aren't stuck in a warehouse hidden from customers. The robots will be a regular feature in stores.
Walmart (WMT) recently signed a deal with Bossa Nova to purchase robots for 50 of the company's stores. The robot's technology will decipher what's on store shelves and can even identify misplaced items and notify managers of the problem. Sensors allow the robots to view obstacles before approaching them to avoid potential "accidents."
The robot will adjust and avoid obstacles.
Walmart has worked closely with the company to ensure that their robot's technology can operate properly in the company's unique store format. Walmart believes that the robots will play a key role in helping Walmart associates identify where they can make the biggest difference in stores.
---
---
The company's robots allow merchants to gain insights about their store shelves and which items are selling. Real-time insights will be used to improve customer experience and create a seamless shopping experience.
Companies are expected to replace some employees in the process that are tasked with scanning store shelves. Bossa Nova, started in 2005, plans to use the funding to expand their team and product offering. The company will spend heavily on artificial intelligence and autonomy software.
Artificial intelligence is Silicon Valley's most competitive skillset, making it difficult for small startups to compete with larger companies that can offer higher salaries and better benefit packages.
Bossa Nova currently employs 80 people, with the funding expected to increase these numbers to at least 120. Deployment and infrastructure will also be a key source of expenditures, with the company stating that the employment market is very competitive. The company states that Apple, Google and Uber all have offices in Pittsburgh, making it a necessity to offer competitive salary rates and benefits.
Retailers rely on SKUs in stores, and there are hundreds or thousands of different SKUs, depending on the retailer. The process requires employees to manually check store shelves and overcome interruptions along the way. Bossa Nova's robots have cameras and sensors built into the robot that will collect data from store shelves and also double check pricing to ensure accuracy.
Management will be responsible for adjusting the data. Improperly labeled items or items low in stock will still need to be corrected manually.
The company's robots will provide real-time insights that online retailers, like
Amazon
, are able to receive but in brick-and-mortar stores.
DISCLOSURE: The views and opinions expressed in this article are those of the authors, and do not represent the views of equities.com. Readers should not consider statements made by the author as formal recommendations and should consult their financial advisor before making any investment decisions. To read our full disclosure, please go to: http://www.equities.com/disclaimer