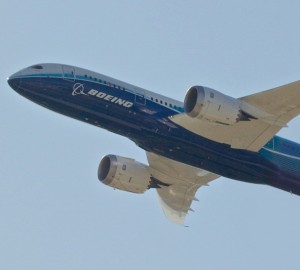 Aerospace and defense giant Boeing (BA) finished the certification test-flight for a revamp of its troubled battery system late last week. The testing was required by the Federal Aviation Administration after numerous issues were reported with the battery power component of company's much anticipated 787 Dreamliner. It involved a nearly 2-hour flight to assess the performance of the new battery system during various flight conditions. The data from the flight will be submitted to the FAA likely early this week for approval.
The results of the test are crucial to Boeing, who is trying to move ahead as quickly as possible with repairs to battery systems on all of the 787 Dreamliners it has already sold, including Nippon and Japan airlines, who were the first recipients. They are equally crucial to the FAA, who originally approved the battery in the first place, prior to the high-profile incidents of malfunction.
The news was followed by Monday's announcement of Boeing's $19.2 million contract with the U.S. Navy to develop and provide new anti-submarine weapons technologies.
At the same time, Airbus, one of Boeing's fiercest competitors, announced it will be breaking ground on its first us plant in Mobile, Alabama, as a step in the company's expansion into the U.S. Airbus is also currently working on a deal to sell British Airways $7 billion worth of planes to replace their outdated Boeing 777 models.
On Monday, Boeing's shares were up slightly, 0.20 percent to $86.34.
DISCLOSURE: The views and opinions expressed in this article are those of the authors, and do not represent the views of equities.com. Readers should not consider statements made by the author as formal recommendations and should consult their financial advisor before making any investment decisions. To read our full disclosure, please go to: http://www.equities.com/disclaimer