~ Third major acquisition of an oncolytic virus company by Big Pharma this year ~
Viruses have been the subject of intense study for over one hundred years as a potential agent for the destruction of cancerous tumors. According to a 2007 paper by Elizabeth J. Kelly, PhD, and Stephen J. Russell, MD, PhD, of the Mayo Clinic, "early case reports emphasized regression of cancers during naturally acquired virus infections, providing the basis for clinical trials where body fluids containing human or animal viruses were used to transmit infections to cancer patients. Most often the viruses were arrested by the host immune system and failed to impact tumor growth, but sometimes, in immunosuppressed patients, infection persisted and tumors regressed, although morbidity as a result of the infection of normal tissues was unacceptable."
The current state of development of these cancer-fighting virus—known as oncolytic viruses—has advanced tremendously over the last century. There is only one oncolytic virus on the market—Amgen's AMGN Imylgic (talimogene laherparepvec), which the FDA approved in 2015 for the local treatment of unresectable lesions in patients with recurrent melanoma after initial surgery. Numerous other companies, however, across the spectrum from Big Pharma to microcaps and small startups, are dedicating significant resources to the study and development of these oncolytic viruses.
Boehringer Ingelheim, the family-owned German pharmaceutical giant, has acquired ViraTherapeutics for €210 million (US$245 million) from EMBL Ventures, following a collaboration and option agreement signed in 2016. ViraTherapeutics, based in Innsbruck, Austria, has been developing oncolytic virus-based immunotherapies, with its lead product, VSV-GP, currently in advanced pre-clinical development for the treatment of solid tumors. EMBL Ventures first invested in the Company in 2015 as part of its Series A financing round.
Oncolytic viruses function not only by directly breaking down cancer cells, but also by stimulating the anti-cancer immune response as a consequence of cell lysis and the release of tumor specific antigens.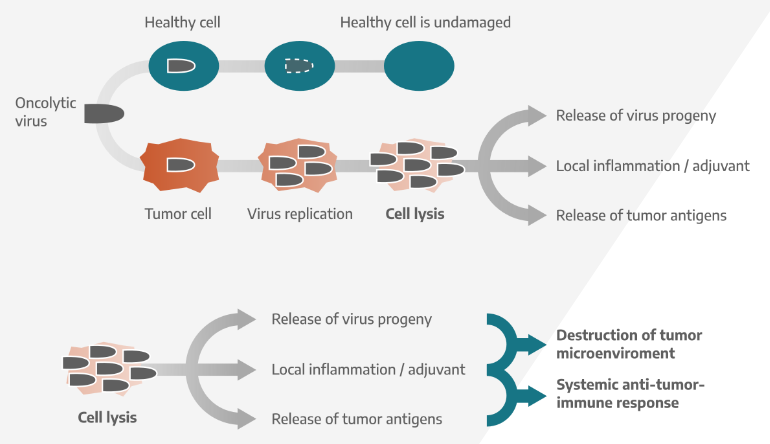 Source: ViraTherapeutics
Increasing demand for oncolytic virus companies
This is the third major acquisition by Big Pharma of an oncolytic virus company this year. In February, Merck MRK acquired Viralytics, an Australian company, for A$502 million (US$394 million). Viralytics' lead candidate is in Phase 1 and 2 trials for melanoma, prostate, lung and bladder cancers. In May, Johnson & Johnson's JNJ Janssen Biotech unit acquired BeneVir in a deal for $140 million upfront plus up to another $900 million based on certain milestones. BeneVir's proprietary T-Stealth oncolytic virus technology is not yet in human trials.
There are at least a dozen other companies that are pursuing the potential therapeutic utility of oncolytic viruses. Beyond the familiar large caps such as Amgen, Bristol-Myers Squibb BMY and AstraZeneca AZN, two small caps in the space include Oncolytics Biotech ONCY and Sorrento Therapeutics SRNE. Oncolytics is in Phase 1 and 2 studies in relapsing myeloma, pancreatic cancer and breast cancer, while Sorrento is in Phase 2 for a variety of solid tumors. We believe that investors would be well advised to keep tabs on the progress of these companies in their pursuit of oncolytic viruses.
Please email us at [email protected] to see our Case Studies and Testimonials.
Please click here for information on our new trading platform.
Please click here to see our daily newsletter.