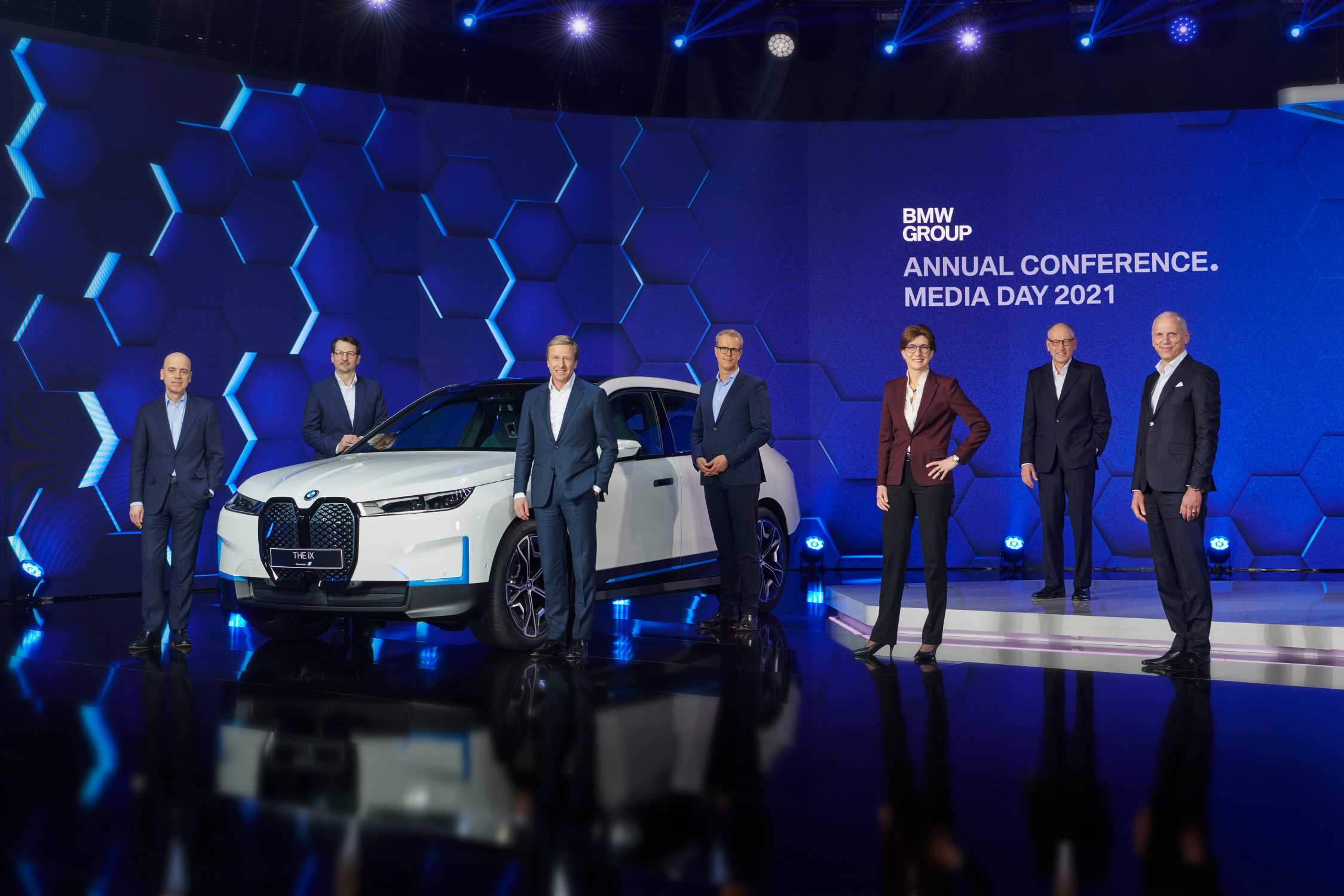 Image: BMW's Board of Management (from left): Dr Nicolas Peter, Finance; Dr Milan Nedeljkovi?, Production; Oliver Zipse, Chairman; Frank Weber Development; Ilka Horstmeier, Human Resources; Dr Andreas Wendt, Purchasing and Supplier Network, and Pieter Nota, Customer, Brands, Sales. March 17, 2021. Source: BMW AG
Bayerische Motoren Werke AG (OTC US: BMWYY ) plans to speed up the rollout of new electric cars, vowing to have at least half of its global sales to be zero emissions vehicles by 2030.
During the company's annual news conference Wednesday, BMW announced it will have 12 fully electric models — in about 90% of its market segments – on the road by 2023.
In 2025, BMW plans to launch a new EV platform called the "Neue Klasse" that will underpin future vehicles. The company will also make its Mini brand all-electric "by the early 2030s."
In a statement, BMW's chairman of the board of management Oliver Zipse said, "We have a clear road map for making the transformation of our industry a real competitive advantage for BMW in the coming years."
"We have started the new year with strong momentum and are aiming to return to pre-crisis levels as swiftly as possible," he said.
BMW said deliveries of fully electric models will increase by an average of more than 50% annually by 2025, more than ten times the 2020 figure. By the end of 2025, the company expects to have delivered two million fully electric cars to customers.
Zipse also said the speed of adoption of battery-only cars would depend on the rollout of more charging infrastructure.
The auto group, which also owns the Rolls-Royce nameplate, said it will have ten million fully electric vehicles on roads worldwide "over the next ten years or so."
Facing competition from Tesla Inc (Nasdaq: TSLA ) and tightening CO2 emissions standards in Europe and China, global automakers, including General Motors Company (NYSE: GM ), Zhejiang Geely Holdings' (OTC US: GELYY ) Volvo Cars and Tata Motors Limited's (NYSE: TTM ) Jaguar Land Rover, have pledged a faster shift toward electric technology, despite the increased costs and production changes involved.
BMW has not set a specific date for when it would completely phase out internal combustion vehicles.
Head of development and management board member Frank Weber told Reuters, "It's not us who decides on the end of the internal combustion engine, it's the markets."
_____
Source: Equities News