Bitcoin trading Alert originally sent to subscribers on March 6, 2017, 12:43 PM.
In short: no speculative positions.
Bitcoin is making its way into mainstream press. In an article on the CNBC website, we read:
Digital currency advocates had plenty to crow about last week when bitcoin's price overtook gold.
The event signaled a potentially important moment point for bitcoin, which is generally seen as asset that stores wealth. Bitcoin has gained more than 60 percent in price since mid-January.
Now comes a chance for bitcoin to take another step toward legitimacy.
At some point this week, the Securities and Exchange Commission is likely to rule on a request from Tyler and Cameron Winklevoss — the twin brothers who battled Mark Zuckerberg in court shortly after he founded Facebook — to bring a bitcoin exchange-trade fund to market. If the ETF is approved, it will give investors another vehicle to capitalize on the bitcoin craze without having to go to the exchanges where the currency is traded.
While a bitcoin ETF would be huge for the currency, market experts remain skeptical that it will happen.
It is not at all clear that the ETF is the actual reason for the recent Bitcoin rally. It might be the case but it is not a done deal. The more important part here might be that CNBC included Bitcoin in its Coming up this week piece. The general idea here is that Bitcoin coverage might be peaking which would also suggest that the top is near.
Another side of the story is that, if the reason behind the rally is the ETF, we might have quite an important week on our hands. It seems that the market is inclined to believe that the Bitcoin ETF will be approved and hence the move up. At the same time, a report from Needham & Company, an investment bank and asset management firm, puts the odds of the ETF being approved at 25%. If the ETF doesn't receive approval, we might see a quite significant sell-off. It might also be the case that a lot of the potential upside is already in the price. The balance of odds suggests that we might see if not a move down in the next week, then at least a lot of volatility.
For now, let's focus on the charts.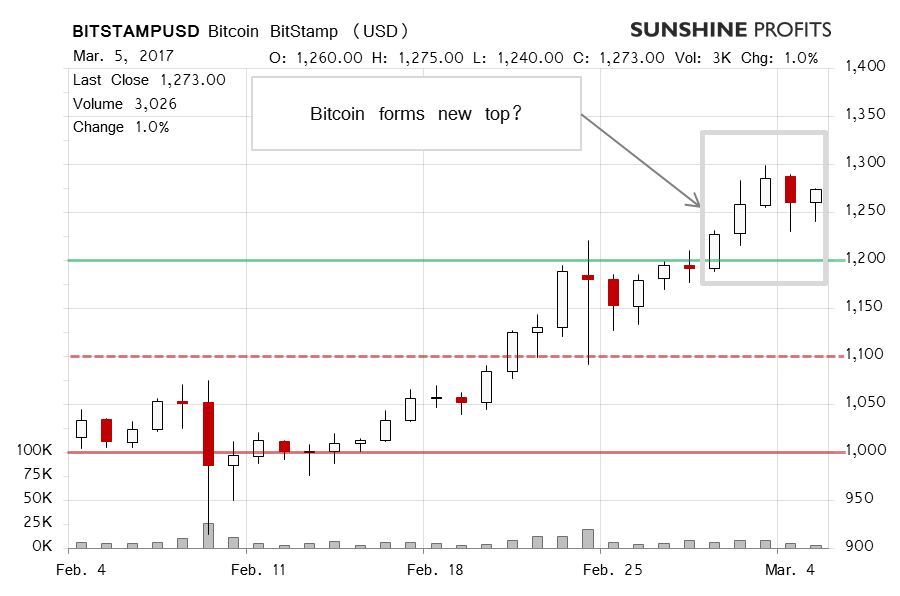 Bitcoin moved to an all-time high once again, coming very close to $1,300. In our recent comments, we wrote:
We saw a move above $1,200 but Bitcoin came back below this level almost immediately. On the one hand, Bitcoin is still above the 2013 top which makes the situation more bullish. At the same time, we are already after a very significant move up and the last two days have been a move up on very weak volume so far (…). This is a bearish indication.
The situation remains pretty much the same. We are at an all-time high, however, the recent price action might make Bitcoin look overextended at present and this suggests that at least a short-term correction might be in the cards.
Bitcoin went up but the move was not convincing in terms of volume. The situation is still very similar to what we saw previously. Bitcoin is above recent resistance level, however, the rally already seems stretched and we might be in for a serious correction.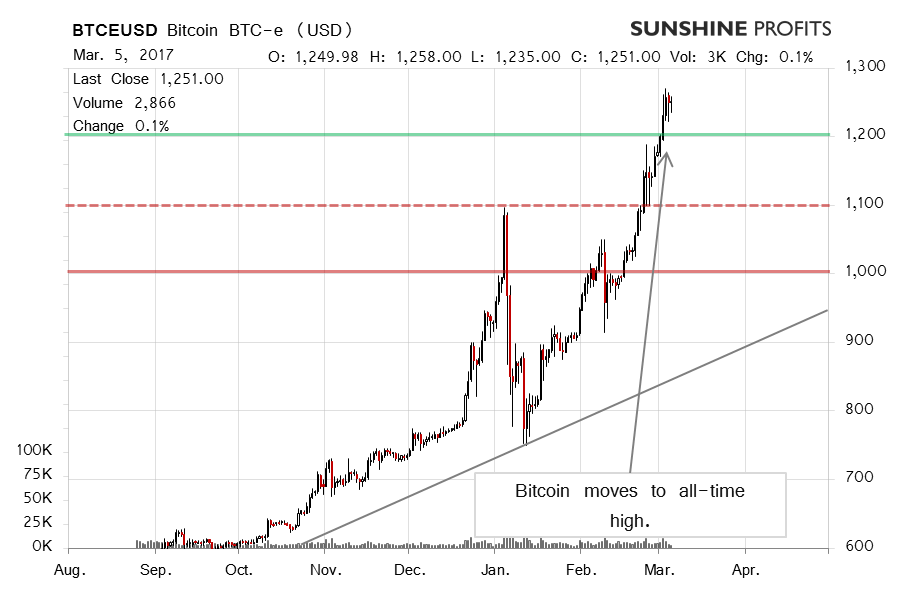 On the long-term BTC-e chart, we see the recent move above $1,200. In our previous alert, we wrote:
Add the move up on average volume and the fact that Bitcoin is getting mentioned by Reuters, and it seems that we might be in for at least a temporary move down. At the same time, we see Bitcoin above the 2013 top a move that seems to be confirmed. This means that Bitcoin might still shoot up before changing tack. This is by no means certain. At present, we would prefer to see some indications of a move to the downside before opening any hypothetical positions.
Right now, we're seeing yet another move up and it might be the case that this is the possible move up before a more significant correction. We have not yet seen an indication that a move down has started and it would take such an indication for us to consider hypothetical short positions. This is not the case just now. We are of the view that we might be close to a very significant top but we might still see a move up before a corrective move down. The upcoming ETF decision might serve as an important trigger in the next couple of days.
Summing up, in our opinion not having speculative positions might be favorable at the moment.
trading position (short-term, our opinion): no positions.
Thank you.
Regards,
Mike McAra
Bitcoin trading Strategist
Bitcoin trading Alerts