Bitcoin trading Alert originally sent to subscribers on February 13, 2017, 01:23 PM.
In short: no speculative positions.
Needham & Co., an investment firm, has issued a new report on the potential success of three prospective Bitcoin ETF. In the report, we read:
Given elevated interest in the bitcoin ETFs that are going through the regulatory approval process we're revisting the subject with a deeper dive to take a look at the factors that may affect approval, differences between the three filings, market indicators of approval odds, and the effect of approval/disapproval on price. Overall, we maintain our estimates that the likelihood of approval is less than 25% but that, if it were approved, such an ETF would be extremely successful. That said, there are some market indicators that seem to suggest higher odds than our own estimates. Ultimately, while we don't see any specific reason to disapprove the Winklevoss Bitcoin ETF, we think the SEC is likely to disapprove out of an abundance of caution around bitcoin itself (as opposed to something specific to the filing).
The general idea here is that there is nothing wrong, technically, with the Winklevoss filing but rather the SEC is not familiar with Bitcoin itself and may be disinclined to give a go-ahead. If this assessment is correct, this might mean that we would have to wait a lot longer for a Bitcoin ETF.
While we agree with the opinion that a Bitcoin ETF would be largely successful as it would address the demand from Bitcoin investors. Currently, it is relatively hard to trade Bitcoin if one is not comfortable with the notion of a Bitcoin exchange. A Bitcoin ETF would potentially change that and it is our view that a lot of investors currently willing to participate in the market but not able to do so would enter and possibly give Bitcoin a boost.
On the other hand, we find the assessment of odds at 25% to potentially underestimate the chances of a Bitcoin ETF being approved. At present, we would put the odds of the ETF getting approval at 50%. It seems to us that the fact that the Winklevoss twins have made significant changes to the filing along the way works in their favor. On the other hand, the process is already very long and this might be an indication that the SEC doesn't necessarily know how to approach Bitcoin. This would be detrimental to the prospects of the ETF being approved.
For now, let's focus on the charts.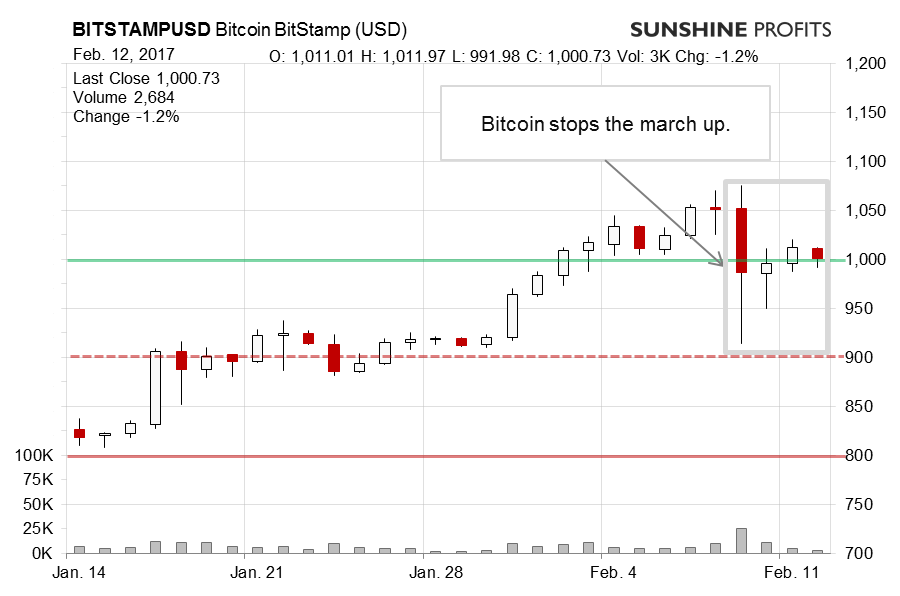 On BitStamp, we saw a decisive drop in volume following the Thursday drop. Recall our comments from that day:
The action was mostly to the upside but yesterday we saw a very curious development. Bitcoin failed to move down decisively in spite of very negative news (PBOC meeting with exchanges). This was a bullish development, possibly even more bullish than the previous appreciation. All of this was denied today since Bitcoin fell pretty strongly in the early hours (…) – the decline is not visible in the chart yet since the chart is based on daily closes. But does this denial mean that all is bearish for Bitcoin?
We went on to write that it was not a game changer in terms of positioning, in our opinion. So far, the situation has played out consistently with our remarks as Bitcoin came back above $1,000, which greatly weakened the bearish implications. This was, however, followed by action which brought Bitocin below $1,000 again (this is written around 12:00 p.m.). Is this the end of a knee-jerk reaction following the recent decline?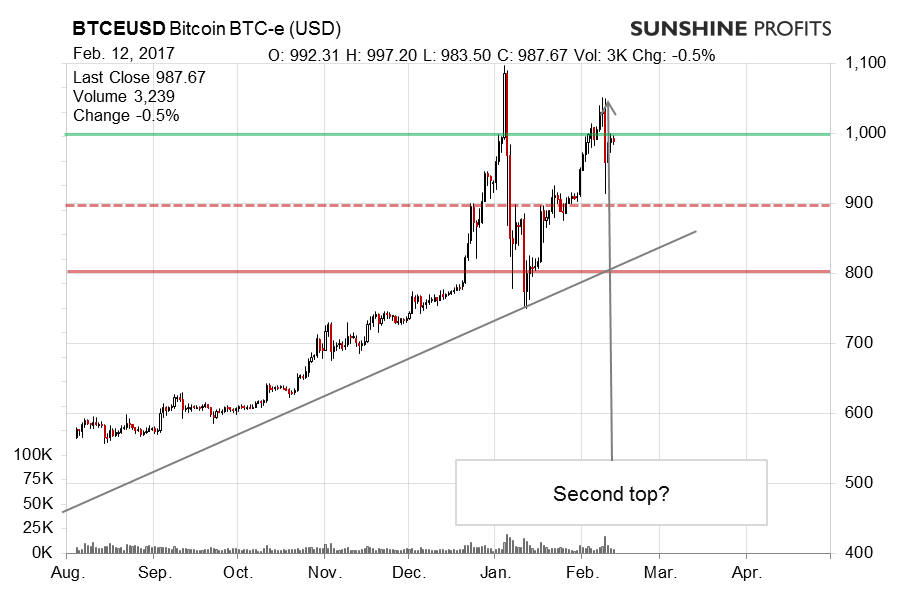 On the long-term BTC-e chart, we see that a double top pattern might be emerging. Our previous comments:
The most important change now is that the bullish development we described earlier (lack of reaction to bearish news) was denied and followed by very strong declines on significant volume. This, on the face of it, is a very bearish development. However, if we dig a bit deeper the implications are not extremely bearish just now.
First of all, Bitcoin went down below $1,000 but not below $900 and it has already rebounded and is now close to $1,000. The situation is still pretty volatile and we are yet to see a close below $1,000. If we don't see one today, the bearish indications will be weakened. At the same time, the most important line we've mentioned several times in the past is the 38.2% Fibonacci retracement level based on the August 2016 – January 2017 move up. The line is currently at around $882 which is still pretty far from the current price levels. At present, it seems that the situation has changed to more bearish than before but not bearish enough, in our opinion, to put on speculative short positions. Given the volatility we've seen today, we can't really rule out a move below this line or a move back above $1,000 for that matter. We would be inclined to view the bearish case as somewhat stronger, however, we would like to see more confirmations. (…)
For the time being, $882 remains a very powerful level, in our opinion. The current situation resembles a double top and we might be in for more significant depreciation in Bitcoin. This, however, is still relatively unclear as the currency is still above the mentioned level. This means that while there are some bearish indications, we haven't seen a decisive confirmation just yet, in our opinion.
Summing up, in our opinion not having speculative positions might be favorable at the moment.
trading position (short-term, our opinion): no positions.
Thank you.
Regards,
Mike McAra
Bitcoin trading Strategist
Bitcoin trading Alerts