There's been some talk of gold becoming an alternative to gold. Goldman Sachs doesn't seem to agree. In an article on CNBC, we read:
Cryptocurrencies like bitcoin are not the "new gold," Goldman Sachs said in a note, advising investors that precious metals "remain a relevant asset class" in portfolios.
In a note to clients earlier this week, Goldman detailed the benefits of holding gold in a portfolio.
"The use of precious metals is not a historical accident – they are still the best long-term store of value out of the known elements," the investment bank said.
But it also addressed the rise of cryptocurrencies. Many commentators have dubbed bitcoin "digital gold" because of the fact it has a finite supply and has at times seen price rises due to geopolitical tensions.
Goldman concluded that bitcoin is not a good store of value versus gold.
"Gold wins out over cryptocurrencies in a majority of the key characteristics of money," Goldman said.
We generally are of the opinion that gold is not threatened by Bitcoin as far as safe-haven assets are concerned. Bitcoin simply doesn't have gold's track record as a systemic hedge. On the other hand, this doesn't mean that it won't gain more credibility in the future or that it doesn't have applications right now. Actually, the fact that Bitcoin is not gold is part of its allure as an asset. Namely, the fact that Bitcoin and gold might not respond to the same factors suggests that Bitcoin can be used (together with gold) to diversify one's portfolio.
For now, let's focus on the charts.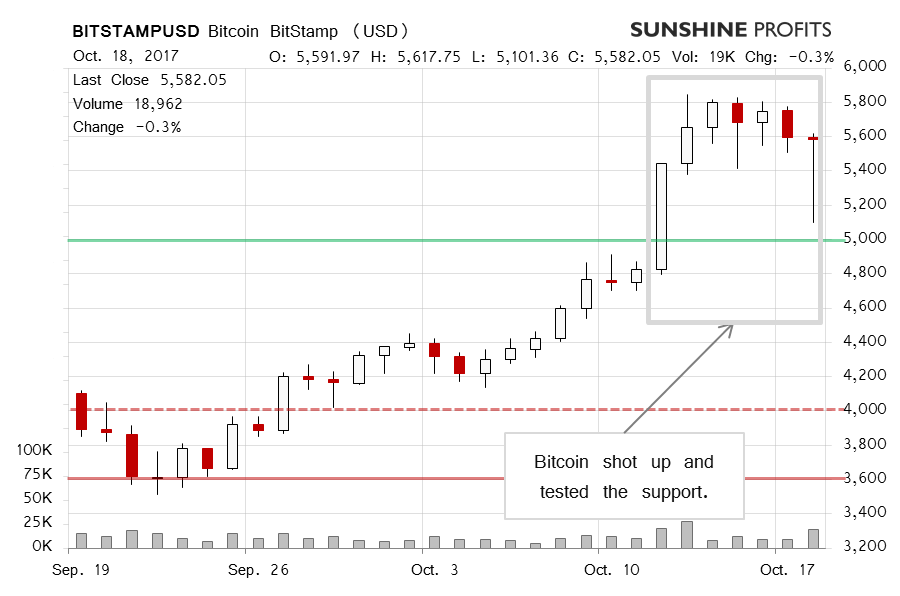 On BitStamp, we see that there was a move down but it didn't manage to bring Bitcoin down below $5,000. Recall our recent comments:
The price action speaks for itself. Bitcoin is now quite clearly above the $5,000 level and the previous all-time high has been taken out. The action is definitely bullish in terms of the magnitude of the move. The volume, however, was not explosive. The previous local bottom formed on stronger volume than the current move. Another thing which might be worrying is the fact that Bitcoin slipped into the overbought territory. Does this have any meaningful implications?
Quite importantly, we saw a move to $5,000 (actually, a bit above it) but this didn't result in a breakdown. Quite the contrary, the volume of the move down was relatively subdued and almost all the losses were very quickly reversed. Even though the move down might have seemed like a bearish indication, it doesn't necessarily have such implications.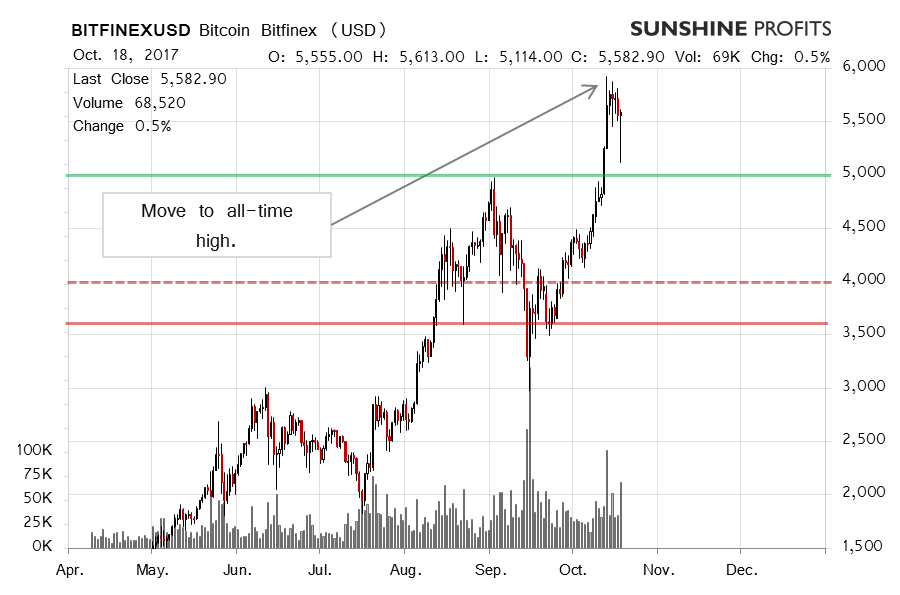 On the long-term Bitfinex chart, we see the move down quite visibly. In our previous comments, we wrote:
In keeping with our previous analysis of the situation, Bitcoin went up to $5,000 and even above this level, thereby reaching a new all-time high. Previously, we wrote about a possible scenario, in which we would see a move to the all-time high and then a reversal. The appreciation part is here. Now, the question remains if we will see the reversal. This might depend on whether Bitcoin stays above $5,000 and the previous all-time high for a couple of days or not. If this is the case, we might see an extension of the move up and new all-time highs. The situation might be clarified in the next couple of days but any further strong appreciation here might be the same kind of trigger, in our opinion. (…)
We indeed saw an extension of the move up. At the moment, we are at the all-time high. All of this reads like a bullish indication. There is one concern here, however. The move has already been "exponential" and at this moment we might see a pullback. If such a pullback doesn't bring Bitcoin below $5,000, we might consider opening long hypothetical positions.
We didn't see Bitcoin move below $5,000 despite the move to this level. This means that we saw a first bearish attempt after the recent all-time high but it didn't amount to much. Actually, Bitcoin went down very close to the 23.6% retracement level based on the recent move up ($5,168) but this level stopped the decline. We are now quite close to considering hypothetical long positions. What we would need to see is some more strength or even a lack of decline.
If you have enjoyed the above analysis and would like to receive free follow-ups, we encourage you to sign up for our daily newsletter – it's free and if you don't like it, you can unsubscribe with just 2 clicks. If you sign up today, you'll also get 7 days of free access to our premium daily Gold & Silver Trading Alerts. Sign me up!.
Thank you.
Regards,
Mike McAra
Bitcoin Trading Strategist
Bitcoin Trading Alerts