Bitcoin Down 14% as 2018 Profit Taking Continues across the Board in Digial Currencies
Steve Kanaval (on behalf of Avalanche International Corp) Follow |

As equity traders get back to the screens post MLK (Big Ups for Dr. King as one of the most influential American leaders), they see Bitcoin down 14%, Ethereum down 20%, Ripple off 27% amid a sea of red in the DC Universe (Digital Currencies, not comic books). See a great round up by Coinmarketcap.com in the jpeg below.

Continued concerns about Korea and a small technical breakdown in Bitcoin are some reasons coin holders are selling this morning. But anyone who invests in this Finserve Specialty Sector knows that the long term investment owning digital currency is full of danger. Our research shows Bitcoin (Mothership) made an important top on December 17th near 20,000, and has been in profit taking mode since. Bitcoin will move in 15% increments many times in 2018, and if you trade these you know the drill :)

Also - anyone who tells you they know why digital currencies are up or down on any particular day, week or month is lying - which is the beauty of trading these, but professional traders rarely know what the companies do anyway. The US Markets are about momentum, and digital currencies are the largest momentum trade you will see in your lifetime.....Strap in.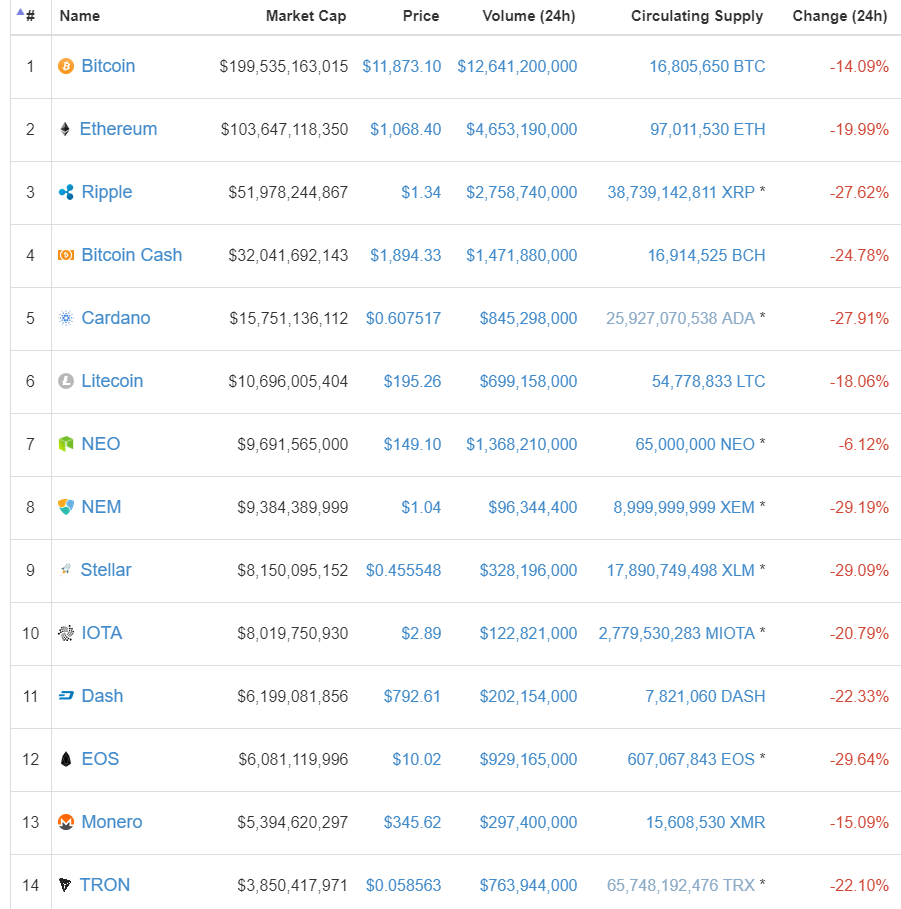 Steve Kanaval

Portfolio Manager/Writer/ Market Analyst

Can be reached at stevek@equities.com or LinkedIn
Steve began his career in the Trading Pits in Chicago making markets at the Chicago Mercantile Exchange (NYSE:CME) the Chicago Board of Trade and the CBOE in the early 80's. He ran the Morgan Stanley Derivative Prop Trading for the firm specializing in Index Arbitrage. He continued his career as a Trader/Portfolio Manager for multiple Hedge Funds during the Internet Boom of the 90's managing large portfolios. Steve is known as an expert in MicroCap Technology Stocks and the emerging Digital Currency markets as a Portfolio Manager for his Family Office. Steve has managed portfolio's in volatile asset classes for 3 decades as a commodity trader, hedge fund manager and digital currency trader and miner. Steve publishes his views on the asset classes in a public forum and has published more than 10,000 articles simplifying these complex and volatile assets for readers. His work is published on multiple sites including Bloomberg, Equities.com, Hacked.com, CryptoCurrencyNews as a paid contributor. His work includes research, journalism and archived video on important market volatility related to stocks, digital currency and other volatile misunderstood asset classes. He offers a humorous, unique insight and the related back stories and drivers for readers interested in volatility and emerging market assets.
Full disclosure Steve is long 25 digital currencies and sits on the board of multiple public companies involved in digital currencies, and owns shares in these companies from time to time.
DISCLOSURE: The views and opinions expressed in this article are those of the authors, and do not represent the views of equities.com. Readers should not consider statements made by the author as formal recommendations and should consult their financial advisor before making any investment decisions. To read our full disclosure, please go to: http://www.equities.com/disclaimer
Companies