Bitcoin Bounces from 10,000 as Stellar Lumens Hack Plunges All Crypto
Steve Kanaval Follow |

The trouble started Sunday when rumors about a hack rose to the surface, and most coins began to sell off as the news was making the rounds. It's important to keep in mind that rumors of hacks occur often in the techlash world of crypto trading, so larger investors pay attention to pricing versus the constant doom chatter. As we passed into Martin Luther King Day, however, it was apparent that something was genuinely wrong with markets.
Shamelessly borrowed from coinmarketcap.com which is a super site to use
Bitcoin broke down quickly on a day where Equity traders were off, and by Tuesday morning the coin was testing support that held the last few times down to this fibonacci support level, however, this time prices had a quick flush, and traded down to the important 10,000 level and held. The timing was impeccable, as the news started to circulate that the "Hack" was small in size at only $444,000 and all coins immediately reversed, whipsawing most day traders and confused market watchers.
Nikhilesh De wrote correctly on the Coinbase site on Jan 15, 2018, at 19:37 UTC, "An unidentified thief has reportedly stolen more than $400,000 in Stellar Lumens (XLM) after hacking the digital wallet provider BlackWallet." He credits his source saying, "According to cybersecurity reearcher Kevin Beaumont, the attacker hijacked BlackWallet's domain name server (DNS) over the weekend, adding a piece of code which transferred any deposits of 20 or more lumens into another wallet." De went on to write, "Bleeping Computer also reported that the attacker secured nearly 670,000 lumens, worth about $444,000 at press time." Stellar Lumens are the ninth largest cryptocurrency by market cap.
Bitcoin is currently trading $11,260, having bounced back to the level where it broke down, and is beginning to stabilize as are nearly all Alt-Coins.
I know Coinbase was overwhelmed, and even the cooks in the Chinese Carry Out were distracted by the price of Bitcoin, as food was slower coming out of the window. It occurs to me on the back end of MLK Day and a quick Bitcoin sell off, that so many people are watching now - it begins to follow Moore's Law as we track Digital Currency adoption...which sits currently at 1% of the globe.
Most of the Top 50 coins were much lower and bounced 15% from the bottom. These are well after the lows..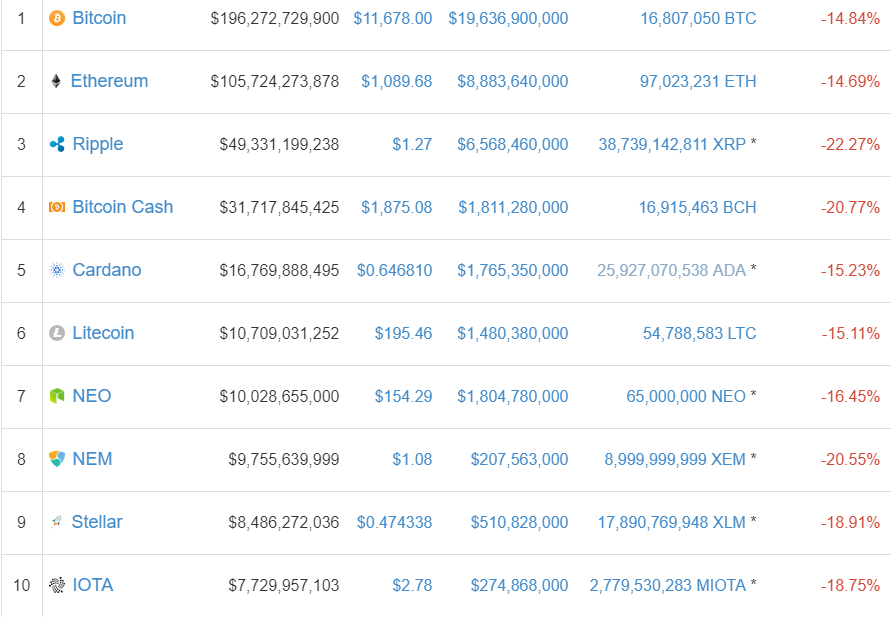 Welcome to the "Big Vee..." volatility :)
My suggestions are:
Trade long only
Do not intraday trade
Pick coins and learn about them
If they go to zero you were wrong
Never sell
This was intended to be a currency, not an investment
Learn what digital mining is and why it is important
The Blockchain will change everything and Digital Currency sits on Blockchain
Electricity is the commodity of the future
----------------------------------------------------------------------------------------------------------------------------------------------------------------------------
Steve Kanaval

Portfolio Manager/Writer/ Market Analyst
Can be reached at stevek@equities.com or LinkedIn
Steve began his career in the Trading Pits in Chicago making markets at the Chicago Mercantile Exchange (NYSE:CME) the Chicago Board of Trade and the CBOE in the early 80's. He ran the Morgan Stanley Derivative Prop Trading for the firm specializing in Index Arbitrage. He continued his career as a Trader/Portfolio Manager for multiple Hedge Funds during the Internet Boom of the 90's managing large portfolios. Steve is known as an expert in MicroCap Technology Stocks and the emerging Digital Currency markets as a Portfolio Manager for his Family Office. Steve has managed portfolio's in volatile asset classes for 3 decades as a commodity trader, hedge fund manager and digital currency trader and miner. Steve publishes his views on the asset classes in a public forum and has published more than 10,000 articles simplifying these complex and volatile assets for readers. His work is published on multiple sites including Bloomberg, Equities.com, Hacked.com, CryptoCurrencyNews as a paid contributor. His work includes research, journalism and archived video on important market volatility related to stocks, digital currency and other volatile misunderstood asset classes. He offers a humorous, unique insight and the related back stories and drivers for readers interested in volatility and emerging market assets.
Full disclosure Steve is long 25 digital currencies and sits on the board of multiple public companies involved in digital currencies, and owns shares in these companies from time to time.
DISCLOSURE: The views and opinions expressed in this article are those of the authors, and do not represent the views of equities.com. Readers should not consider statements made by the author as formal recommendations and should consult their financial advisor before making any investment decisions. To read our full disclosure, please go to: http://www.equities.com/disclaimer