Though pancreatic cancer accounts for only 3% of all cancers in the US, it is the cause of 7% of all cancer deaths as it is rarely detected in its early stages. Less than 20% of patient tumors are confined to the pancreas at the time of diagnosis, according to the Hirshberg Foundation for Pancreatic Cancer Research, and in most cases, the malignancy has already progressed to the point where surgical removal is impossible. The one-year survival rate for pancreatic cancer patients is just 20%, and the five-year rate is only 7% for all stages of pancreatic cancer. Over 55,000 people in the US will be diagnosed with pancreatic cancer this year, according to the American Cancer Society, while over 44,000 people will die from the disease. Early screening is critical for people with pancreatic cysts or a family history of pancreatic cancer, according to the Mayo Clinic.
BioLineRx BLRX announced today that it has initiated a new arm of its Phase 2a study involving the triple combination of its lead compound, BL-8040, with Merck's MRK Keytruda (pembrolizumab) and chemotherapy, in patients with metastatic pancreatic cancer (pancreatic ductal adenocarcinoma, or PDAC). The company, based in Tel Aviv, Israel, is developing therapies focused on oncology and immunology. BioLineRx's strategy is to in-license novel compounds, develop them through pre-clinical and clinical stages, and then partner with pharmaceutical companies for advanced clinical development and commercialization. The company refers to this as "transforming science into medicine" and has collaborative agreements with Merck (known as Merck Sharp & Dohme, or MSD, outside the US and Canada) and Genentech, part of the Roche RHHBY group of companies.
BL-8040, which BioLineRx licensed from Biokine Therapeutics in 2012, is an antagonist for CXCR4, a key mediator of cell formation and migration, particularly for white blood cells and cancer cells. According to the company, CXCR4 is over-expressed in more than 70% of human cancers and its expression often correlates with disease severity. In clinical and pre-clinical studies, BL-8040 has shown robust mobilization of cancer cells and immune cells, sensitization of cancer cells to chemo- and bio-based cancer therapies, and direct anti-cancer effect by inducing tumor cell death. BioLineRx is investigating BL-8040 in multiple indications.
Source: BioLineRx corporate presentation, Oct 18 2018.
The triple combination arm of the Phase 2a study will include about 40 patients with unresectable metastatic pancreatic adenocarcinoma who have progressed following first-line therapy prior to enrollment. Patients will receive BL-8040 monotherapy priming treatment for 5 days, followed by ongoing cycles of the combination of chemotherapy, Keytruda and BL-8040 until progression. The primary endpoint of the study is the objective response rate (ORR) as assessed by the Response Evaluation Criteria in Solid Tumors ( RECIST v1.1) criteria. Secondary endpoints will include overall survival, progression free survival and the disease control rate.
We are pleased to commence this triple combination arm of our Phase 2a pancreatic study, under the framework of our immuno-oncology collaboration with MSD. We believe that the addition of chemotherapy may be synergistic with BL-8040 and Keytruda, as chemotherapy has been shown to reduce overall tumor burden while inducing immunogenic cell death, leading to activation and expansion of new tumor-reactive T-cells. Based on its mechanism of action, we believe that BL-8040 may facilitate the infiltration of these T-cells into the tumor core, alongside the restoration of T-cell activity within the tumor by Keytruda. We look forward to results of the study expected in the second half of 2019.

– Philip Serlin, CEO, BioLineRx.
At the recent European Society for Medical Oncology 2018 Congress in Munich, BioLineRx disclosed top-line results from the dual combination arm of its Phase 2a, evaluating metastatic pancreatic cancer patients treated with BL-8040 and Keytruda. The results showed encouraging disease control and extended overall survival, particularly in patients undergoing second-line treatment. In addition, the data also demonstrate that BL-8040 significantly improves T-cell infiltration into the tumor and reduces immunosuppression in the tumor microenvironment.
Pipeline
BioLineRx currently has eight mid to late-stage clinical trials in progress across multiple cancer indications and expects to have numerous data readouts in mid to late 2019.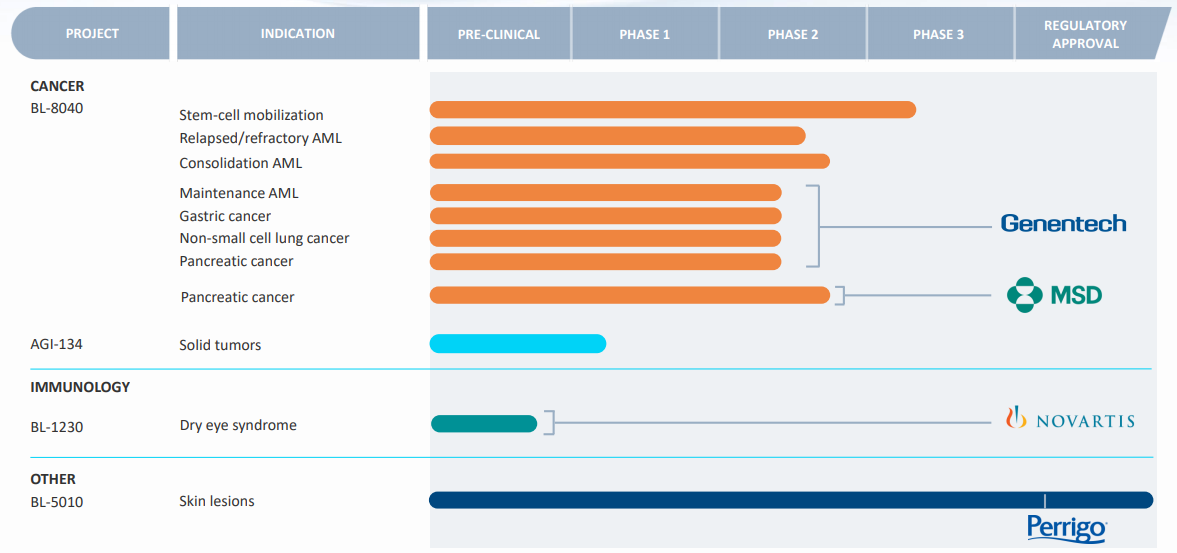 Investment issues to consider
BioLineRx ADRs trades at $0.65 on Nasdaq, giving the company a market capitalization of about $74 million. The ordinary shares trade on the Tel Aviv Stock Exchange under the same symbol, BLRX. In order to stay listed on Nasdaq, the company will have to meet the minimum bid price requirement of $1 per share, so that's critical for investors to monitor.
Cash balance is relatively healthy, at $35 million as of Sept. 30, 2018. The company does have one product approved for commercial sale in Europe, BL-5010 for skin lesions, which is licensed to Perrigo. BioLineRx retains US rights but has yet to realize revenue. The pipeline, while targeting diverse cancer indications, is obviously reliant on its lead compound, BL-8040, and the data readouts in 2019 from the various clinical trials will be critical.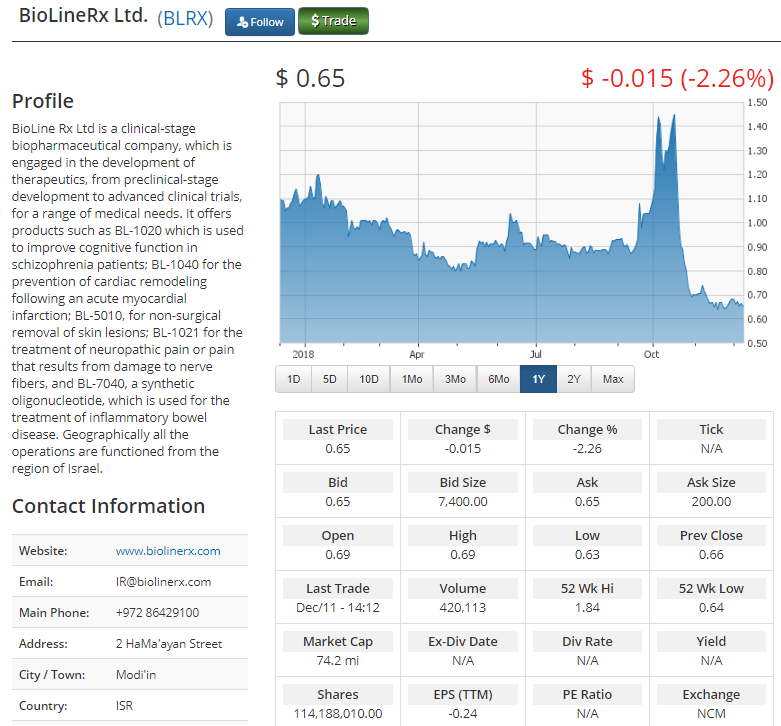 Please email us at [email protected] to see our Case Studies and Testimonials.
Please click here for information on our equity trading platform.
Please click here to receive our free daily newsletter.