Biocept Launches Liquid Biopsy Research Kits for Cancer Gene Mutations
Edward Kim Follow |

It is well understood that early screening and detection of cancer may greatly increase the chances for patients' long term survival. Understanding this, however, and enabling effective, affordable means of early detection are, in most cases, still works in progress. While mammography for breast cancer and cell screening methods such as pap smears for cervical cancer are commonly used to great effect, that still leaves a vast spectrum of cancers for which there are no practical or cost-efficient early detection methods.

San Diego based Biocept BIOC is developing and selling liquid biopsy tests to aid physicians in their cancer diagnoses. The company currently markets assays for lung, breast, gastric, colorectal cancer, prostate cancer and melanoma. Biocept announced today that it has launched a new line of reresearch-use-only (RUO) kits that will enable molecular laboratories globally to utilize Biocept's proprietary Target Selector platform of circulating tumor DNA (ctDNA) assays to perform liquid biopsy testing. Target Selector is patent protected in the US and in 10 major international territories.

The first available RUO kit is for the high-sensitivity detection of epidermal growth factor receptor (EGFR) oncogene mutations. EGFR is often expressed at high levels in multiple cancer types and is frequently is associated with a worsened prognosis. EGFR oncogene mutations are among the most frequently evaluated biomarkers for lung cancer.

Source: Biocept

Investment issues to consider
Biocept has been public since 2014, when it raised $19 million in gross proceeds at $10 per share. Since then, the stock has undergone two reverse splits, a 1-for-3 in 2016 and, more recently, a 1-for-30 in July 2018. Investors, therefore, need to be mindful when doing their research that the IPO price of $10 is really $900 per share in split-adjusted terms. This makes the current $2.15 per share price look either exceedingly tempting from the long side or particularly vulnerable from the short side, depending on the investment thesis.
The company does generate modest revenue—about $3.4 million over the trailing 12 months ended September 30, 2018—but posted a net loss of about $24 million in that time frame. Biocept has racked up an accumulated deficit of over $214 million since inception, so this investment would strictly be for investors with a high tolerance for risk. We do think that the current market capitalization of less than $10 million does merit attention from these investors, however, and we'll be watching this company closely for continued signs of operational and commercial progress. The global market for liquid biopsy testing is projected to be worth over $17 billion according to an August 2018 report from Market Research Future, and Biocept could be positioned to capture a meaningful bite out of this growing market.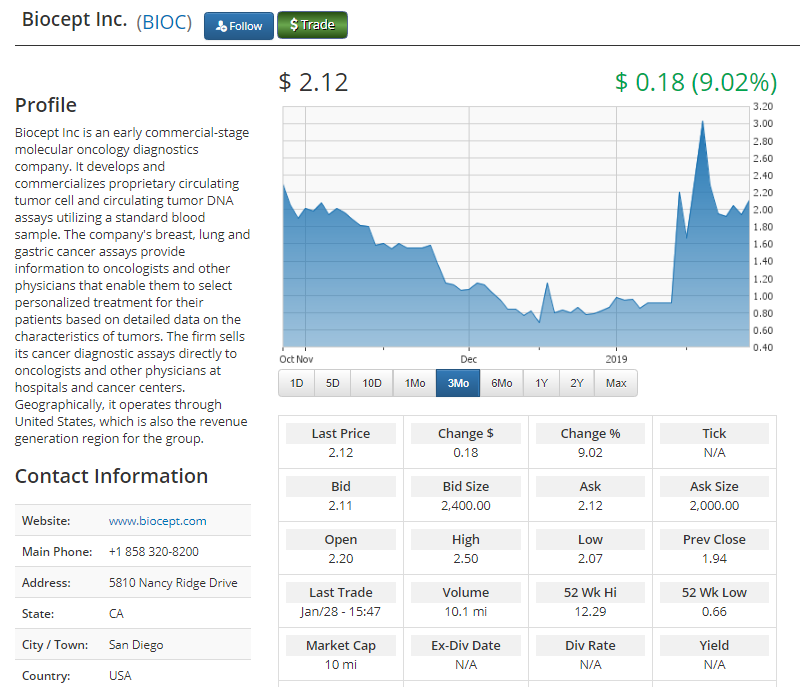 Please email us at content@equities.com to see our Case Studies and Testimonials.
Please click here for information on our trading platform.

Please click here to see our daily newsletter.
DISCLOSURE: The author holds no positions or any other beneficial interest in, and has not received any compensation from, the companies mentioned in this article.

---
The views and opinions expressed in this article are those of the authors, and do not necessarily represent the views of equities.com. Readers should not consider statements made by the author as formal recommendations and should consult their financial advisor before making any investment decisions. To read our full disclosure, please go to: http://www.equities.com/disclaimer.
Market Movers
Sponsored Financial Content