Heart disease remains the leading cause of death for both men and women, leading to about 610,000 deaths in the US each year according to the CDC. Johns Hopkins Medicine says that cardiovascular disease is the cause of more deaths than cancer, chronic lower respiratory diseases and accidents combined, and that 84 million people in the US suffer from some form of cardiovascular disease. That's over 25% of the entire population in this country.
BioCardia
We've been following San Carlos, California, based BioCardia BCDA, which is developing novel therapeutics for cardiovascular diseases with large unmet medical needs. The company's lead therapeutic candidate is the CardiAMP Cell Therapy System, an autologous (from the same individual) stem cell therapy in Phase 3 trials for ischemic heart failure and chronic myocardial ischemia, two large cardiac indications. BioCardia's second candidate is the CardiALLO Cell Therapy System, an allogeneic (from another donor) "off the shelf" stem cell therapy being advanced initially to treat patients who are not eligible for CardiAMP cell therapy due to the quality of their cells.
BioCardia derives modest revenue ($223,000 through nine months of 2018) from three enabling device product lines which have one or more approvals in the US and EU. The company announced this week that it has made its 510(k) submission to the FDA for its new AVANCE steerable introducer, designed to introduce various cardiovascular catheters into the heart, including via the left side of the heart through the interatrial septum. The AVANCE leverages new technology developed for BioCardia's Morph family of steerable introducers and applies it for transseptal (performed through a septum) procedures for greater predictability, stability and control.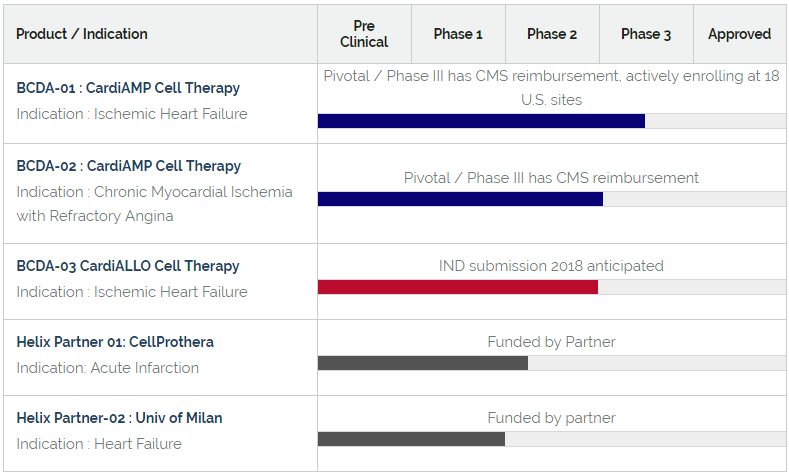 Source: BioCardia
Common transseptal procedures include atrial fibrillation ablation, patent foramen ovale (PFO) repair, atrial septal defect (ASD) repair, percutaneous mitral valve repair, left atrial appendage closure and percutaneous left ventricular assist device placement. According to a June 2018 report by Bekryl Market Analysts, the global transseptal access systems market size is projected to grow from $550 million in 2018 to nearly $1.7 billion in 2028.
The best-in-class design that underlies AVANCE was developed to enhance delivery of our investigational CardiAMP and CardiALLO cell therapies. We are excited about making this product available to the broader transseptal market, and expect it to favorably impact revenues in the second half of 2019.

– Peter Altman, PhD, CEO, BioCardia.
Positive 12-month data in CardiAMP trial
In November 2018, BioCardia announced positive 12-month data for the roll-in (non-randomized) cohort of its pivotal trial studying the investigational CardiAMP Cell Therapy System in adults experiencing heart failure following a heart attack. The results were presented by Peter Johnston, MD, of Johns Hopkins Medical Center at the American Heart Association Scientific Sessions in Chicago. According to BioCardia, the CardiAMP heart failure trial is the first multicenter clinical trial of a stem cell therapy to prospectively screen for stem cell therapeutic potency in order to improve patient outcomes.
At the primary endpoint of exercise capacity at 12 months, the 10 patients showed clinically meaningful improvement, walking an average of 46.4 meters more than baseline, although the improvement was not considered statistically significant. Eight of the 10 patients experienced improvement in their exercise capacity.
While the roll-in cohort captured in this data is a small portion of what will be the full enrollment, these 12 month results for the trial's primary and pre-specified secondary endpoints are promising. Showing trends towards improvement in the major measures important to patients – exercise capacity, quality of life through symptom relief, and heart function – is a significant achievement for a cell therapy for the heart.

– Amish Raval, MD, University of Wisconsin at Madison, co-principal investigator of the trial.
Investment issues to consider
BioCardia stock trades on the OTCQB venture market at $1.75, for a market capitalization of about $67 million. Volume is very thin, which subjects the company to sharp swings. Average daily volume over the past three months is less than 9,800 shares with the median trading day in that period witnessing only 3,500 shares changing hands. The company has endured net losses and negative cash flows from operations since inception and has an accumulated deficit of $82.7 million as of September 30, 2018. In the Form 10-Q for the third quarter, the company stated that the $4.8 million in cash and equivalents would be sufficient to fund operations only into the first quarter of 2019.
Investors must watch for indications that the company is making progress toward raising capital, and we point again to the lack of lack of liquidity in the shares. Given the potential market sizes that the company is addressing, however, we do think that BioCardia presents an interesting risk-reward proposition at these levels and will continue to monitor the company closely.
Please email us at [email protected] to see our Case Studies and Testimonials.
Please click here for information on our equity trading platform.
Please click here to receive our free daily newsletter.
DISCLOSURE: