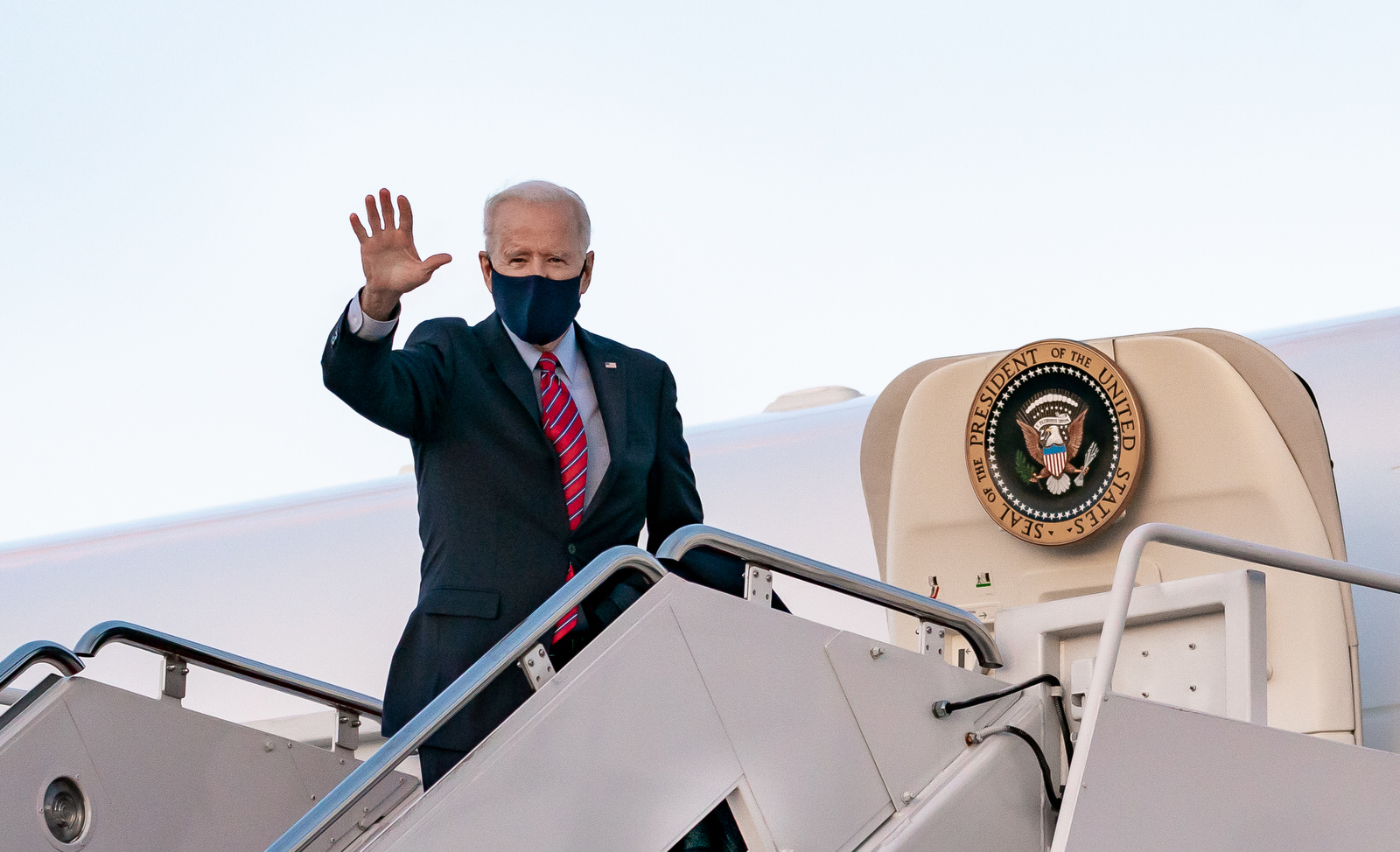 Image: President Joe Biden, Feb. 5, 2021, Joing Base Andrews, Maryland. Source: Official White House photo by Carlos Fyfe.
The White House is launching a $500,000 competition to find new and effective face masks that eliminate some of the biggest annoyances that come with daily wear, such as irritated skin and fogged eyeglasses.
Through April 21, Americans can submit their ideas on how to get rid of common concerns that come with wearing masks while making sure the coverings effectively protect against COVID-19 to the "Mask Innovation Challenge."
The contest is being hosted by the Department of Health and Human Services (HHS), in collaboration with the National Institute for Occupational Safety and Health (NIOSH) and the Biomedical Advanced Research and Development Authority (BARDA), the federal agency in charge of the production and purchase of vaccines.
In a press release announcing the challenge, Nikki Bratcher-Bowman, acting assistant secretary for preparedness and response at HHS, said, "We know that properly and consistently worn face masks help reduce the spread of SARS-CoV-2 and other respiratory infections, but many people are reluctant to wear them for a variety of reasons."
Prototypes must address a frustration that reduces "compliance with mask usage," including "speech intelligibility," "physical discomfort with use, particularly in hot and humid environments," or even "fogging of eyeglasses during use," according to the HHS.
The top 40 ideas from around the country will be selected to advance to a pitch competition presenting their design to a panel of experts, with the 10 best submissions selected to receive up to $10,000 each.
Finalists will then move on to a "proof-of-concept" phase with a total prize worth up to $400,000, where masks will be tested by federal and partner laboratories.
Additional details regarding phase two of the competition will be released in the future, the HHS said.
Bratcher-Bowman said, "With this mask challenge, we want to get people across the country involved in developing new masks that are both effective and comfortable. This will help us control COVID-19 and be better prepared for future public health emergencies."
The contest comes as public health officials continue to urge people to wear masks to curb the spread of the virus, as some states have lifted mask mandates despite the emergence of faster-spreading, more contagious strains of COVID-19.
More than 107 million Americans, 32.4% of the population, have received at least one dose of a COVID-19 vaccine and about 18.8% of the population, 62.3 million, have been fully vaccinated.
_____
Source: Equities News