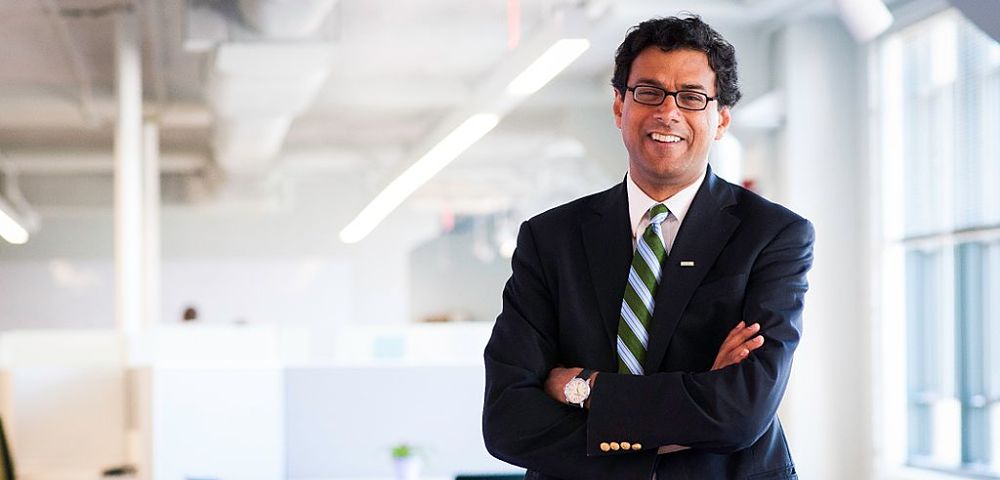 Image via Amar Karodkar/Wikimedia
Dr. Atul Gawande has been named CEO of a newly-formed healthcare venture between Berkshire Hathaway BRK.A, Amazon AMZN and J.P. Morgan JPM, the companies announced on Wednesday.
Amazon CEO Jeff Bezos, Berkshire Hathaway CEO Warren Buffett and J.P. Morgan CEO Jamie Dimon announced the joint venture in January, which is aimed at tackling rising healthcare costs.
America spent 17.8% of its GDP on healthcare in 2016, according to the Journal of the American Medical Association. In comparison, 11 high-income countries assessed in the report spent only 11.5%. The U.S. spent $9,403 per capita that year – nearly double what other countries spent.
Drugs are more expensive, and the threat of medical malpractice lawsuits often leads to hospitals ordering unnecessary tests just to avoid liability.
"Hospital errors can happen for a number of reasons such as misdiagnosing, treating patients for the wrong medical conditions and ignoring safety guidelines such as washing hands," says Bradshaw Law.
The new healthcare company formed by Buffett, Bezos and Dimon aims to address this issue. Headquartered in Boston, the organization will be a hub for medical research and biotechnology. It will also be "free from profit-making incentives and constraints."
Dr. Atul Gawande, who will take the helm on July 9, practices endocrine and general surgery at Brigham and Women's Hospital. He is also a professor at Harvard's T.H. Chan School of Public Health as well as Harvard Medical School. Gawande is the founding executive director of Ariadne Labs and has written several books.
The newly-appointed CEO will transition to chairman at Ariadne Labs, but he will not give up his positions at Brigham and Women's Hospital or Harvard.
"I have devoted my public health career to building scalable solutions for better healthcare delivery that are saving lives, reducing suffering, and eliminating wasteful spending both in the US and across the world," Gawande said.
The ultimate goal of the company is lower healthcare costs for employees, but no specific plan has been released for the company, nor has it been given a name. The only bit of detail that has been released – or hinted at – is that the company aims to remove the middleman to lower healthcare costs.
Initially, the company will focus on the 1 million employees of the three companies.
Reducing healthcare costs for both employees and the companies themselves will ultimately boost profits. The company has the potential to send shares in all three organizations – J.P. Morgan, Berkshire Hathaway and Amazon – higher.
Gawande has been open and vocal about his ideas to improve the health care system, including advocating for more integration in health care.
"There's a famous thought experiment that touches exactly on this that said, what if you built a car from the very best car parts? Well it would lead you to put in Porsche brakes, a Ferrari engine, a Volvo body, a BMW chassis. And you put it all together and what do you get? A very expensive pile of junk that does not go anywhere. And that is what medicine can feel like sometimes. It's not a system," said Gawande.
Still, some health care experts are skeptical that the three CEOs can simplify the current system.
Dimon told CNBC that the company is a long-term initiative. He said there are things they can improve upon, including administrative costs, fraud, and the underuse and overuse of drugs.