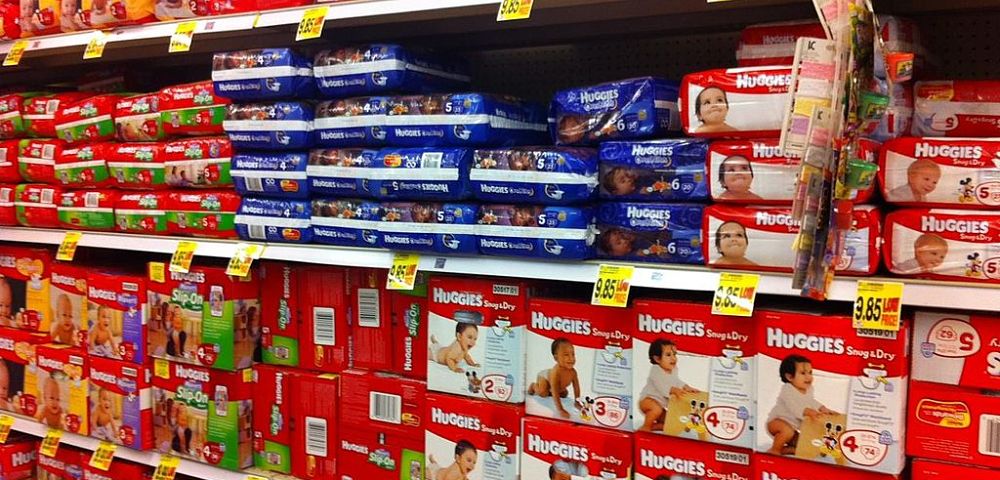 Image via ParentingPatch/Wikimedia
Business models are not created equally. The most successful consumer goods companies over the past several decades sell products that are used and replaced; are ubiquitous (sold in most large retailers and online) and have a strong brand name, notes Ben Reynolds, editor of Sure Dividend.
It's a simple combination — and it's extremely powerful. Procter & Gamble (PG) and Kimberly-Clark (KBM) both made our Top 10 list this month. These are two of the safest, strongest businesses around, bar none. Both are now trading at reasonable prices.
Both are mature businesses—– they aren't likely to exhibit rapid growth. But, they are stable cash cows that generate solid total returns by returning money to shareholders through slowly rising dividends and by making share repurchases.
Additional returns come from efficiency gains. When you have pricing power like Procter & Gamble and Kimberly-Clark, gains from efficiency need not be passed on to consumers; they can go straight to the bottom line. In this way, technology can make these businesses more efficient and more profitable on a per unit basis.
Large share repurchases made possible by the excess cash these capital-light businesses generate helps investors to own ever more of these businesses as the years go by.
The combination of rising ownership from share repurchases and rising dividend payments on a per-share basis plus the remarkable stability provided by their business models should not be overlooked by investors seeking long-term dividend growth.
Kimberly-Clark's flagship brands include Huggies, Pull-Ups, Kotex, Depends and Poise. The tissue segment includes the Kleenex, Scott, Cottonelle, and Viva brands.
As a leading consumer staples business, Kimberly-Clark is extraordinarily recession-resistant. The company experienced a minor 4.5% decline in earnings-per-share during the worst of the 2007-2009 financial crisis and resumed healthy earnings growth in subsequent years.
The company has returned over $2 billion a year to shareholders through dividends and share repurchases every year for the last seven years. This translates to a shareholder yield of about 4.5%. Combined with the company's earnings growth, we expect total returns of 7.5% to 9.5% per year for Kimberly-Clark's average price-to-earnings ratio over the past 10 years is 20.1. Based on fiscal 2018 earnings guidance, it is currently trading at a price-to-earnings ratio of 15.8. Now is an opportune time to buy into this high-quality business at a reasonable price.
Procter & Gamble has been in operation for 180 years and distributes products to more than 180 countries in 10 different product categories. Product & Gamble is also a Dividend Aristocrat and a Dividend King, having increased its dividend for a remarkable 61 consecutive years.
The company has 22 brands with over $1 billion in annual sales and another 19 brands generating over $500 million in annual sales. Procter & Gamble's brand power is a result of consistent and deliberate investments in marketing; advertising expenses have exceeded $7 billion in each of the past 6 fiscal years.
Procter & Gamble's leadership within the consumer goods sector means that the business is very recession-resilient. The company's earnings-per-share declined by just 3% during the Great Recession of 2007-2009. Moreover, the company has a conservatively-financed balance sheet that has earned an Aa3 rating from Moody's and an AA- rating from Standard & Poor's.
The company appears to be trading near fair value right now, but investors still stand to be rewarded over the long run. Total returns could reach double-digits given our estimates of 5%-7% earnings-per-share growth and the company's 3.5% dividend yield.

Ben Reynolds is owner and editor of Sure Dividends.

Subscribe to Ben Reynolds' Sure Dividend here…

About MoneyShow.com: Founded in 1981, MoneyShow is a privately held financial media company headquartered in Sarasota, Florida. As a global network of investing and trading education, MoneyShow presents an extensive agenda of live and online events that attract over 75,000 investors, traders and financial advisors around the world.