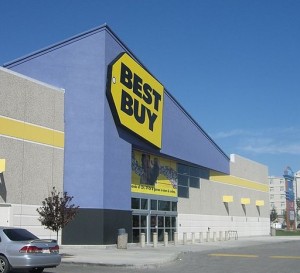 On Thursday, shares of Best Buy soared 13.09 percent to $24.49 after the brick-and-mortar electronics retailer announced a deal to host "Samsung Experience Shops" in its stores in order to sell Samsung computers, phones, and cameras.
The move is yet another vindication of CEO Hubert Joly's turnaround plan for the company.
Not two months ago, there were still rumors that founder Richard Shulze was putting together a buyout deal to take the company private. Best Buy had suffered from an industry-wide decline in holiday sales.
Furthermore, there were worries about how "showrooming" would be dealt with. The practice of using Best Buy stores to test out products, and then look for them online at cheaper prices--often at Amazon.com (AMZN)--has been a huge problem for most if not all appliance and electronics retailers.
The company has dealt with this by implementing an aggressive, and ostensibly successful price-matching scheme. At the same time, it has already made deals with the big tech companies like Apple (AAPL), Google (GOOG), and Microsoft (MSFT) for their own unique set-ups in its stores.
The deal with Samsung, however, eclipses any of these, with in-store areas as big as up to 460 feet, staffed by Samsung employees, and with their own check-out stands.
While Joly has also made cost-cutting moves, involving corporate job layoffs in February, as well as simplifying supply-chain issues. But the most significant moves have so far been in marketing, and the use of store space, emphasizing the retailer's most popular brands and products.
DISCLOSURE: The views and opinions expressed in this article are those of the authors, and do not represent the views of equities.com. Readers should not consider statements made by the author as formal recommendations and should consult their financial advisor before making any investment decisions. To read our full disclosure, please go to: http://www.equities.com/disclaimer