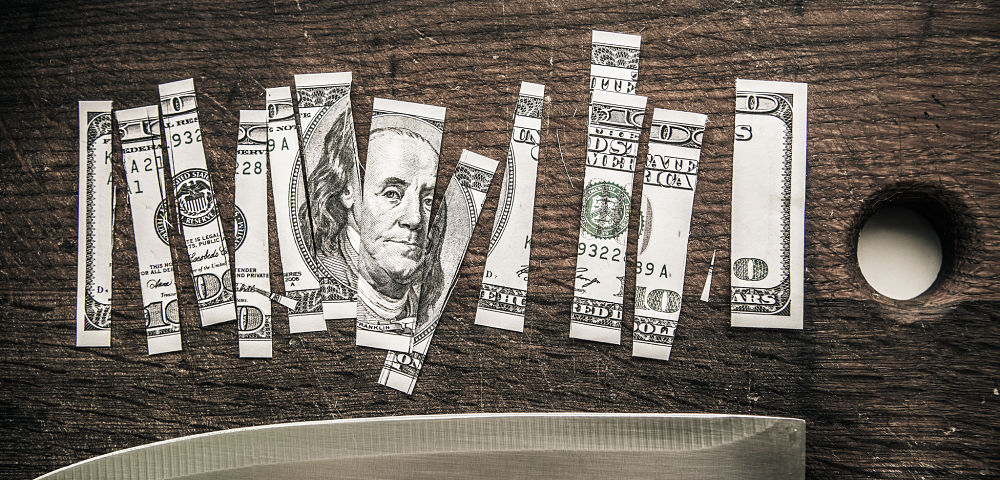 Image via Tax Cut/Flickr CC
According to economists at the Institute of International Finance, the dollar is still overvalued by about 10%. And currently, many economies in both the developed and the developing world are growing faster than here in the U.S. That usually leads to those currencies outperforming the U.S. dollar, notes Tony Daltorio, editor of Investors Alley Premium Digest.
However, the main reason for weakness going forward will be the Trump administration's focus on trade. An even weaker dollar will be welcomed by them. So despite rising U.S. interest rates, expect the dollar chart to have that line moving from the upper left to the lower right.
Yes, it is due for a bounce. After all, it fell 10% last year against the other major currencies. And it is down another nearly 3% in January to a three-year low. But after a bounce, the downward trend will resume.
So what do all these global currency movements mean to you? It's very simple — a weak U.S. dollar is great for nearly every asset class. It will benefit the large U.S. multinationals, such as those in the S&P 500 index. That's because much of their revenue comes from overseas.
When that revenue is earned in foreign currencies, it will translate to more dollars when brought home and reported in their earnings statements. So almost anyU.S. large cap stock or index ETF or index mutual fund will benefit from the weak dollar.
If you're looking for better gains than a U.S. index fund will provide you in this current environment, look to the emerging markets. Historically, emerging markets stocks have had their best gains when the dollar is falling.
Last year was a prime example, following after a five-year bear market in most emerging market stocks. The MSCI Emerging Market Index rose 37% over the past year and is up another nearly 10% so far in 2018. That index can easily be bought through an ETF like the iShares MSCI Emerging Markets ETF (EEM).
In a side note, the MSCI Emerging Market Currency Index hit a record high this week. The gain against the dollar, ironically, has been led by the Chinese renminbi. That currency is now trading at a two-year high.
Another prime beneficiary of a weak dollar is the commodities market. Prices on everything from oil to industrial metals to precious metals have gotten a major boost from the weak dollar.
An easy way to play precious metals is through the ETFS Precious Metals Basket Trust (GLTR). It contains physical gold, silver, platinum and palladium and can be bought for no commission at brokers like Charles Schwab.
As an investor, keep hoping for the Trump administration to keep the dollar on its current path. A suddenly soaring dollar would be kryptonite for the stock market. The only good result would be that the long-anticipated stock market correction would then be upon us very quickly.

Tony Daltorio is editor of Investors Alley Premium Digest.

Subscribe to Investors Alley Premium Digest here…

About MoneyShow.com: Founded in 1981, MoneyShow is a privately held financial media company headquartered in Sarasota, Florida. As a global network of investing and trading education, MoneyShow presents an extensive agenda of live and online events that attract over 75,000 investors, traders and financial advisors around the world.