Image: Countries with confirmed coronavirus infections as of Feb 4 2020. Source: CDC
Coronavirus Outbreak Continues To Spread
As of Friday morning, the latest toll from the China coronavirus outbreak has risen to 638 deaths and over 31,000 confirmed cases. The World Health Organization (WHO) said it's still too early to declare that the virus has peaked.
People in at least 28 countries have been infected, including a dozen cases in the US (though apparently all of North Korea is immune. Keep up the good work, Supreme Leader).
Beyond the quarantines and other efforts at containing the outbreak, researchers are investigating the repurposing of existing antiviral medications to determine if any of them may be effective against this new menace. Chinese researchers have already applied to test more than 10 drugs, including AbbVie's Kaletra (lopinavir/ritonavir) for HIV, Janssen's Prezista (darunavir) for HIV, Gilead's remdesevir for Ebola virus, chloroquine (an antimalarial drug) and several flu medicines.
BenevolentAI Is Using Its Artificial Intelligence Platform to Expedite and Narrow the Search for a Cure
BenevolentAI, based in London, is developing and applying artificial intelligence for scientific innovation. The company's Benevolent Platform is a leading computational and experimental drug discovery platform that enables scientists to uncover new ways to treat disease and personalize drugs for patients. The company focuses on target identification, molecular design and precision medicine to better understand the underlying mechanisms of disease and to develop new treatments. BenevolentAI integrates AI technologies at every step of the drug discovery process, from early discovery to late stage clinical development.
In a paper published in The Lancet this week, researchers at BenevolentAI described the process of the proprietary platform's analysis of a very large repository of medical data, including scientific literature, tailored by known chemical properties of the new virus. BenevolentAI identified baricitinib, which is used to treat moderate to severe rheumatoid arthritis, as a drug that is predicted to reduce the ability of the new coronavirus to infect lung cells.
The scientists posited that ACE2—a protein found on the surface of cells in the kidney, blood vessels, heart and, importantly, epithelial cells in lung alveoli called AT2—is the pathway that the new coronavirus uses to infect lung cells. These AT2 cells are particularly prone to viral infection.
One of the known regulators of endocytosis—the process of bringing in a substance like a virus into a cell—is AAK1 (AP2-associated protein kinase 1). Therefore, if AAK1 function could be inhibited, this might interrupt the passage of the virus into cells and also the intracellular assembly of virus particles.
From 378 known AAK1 inhibitors, BenevolentAI narrowed down its search to 47 compounds approved for medical use, of which six inhibited AAK1 with high affinity. Finally, only one of these compounds, works to inhibit AAK1 without the severe side effects that would present in the contemplated high dosages required: baricitinib.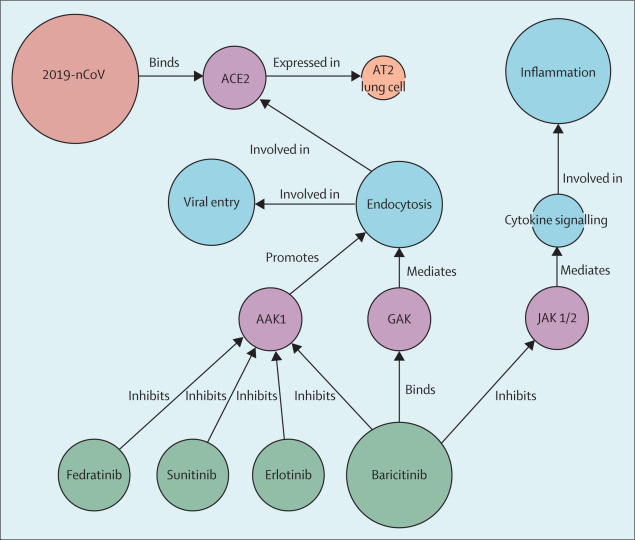 Image: The BenevolentAI knowledge graph, which integrates biomedical data from structured and unstructured sources, is queried by a fleet of algorithms to identify new relationships to suggest new ways of tackling disease. 2019-nCoV=2019 novel coronavirus. AAK1=AP-2 associated kinase 1. GAK=cyclin g-associated kinase. JAK1/2=janus kinase 1/2.
Baricitinib, developed by Incyte and Eli Lilly, was approved by the FDA in 2018 for the treatment of adults with moderately to severely active rheumatoid arthritis who have had an inadequate response to one or more tumor necrosis factor (TNF) antagonist therapies.
No Guarantees But Potentially More Accurate Treatment Candidate With Critical Time Saved
Recode, a Vox publication, reported an email conversation with Ivan Griffin, a co-founder of BenevolentAI, in which he emphasized that this "research was conducted in a time frame that would have been 'impossible to replicate' without Benevolent's curated and wide variety of datasets and artificial intelligence."
Mr. Griffin said that BenevolentAI's artificial intelligence technology enables the company "to gain insights that, due to 'the overwhelming volume of biomedical information,' we otherwise would miss."
There are no guarantees, of course, that baricitinib or any of the other contemplated medicines will work on the new virus. Recode cited Derek Lowe, a researcher at Novartis, who told Chemical & Engineering News that BenevolentAI's work was "more a testimony to good literature searching and curation."

Founded in 2013, Company Has Accelerated Progress in Recent Years
BenevolentAI has received global recognition for its work to date, including being named as part of CB Insight's "AI 100" in 2017 and awarded "Technology Pioneer Status" by the World Economic Forum in 2018.
The company has numerous drug discovery partnerships including ones with AstraZeneca for kidney and lung disease and Novartis for cancer and multiple other diseases.
BenevolentAI has raised over $290 million in funding since inception, including $90 million from Temasek, the Singaporean investment company, in 2019, and at least $115 million in 2018, from multiple investors including Woodford Investment Management and Goldman Sachs.
We would not be surprised to see BenevolentAI explore the public equity markets in the near future, and we salute the company for its efforts in finding a cure to the current contagion.
Edward Kim is Managing Editor of Equities.com.
_____
Source: Equities News