Despite the snapback of the
last two trading sessions
, I'm as yet not convinced that my next expected 39.8 trading day cycle has made its mark. True, the benchmark averages have, for the most part, rebounded off their respective 50-day moving averages. But the time cycle work I do says that we have about another week of downside yet to go.
In my price velocity plot below, note that although my 14-day component has turned up, my seven and 27-day components are still declining. And while there can be a day or two delay in the turn of these indicators, more often than not, the seven-day component turns either right on the day of the bottom, or sometimes as much as six days prior.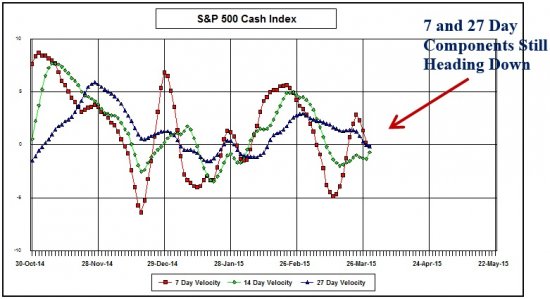 Recognizing that I am making a positional change with less than perfect information, I am advising a move back to BEARISH for what I think is a setup for a push lower for the balance of this week and into next. The bulk of my cycles analysis points to late in the day on April 6th – with a possible spillover into the next day – for my expected cycle low. I'd like to see the S&P tag its 200-day moving average (depicted on the chart in red). Better yet would be a move to just under 2,000 before rebounding. And a good whack in the NYSE Advance / Decline Line. A push higher from a lower low early next week would support a whole host of divergences at the coming May high.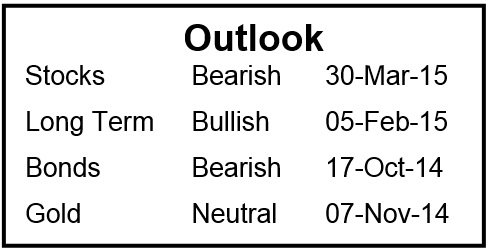 Each month, Stan Harley publishes The Harley Market Letter, a newsletter that provides advanced technical analysis of stocks, bonds, and precious metals. This is the latest update to the Harley Market Letter for March. Want to learn more from acclaimed market analyst Stan Harley? Visit his site and subscribe to the full Harley Market Letter.
DISCLOSURE: The views and opinions expressed in this article are those of the authors, and do not represent the views of equities.com. Readers should not consider statements made by the author as formal recommendations and should consult their financial advisor before making any investment decisions. To read our full disclosure, please go to: http://www.equities.com/disclaimer