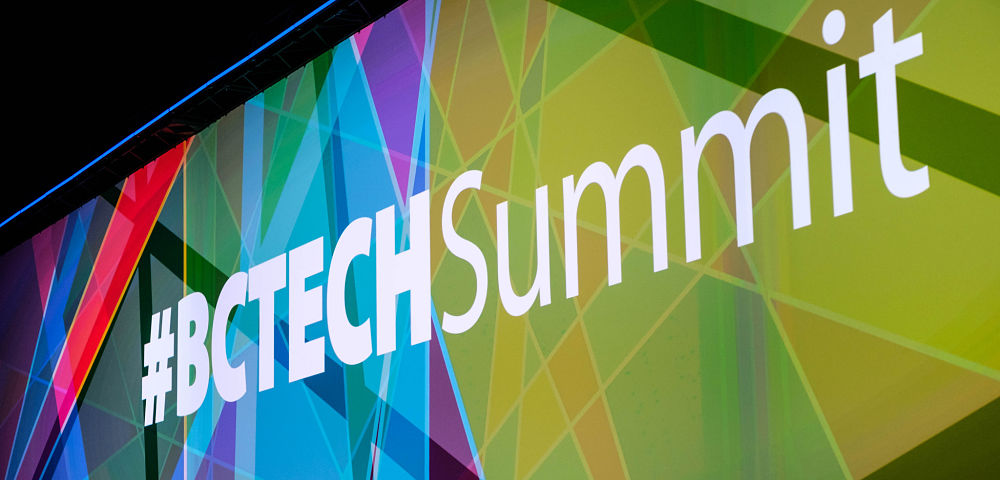 Image via Province of British Columbia
Have you ever been to a much-hyped event only to be thoroughly disappointed enough to leave early? In its third year the BCTECH Summit promised an optimistic look at the challenges and innovations coming out of BC's hi-tech community. Instead the usual suspects offered unimaginative solutions to problems I didn't know existed.
Can you tell I am not impressed? Sadly, the summit failed to attract the cream of the 10,000+ tech businesses in British Columbia. The tech industry in BC employs 106,000 people, and has become the new tech hub for global companies like Microsoft (MSFT) and Amazon (AMZN) and features several homegrown successes, including Bench, Bitstew Systems, Slack, Hootsuite, and Avigilon. From my experience with tech start-ups, BC is right up there with Silicon Valley for the breath of experience, talent and innovation. I just didn't see it here!
The theme of the BCTECH Summit sought to highlight the transformations technology is driving across all industries and showcase innovation's impact on how we work, live and play. From its numerous 'lounges' to the subjects of its sessions it was more like a cobbled theme of trending political correctness.
From the 'Reconciliation Lounge' sponsored by the indigenous community to the Female Funders & Founders Lounge and forums on including more women in tech, the organizers were indeed trying to be inclusive and appeal to current issues.
Don't get me wrong. The indigenous community, Prime Minister Justin Trudeau's raison d'etre is important to Canadian culture. Women's issues are certainly dear to my heart but I felt both were out of place at a hi-tech event. The lack of visitors to the Female Funders and Founder's Lounge indicated to me a 'so-what' attitude by the attendees.
We take women seriously! As a professional who works with finding financing for many start-ups I don't care if the founder is a woman, indigenous or an alien as long as the founder is capable, has a good scalable concept, good management and is coachable. Why is race and gender a part of the conversation?
Unlike the Sustainability Expo a few weeks ago, there was no buzz and no excitement. One engineering company specializing in energy conservation exhibited a system to create energy by diverting wastewater but when asked about revenues explained that this 'new division' was theoretical and the company's revenues came from elsewhere.
All the tech-based schools were represented but the level of commitment to their exhibits was minimal. The ideas were either half-baked or mediocre class projects. One proud professor introduced me to one of his physics students (I assumed he was a Ph.D. candidate) who showed me a prototype of a flow-measuring meter for carburetors. It seemed impressive, so when I asked if he had shown it to any car manufacturers, he laughed and said he was only an undergrad and he's moved on from this class project – what? Why bother showing it at a world-class summit?
BCTECH promised wide-ranging sessions on space flight, the future of work, AI, food security, blockchain, education, and quantum computing. Perhaps I was having a bad week but while Microsoft's presentation on "Data is the New Economy" was well received, a presentation by BC's largest Credit Union, Vancity, about "Entrepreneurs, Building with Passion" made me wonder what a credit union knew about entrepreneurs.
I decided not to attend the session on "Mining the Future" with Bryan Cox of the Mining Association of British Columbia. Having been to the Sustainability Expo I couldn't imagine why his talk would be relevant at a tech summit. I guess its sponsor, the Greater Vancouver Board of Trade, thought it might be a good idea since May is BC Mining Month. Mining and, in particular oil, industries are not particularly popular industries in BC at the moment.
The strange thing about all this sessions and forums is that they were all sold out so obviously my opinion is in the minority.
I'm at a loss as to why I felt the summit was inferior to others. I even went to the second floor of the Vancouver Trade & Convention Center hoping there were more exhibits but there were only more lounges to sit and ponder on life.
I wanted to be wowed, to feel that BC is leading the way in technology. I wanted to feel the same excitement that brought attendees and delegates from over four continents to this event. I went to each university's booth hoping to be comforted that the future of tech was strong. I got none of that.
I'm now regretting that I didn't sign up for the International Metal Writers Conference following BCTECH. I could have hung out with "over 3,000 fellow investors and industry professionals" talking about precious metals. Now that would have been interesting!
If you attended BCTECH and think I'm out to lunch, feel free to comment.