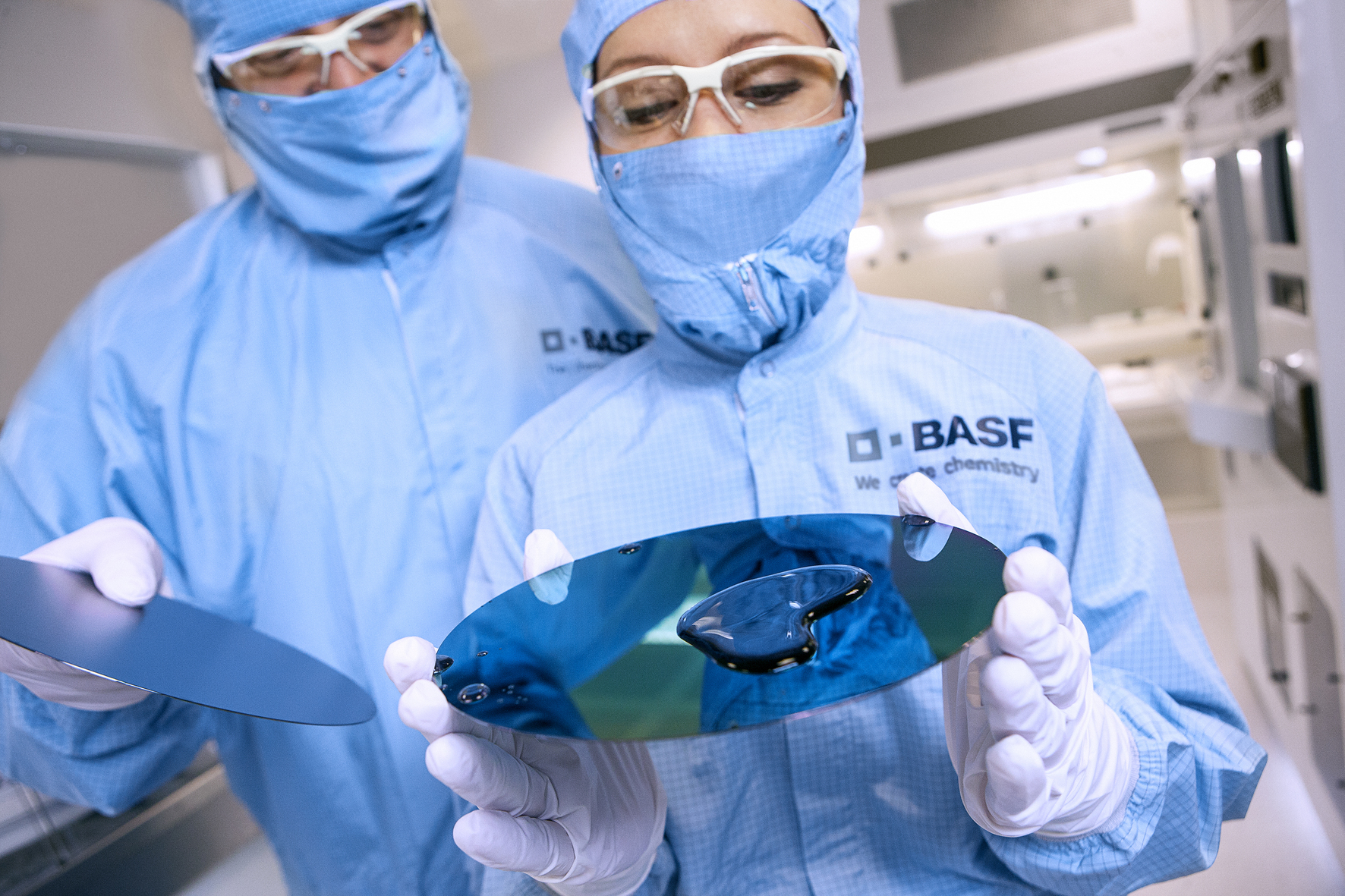 Image: Lab technicians test the wetting properties of a silicon wafer after it has been treated with Planapur, a polishing material that contains nanoparticles. Source: BASF
BASF SE (OTC US: BASFY ), the world's largest chemicals producer by sales, announced Friday it is setting "even more ambitious goals" to achieve net zero emissions by 2050.
After progress in developing low-emission and CO2-free technologies, the German chemicals giant said it is raising its medium-term 2030 target for greenhouse gas emissions and wants to slash emissions by 25% from its 2018 levels over the next decade.
In 2018, BASF said its worldwide emissions amounted to 21.9 million metric tons of CO2 equivalents.
As part of that effort, BASF plans to invest up to 1 billion euros ($1.2 billion) by 2025 to reach its new target and an additional 2 billion to 3 billion euros ($2.5 billion to $3.5 billion) by 2030.
The new goal replaces a commitment BASF chief executive officer Dr. Martin Brudermüller made three years ago, shortly after he stepped into his role. Previously, BASF had said it would keep emissions constant until 2030, Reuters reported.
Recent technology advances, coupled with growing pressure from investors and the market, prompted BASF to reevaluate those goals, Brudermüller said Friday.
"I'm receiving letter after letter from our customers, saying by this or that deadline we need your products to be CO2-neutral," he said.
Over the last two years, BASF's competitors, such as Dow Inc (NYSE: DOW ) and DuPont de Nemours Inc (NYSE: DD ), have pledged to be net-zero by 2050, which is in line with the Paris climate agreement, Reuters noted.
The company, whose products include catalytic converters, insulation foams, coatings and engineering plastics, operates six Verbund sites — where production plants, energy and material flows, logistics and site infrastructure are all integrated — as well as 361 additional production sites in more than 90 countries.
BASF said, "At the heart of the long-term transition toward net zero CO2 emissions by 2050 is the use of new technologies, which will replace fossil fuels such as natural gas with electricity from renewable sources. Most of these technologies are being pioneered by BASF in collaboration with partners and are currently in a pilot stage."
Calling climate change "the greatest challenge of the 21st century," Brudermüller said BASF is "convinced that ultimately all players involved will work together to make this once-in-a-century transformation economically successful."
"This also includes consumers accepting higher prices for CO2-free products throughout the value chain to offset higher operating costs and additional investments. To achieve this, we need new cooperation between industry and policymakers that leads to positive, outcome-oriented regulations and preserves our international competitiveness," he said.
_____
Source: Equities News