Ball with Billy
Chris Lahiji Follow |
Indexes all ended the week down slightly, in what was the tightest grouping in recent memory. A little surprising considering some of the big names that reported.
Dear Patrons,
This may be the longest update I ever write, and it should compensate for the past few weekends of anemic commentary.
We had a couple of buyouts: Mattersight, the profitless lump, for a meaningless premium, and the domain goto.com was sold for $2.5 million to Gotomeeting.com
I'm still waiting for someone to buy the most precious domain name of all time: http://www.lahiji.com
Genprex (GNPX) signed up for our June conference hoping the garner up some interest late last week. We told management that the company would be well received.
This week, the stock was up over 250%.
For all those companies on the sidelines, let this be a valuable lesson.
A stock can quadruple at any time, just like a stock can go down 95%
Erin Energy (ERINQ) was $2.70 a share on Monday. It closed Friday at .17 cents.
In my world, BK is when my homies want to grab something at Burger King and happen to be too lazy to spell it out.
BK in the financial universe is far, far, worse. It does not mean flame-broiled Whopper. It means bankruptcy. The news from Erin came at an unusual time. Most energy companies are hitting 52-week highs. Gas is $4.00 a gallon at some stations here in Northern California.
I'm so close to leasing this car.
I know my Dad will criticize me for not having a pair of "tennis" balls if I drive something that you can't pour oil into. But it's tempting now that gas prices are so damn high...again.
However, no news was as significant as Wellness Lifestyles (WELL.v). Wellness was a company that made its debut on our Virtual platform last month. You know, 57 companies over three days.
It was also the one company that perhaps had the most "buzz" after the online presentation.
A couple of things have changed for the company over the past sixty days.
Hamed Shahbazi became the Chairman and CEO of the company. Hamed was previously the CEO of Tio Networks (TNC.v) which was sold to PayPal last year and was one of the biggest winners to ever present at the events.
A lot of people made money (ourselves included), but the news announcement this week was truly rarified air.
Wellness announced that it had raised almost $7.5 million dollars in their private placement, at .33 cents a share. My lucky number.
Hamed plunked down some of his own cash, to the tune of $1.8 million dollars. After reading this, I'm never picking up the dinner tab with him again.
I'm ordering a double fillet (medium), Opus One, a box of cigars, an entire cheesecake, leaving 33% gratuity, and then going to the restroom once I see the waiter bring the check.
But that is not even the big news. Li Ka-Shing, the world's 23rd wealthiest man also decided to partake in the private placement.
Billionaires typically do not invest in micro-cap companies. The reason is simple. Why in the hell would someone with a net worth of thousands of millions of dollars, invest in something that is worth only tens of millions of dollars.
I'll ask Hamed to next time he buys us dinner.
Wellness doubled this week, and the company is also confirmed to present in June.
For full disclosure purposes, Tio compensated us annually for years to present, Wellness has compensated us to participate at our June Invitational, and Hamed has never had to pick up a check when we are dining.
An Invitational Update
Over 200+ companies are slated to present at our June Invitational. As more of them lock themselves in, we expect to send out the preliminary list on Friday.
For those who are trying to attend the conference for the first time and are looking for a badge, passes are limited to begin with because we host the event at a smaller venue than most other conferences.
Most patrons come back every year as well, limiting the number of new people we can invite.
However, for the first time ever, I am releasing the five questions we ask internally to grant a spot to any event we host.
Questions
1. How long have we known this person?
2. Do they know anyone that we know, and how well?
3. Would they benefit the community more than they would benefit themselves?
4. Have they ever supported us in the past?
5. Do they wash their hands throughly after using the restroom?
In recent years, people who have been turned down have become more and more irascible.
I've gotten flowers, alcohol, letters, a signed Andre Agassi tennis ball, death threats, a bicycle cap, and a crazy woman calling me at 3 in the morning repeatedly.
Unlike most other conferences, we actually connect with everyone, even the crazy lady who called me at 3 A.M.
In the world today, most individuals just delete your messages and never give you a response, regardless of how eloquent or kind or well thought out your outreach is.
My favorite person to reach out to is a gentleman who has turned us down almost 30 times. He is an investor, hates my guts, and is very successful at what he does.
The difference is he contacts me back!!!! He says "no." The man has rejected us by phone, fax, e-mail, and greetings card for the past decade.
One of my favorite comedians, and fellow garden hacker, is Larry David.
His best jokes describes a type of person being mentioned up above.
"You know who wears sunglasses inside?"
Blind people and a-holes.
Ball with Billy
My favorite definition of "friend" is from Urban Dictionary.
A friend is someone you love and who loves you, someone you respect and who respects you, someone whom you trust and who trusts you. A friend is honest and makes you want to be honest, too. A friend is loyal. Both in good times and bad.
Out of the 5,000 people that we have come across in the past sixteen years, I can say that only 50 or so are considered my "friends." Hamed is my friend. The guy editing this write-up and taking out all the controversial pieces is my friend. Pankaj Chandak is my friend. Scott Chamberlin is my friend. I still have your golf bag, Scott. It's nice. :-)
My wife is my friend. She has been with me during some very hard years. This business can be torture.
The one question I ask the most when it comes to relationships is simple.
"Would this person still be my friend if I didn't have anything to tangibly offer them?"
Try this with your own buddies and see who makes the cut.
One of my "friends" is someone I've had the pleasure of knowing for what seems like...honestly, I have no idea how long I've him or who introduced us in the first place.
When we meet, it is magic. Whether it's eating a hot dog from a local street vendor or Urasawa, the conversation always flows.
He is local to me, extremely accomplished in his craft, and very unassuming. The man lives a modest lifestyle but has some of the most incredible stories to share, and is honest in his view on everything, even if it means pissing you off.
In a weird way, we do not really share anything in common, yet our discussions always lead to laughter, insight, or accidental wisdom.
The man is also in love with a divisional rival than any real Texas Rangers fan despises, the Oakland A's.
The A's have somehow penetrated my life for better, and for worse.
The EVP of Operations and the protagonist in "Moneyball" is none other than Billy Beane.
Billy and I have lived in the same community for years. He is quiet, affable, and frequents the same Starbucks that I have recently become addicted too.
I even considered buying his house a few years ago, but it was not meant to be.
Let's go back to my Billy. He emailed a couple months ago declaring that he bought "season tickets" to the A's. Buying season tickets to the A's is like having access to unlimited car washes in Seattle.
"The Rangers are in town. Let's go see them."
My logic was, "why not? I needed to get my mind off of stocks for a few hours anyway."
The game that we went to earlier this month was historic, and not for a good reason. 47,710 people can be seated for an A's game.
It was the smallest crowd they have had in 15 years.
The San Francisco Chronicle said that 7,416 people watched this game. I think the number was closer to 746.
Billy and I switched seats maybe 10-15 times during the game. No one minded, because no one was actually there.
Whether it was right below third base, near home plate, or in the nose-bleeds, we had a good time nonetheless.
The Rangers lost because they suck, but the memories shall last forever.
If you want to see how good your relationship is with someone, go to a baseball game and root for the other team.
CL
A Wee Bit of News from the Week:

Aqua Metals ($AQMS) Announces Executive Management Succession and Board Enhancement
Safeguard Scientifics ($SFE) Announces Agreement with Sierra Capital
Travelzoo ($TZOO) surged on First Quarter 2018 Results
Ormat (ORA) Closes Acquisition Of U.S. Geothermal (HTM), We Shall Miss Our Friends from Boise
Slap on the wrists....Altaba, Formerly Known as Yahoo!, Charged With Failing to Disclose Massive Cybersecurity Breach; Agrees To Pay $35 Million
MicroVision (MVIS) Ships Samples of Next Generation of High-Resolution MEMS Scanner, Been One of the Most Discussed Names in Micro-Cap Tech for Years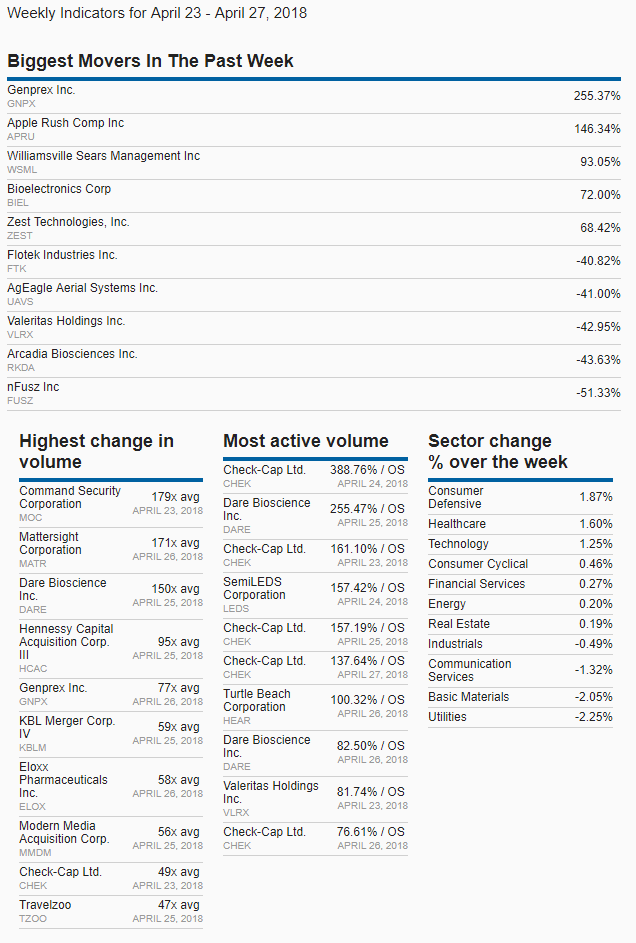 DISCLOSURE: The views and opinions expressed in this article are those of the authors, and do not represent the views of equities.com. Readers should not consider statements made by the author as formal recommendations and should consult their financial advisor before making any investment decisions. To read our full disclosure, please go to: http://www.equities.com/disclaimer
Companies