~ Axsome's AXS-05 has a novel multimodal mechanism of action that is different from all currently marketed antidepressants ~
The attention of large and mid cap biotechnology investors will be squarely focused this week on JP Morgan's 37th annual Healthcare Conference at the venerable Westin St. Francis in San Francisco, as the timing of the event serves as a reliable window for notable corporate and clinical news. We thought the blockbuster Bristol-Myers Squibb BMY – Celgene CELG deal announcement last week was a harbinger of what could be an active M&A year, and Lilly LLY showed this morning that at least another deal was indeed in the works with its announcement that it was acquiring Loxo Oncology LOXO for $8 billion. The $235 per share, all cash transaction, represents a 68% premium over Friday's close.
We're more intrigued with the Biotech Showcase conference occurring just a five-minute walk away at the Hilton San Francisco Union Square, as this event focuses on small and mid caps as well as venture and angel-funded private companies. The impact of news released around this event has the potential to be significantly more impactful to the fortunes of these companies and their investors.
Axsome Therapeutics
Axsome Therapeutics AXSM, which will be making its presentation at Biotech Showcase on Wednesday, Jan. 9, announced this morning that its lead candidate, AXS-05, met the prespecified primary endpoint and significantly improved symptoms of depression in the Phase 2 trial in major depressive disorder (MDD). AXS-05 is Axsome's proprietary combination of dextromethorphan (45 mg) and bupropion (105 mg). Bupropion is a well established antidepressant, currently marketed as Wellbutrin and Zyban among other brands. The results in 80 adult patients with confirmed moderate to severe MDD showed highly statistically significant reduction in the Montgomery-Åsberg Depression Rating Scale (MADRS) total score, as compared to bupropion alone.
At Week 6, AXS-05 demonstrated a 17.2 point reduction in the MADRS total score compared to a 12.1 point reduction for bupropion alone
AXS-05 rapidly reduced depressive symptoms, demonstrating a statistically significant improvement over bupropion on the Clinical Global Impression-Improvement scale (CGI-I) as early as Week 1
Starting at Week 1, AXS-05 achieved numerical superiority over bupropion on the MADRS total score, with statistical significance achieved at Week 2 and maintained at all time points thereafter
At Week 6, 47% of patients who received AXS-05 achieved remission, prospectively defined as a score of 10 or less on the MADRS, compared with 16% of patients who received bupropion alone.
The MADRS score is a commonly used, accepted regulatory endpoint for depression. The 10-item, validated rating scale is used in clinical research to rate the severity of a patient's depression by probing mood, feelings of guilt, suicide ideation, insomnia, agitation, anxiety, weight loss and somatic symptoms.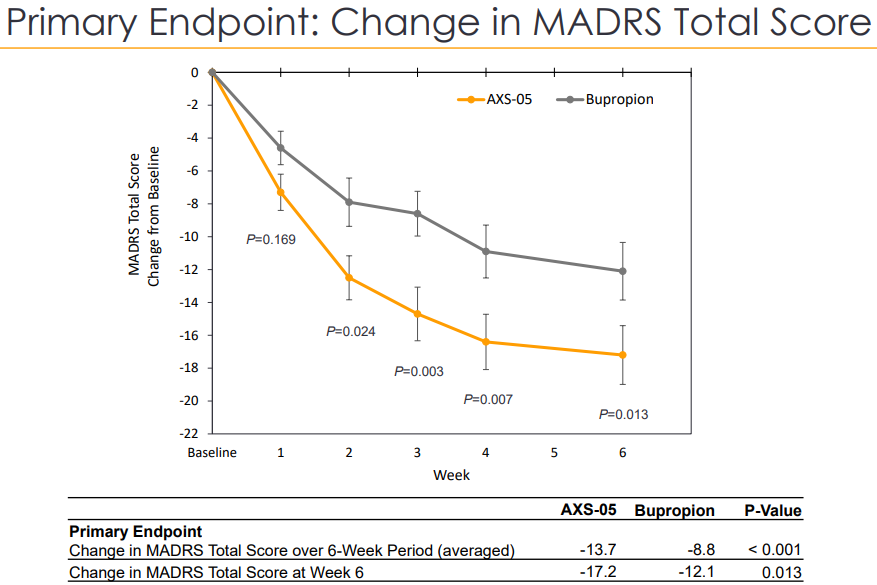 Source: Axsome Therapeutics presentation, Jan. 7, 2019
AXS-05 for major depressive disorder (MDD)
The clinically meaningful improvements in depressive symptoms seen with AXS-05 in this study were achieved versus an active comparator that is a well-established antidepressant, as early as only one week after initiation of treatment. Data show currently marketed antidepressants fail to provide adequate treatment response in about two-thirds of treated patients. An estimated 16 million Americans suffer from major depressive disorder each year. As an oral NMDA receptor antagonist with multimodal activity, AXS-05 could provide a new approach to treating this potentially life-threatening condition.

– Professor Maurizio Fava, MD, Executive Vice Chair, Department of Psychiatry, Massachusetts General Hospital and Associate Dean for Clinical & Translational Research, Harvard Medical School.
MDD is a leading cause of disability, and a major contributor to overall disease burden worldwide. As many as 70% of patients have an inadequate response to current first-line therapies, and up to six to eight can elapse until any clinically meaningful response is achieved. Notably, all currently approved MDD therapies act primarily on the reward pathways of the brain—dopamine, epinephrine, norepinephrine and serotonin. Axsome's AXS-05, in contrast, is an oral NMDA receptor antagonist with multimodal activity. The NMDA (N-methyl-D-aspartate) receptor is a glutamate receptor in the brain, critical for controlling memory function and synaptic plasticity, or changes in synaptic strength.
AXS-05 is an example of Axsome's commitment to address significant unmet needs in CNS disorders through innovation. There have been no new significant pharmacological approaches in the treatment of depression over the past 30 years despite its growing contribution to the overall global burden of disease. If approved, AXS-05 would be the first orally administered NMDA receptor antagonist, or glutamate receptor modulator, for the treatment of depression. This novel mechanism of action and AXS-05's multimodal actions are different from the profile of all currently marketed antidepressants. We look forward to the continued evaluation of the potential of AXS-05 through our ongoing late stage clinical trials in multiple large indications with limited treatment options.

– Cedric O'Gorman, MD, SVP of Clinical Development and Medical Affairs, Axsome Therapeutics.
AXS-05 is thought to help enhance synaptic connections and improve the communication between brain cells in people with major depressive disorder. In addition, AXS-05 has been shown to enhance serotonin, noradrenaline and dopamine levels, while also displaying anti-inflammatory properties, which may be relevant to treating MDD.
Pipeline

Axsome is also investigating AXS-05 in ongoing Phase 3 trials in Treatment Resistant Depression, which is more refractory and affects a different population than those afflicted with MDD, and in agitation in patients with Alzheimer's disease. The company is also studying AXS-05 as a potential smoking cessation treatment and has several programs in other disorders of the central nervous system.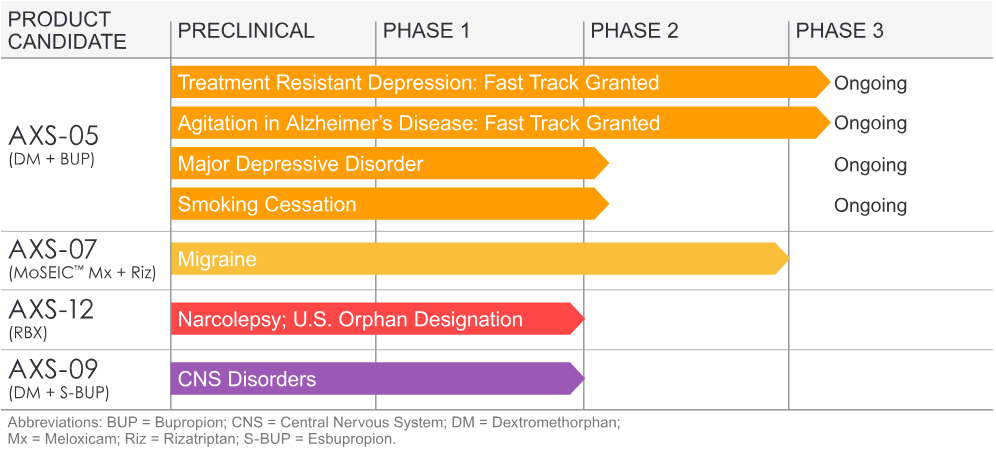 The company also has a pain and primary care business unit that is pursuing therapies for osteoarthritis, chronic back pain and rheumatoid arthritis.

Source: Axsome Therapeutics website
The demonstration of a significant and rapid antidepressant effect with AXS-05, coupled with favorable safety, point to a differentiated clinical profile. These data also suggest that AXS-05 has important biological activity and support the continued development of this novel multimodal agent in MDD as well as in other neuropsychiatric indications. These results build on the positive interim futility analyses for the Phase 3 trial of AXS-05 in treatment resistant depression and the Phase 2/3 trial of AXS-05 in Alzheimer's disease agitation. The topline results of the ongoing Phase 3 trial of AXS-05 in treatment resistant depression, anticipated later this quarter, should add to the body of clinical data with AXS-05 in mood disorders.

– Herriot Tabuteau, MD, CEO, Axsome Therapeutics.
Investment issues to consider
AXSM stock has leaped on this Phase 2 data news and is currently trading in record volume at $7.15 in mid afternoon after peaking at $8.89 today, a level it hasn't seen since Q4 2016. The stock closed Friday at $2.63 with average daily volume of about 319,000 shares over the previous three months, but nearly 45 million shares have traded today as of 2:30pm ET. Axsome only had 29,813,168 shares outstanding as of Nov. 2, 2018, 29% of which is held by executive management, the board and 5% holders.
The company has an accumulated deficit of about $98 million through the end of Q3, and had about $24 million in cash at that time, which includes the approximately $8.8 million it raised in a registered direct offering with institutions and accredited investors on Sept. 27, 2018. Axsome stated in its latest Form 10-Q that it expects the current cash to fund operations into Q1 2020.
While we would obviously look for the stock to consolidate somewhat as volume normalizes once the conference week is in investors' rearview mirrors, the current market capitalization of about $213 million does seem justified given the unique mechanism of action of AXS-05, the positive Phase 2 data, the potential addressable market size for a new, fast-acting, effective treatment for depression and several expected additional data readouts in 2019 on Axsome's other pipeline programs.
Please email us at [email protected] to see our Case Studies and Testimonials.
Please click here for information on our equity trading platform.
Please click here to receive our free daily newsletter.