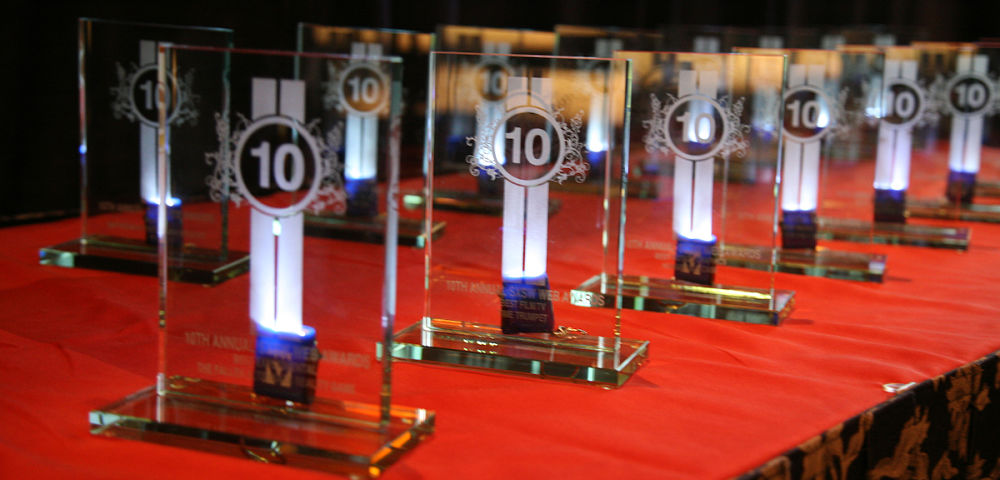 Image via Scott Beale/Flickr CC
Entering awards for your company, product, service, or for people within your company, is a public relations strategy that can help build your brand. Awards instill trust and generate a positive buzz.
Are you considering creating an awards strategy? Read on to find out the pros and cons, what to look for when entering awards, and the benefits of winning corporate and professional awards.
Evaluate the Pros and Cons of Entering Awards
To enter an award, or not to enter an award? A lot of PR professionals and industry leaders struggle with this question. There are many awards competitions out there for people and businesses; submitting to every single one is not practical. The chances of winning, the cost, and the employee time to submit need to be taken into consideration. Remember, many competitions have submission fees, and in some cases, if you win, you may be asked to purchase trophies or buy dinners at an awards gala.
Start your strategy by building a list of potential awards you would like to submit to. Get your coworkers and the team involved and review the pros and cons of each award. Ask yourselves if winning the recognition will help the company profile. Get everyone's feedback. As a PR and marketing professional who has seen the benefits of corporate awards, I know it can also be a great team-building experience as everyone has the same goal—to win!
What to Look for when Entering Awards Competitions
What factors should you and your team consider? Make a list of what you hope to achieve from entering and possibly winning awards. Below are some key factors that you should keep in mind:
Be mindful of the rules. The criteria for winning awards is an important part of the process. You don't want to go through the trouble and costs of entering, only to discover you don't qualify. Things to consider are launch dates, the size of your company, the region, and other factors listed in the rules.
Submit the items requested the proper way. Make sure the materials are prepared correctly and are easy for the judges to understand. Awards submissions are like a sales presentation. You are selling the judges on your submission. Be sure that everything is presentable and organized for them.
Enter on time. Awards have deadlines, and you need to be aware of them. Don't wait until the last minute to enter, as you won't put your best foot forward. Also, many awards have early bird entry points. Getting your materials submitted early often means saving money on submission fees.
Research the contest before entering. Beware of scams and awards that do not have a good reputation. Winning an award helps build your brand, and you don't want your brand associated with one that doesn't portray you in a positive light.
The Benefits of Winning Awards
What can winning an award do for you and your business? There are many benefits. Understanding them will help you strategize. Here are the some of the top benefits of being an award-winner:
You get publicity. This might seem obvious, but all too-often I see companies who win awards neglect to capitalize on the PR it generates. Send out a press release and put the award on your website and social media. Plus, the award website usually lists you as a winner and makes an announcement. Leverage your win every way you can.
It stimulates interest in your product or company. Consumers and clients will notice you, and this can help build your reputation. It builds trust and can impact sales, which is what your business is all about.
Awards inspire reviews and word of mouth advertising. My company specializes in book promotion, and winning a book award often kicks off a domino effect. Authors often see more book reviews on sites like Amazon and Barnes & Noble, and this helps lead to more awards and accolades. It is similar for consumer goods and service providers. There is a general word of mouth buzz that happens when you win an award. Remember, other people talking about you can be more valuable than a paid advertising campaign.
You may make some money. Some awards come with cash prizes, or other perks like expenses paid for a trip to the awards ceremony.
Getting recognized for your hard work is probably the best feeling for a business leader or entrepreneur. While it is natural to feel humble, taking a moment to be proud of one's accomplishments can be very fulfilling. You and your team should feel proud when your company, product, or a teammate, is recognized. It is a time to celebrate and reflect on all you've done to get to where you are.
If you want advice on winning awards and recognition, or have questions about public relations and promotions, speak up in the comments. Please feel free to share award strategies and success stories that you and your company may have had.