486,000 burn patients receive medical attention each year in the US, according to 2016 estimates from the American Burn Association (ABA). The ABA's 2017 National Burn Repository Annual Report collected 42,402 records of hospitalizations due to burn injuries for the previous year. These patients often endure further trauma from the existing standard of care, which for decades has involved skin grafts that are painful both during and after the procedure, extended hospitalizations, significant scarring and risk of infection. Severe burns frequently require grafts from large areas of the body that themselves require lengthy healing time. The average cost of a hospital stay for a patient suffering total body surface area (TBSA) burns of over 40% is nearly $800,000, requiring over 59 days of hospitalization.
We've been following Valencia, California, based Avita Medical AVMXY since the company received FDA approval in September 2018 for its RECELL autologous cell harvesting system to treat severe thermal burns in patients 18 years of age and older. The RECELL System, which the company already markets in Europe, China and Australia, uses a small amount of a patient's own skin to create a "Regenerative Epidermal Suspension" or RES that includes keratinocytes, fibroblasts, and melanocytes, which play a critical role in wound healing. This suspension is administered via spray to regenerate natural skin at the point of care in as little as 30 minutes, providing a new way to treat thermal burns.
The two
clinical trials supporting the FDA approval demonstrated in 131 patients that the RECELL System required substantially less donor skin than required with conventional
split-thickness autografts to achieve closure of severe burn wounds. An additional 155 patients were treated in compassionate use and continuous access programs.
The RECELL System can be used to prepare enough RES to treat a
wound up to 80 times the size of the donor skin sample
, meaning a skin sample the size of a credit
card can be used to treat a wound that covers a patient's entire back. To date, over 7,000 patients have been treated in a real world setting with RECELL.
During the pivotal clinical trial, patient donor skin
required to be harvested to treat burn sites using the RECELL System was 97.5% less than the amount
harvested using standard of care
, resulting in a statistically significant reduction in patient-reported pain, increased patient satisfaction and improved donor scar outcomes. Despite the statistically
significant reduction in donor skin used, the burn sites treated with RECELL
achieved definitive closure comparable to the burn sites treated with standard of care.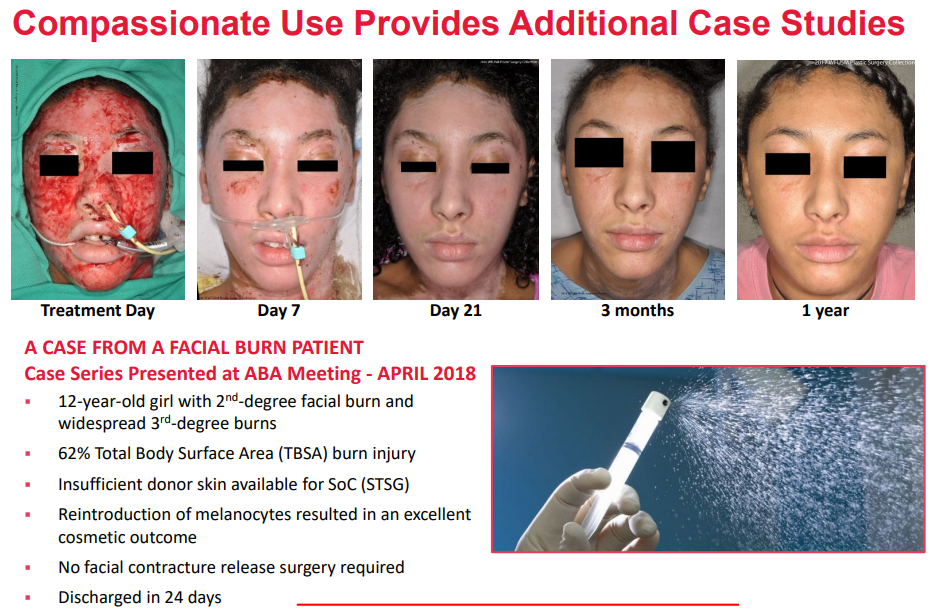 Source: Avita Medical
The RECELL System is a significant advancement in how we treat patients with burns. Dramatically reducing the amount of donor skin needed to treat second- and third-degree burns has
important implications for pain, scarring and costs of care, while still providing comparable healing to the
current standard of care. Additionally, the potential reduction in mortality is extremely promising.


– James H Holmes IV, MD, FACS, Wake Forest Baptist Medical Center.
Avita Medical has been actively fulfilling orders in response to market demand, and the commercial team is now in active discussions with nearly half of the 134 burn centers across the US. Each member of the sales team has an average of 16 years of burn care experience in the field, and all have been involved in the previous launch of a new
product. Avita's Clinical Training Specialists are all credentialed clinicians with first-hand burn
experience, and the company has already made significant progress in preparation of the national launch:
36 burn centers have begun the purchase authorization process
25 burn centers have been trained and certified in the use of the RECELL System
12 accounts have already placed orders and have received commercial shipments
We are pleased that in advance of our market launch and without any direct promotional effort the clinical and economic benefits of the RECELL System have generated strong interest and sales orders. Based on the pre-promotion demand, we are excited to see the response now that our full sales team of 20 has been deployed.

– Erin Liberto, Chief Commercial Officer, Avita Medical.
Pipeline
The company is pursuing numerous indications beyond severe thermal burns, for which Avita already has approval outside the US. One of the largest areas of need is in pediatric burns, which account for nearly one-third of all burns. The majority of pediatric burns are scalds, and Avita initiated pediatric clinical studies in Q3 2018. Early case studies show significant promise.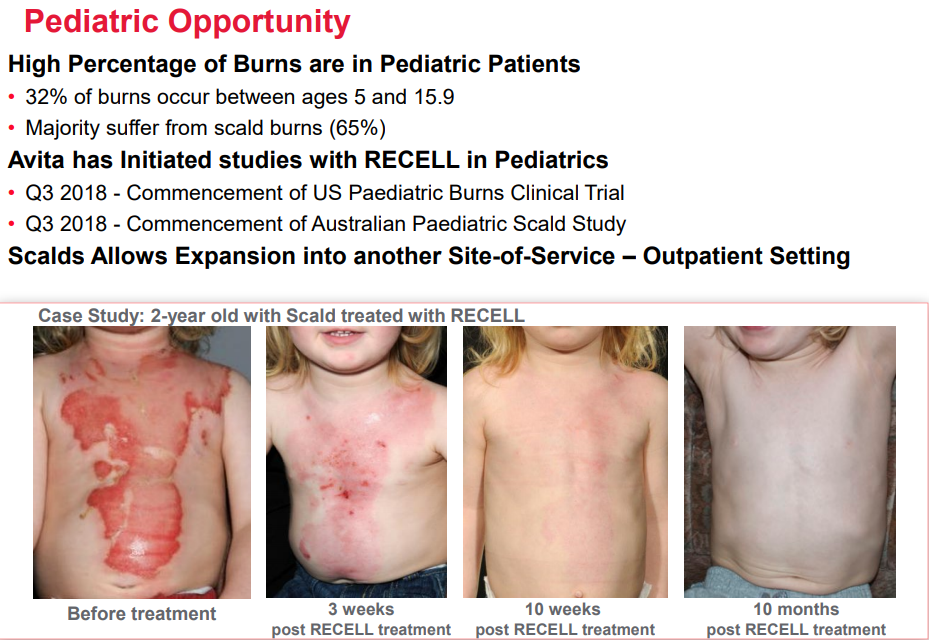 Source: Avita Medical
Avita has approval outside the US in these indications:
Europe: burns, chronic wounds, scars and vitiligo
China: Burns, acute wounds, scars and vitiligo
Australia: Burns, acute wounds, scars and vitiligo.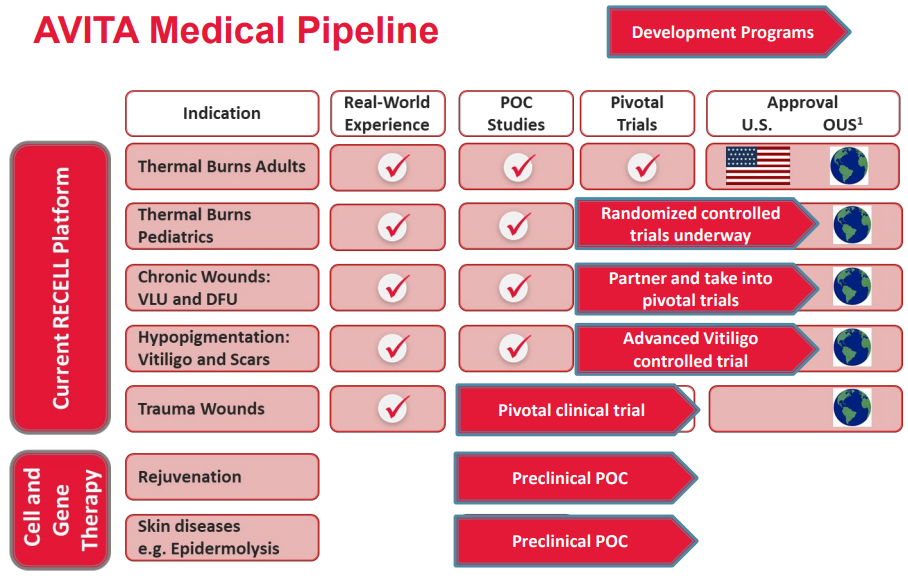 Source: Avita Medical
Investment issues to consider

Avita Medical common stock trades on the Australian Securities Exchange (AVH), while its ADRs trade on the OTCQX International. Each ADR represents 20 ordinary shares. Australia sees about 60% more market value traded than the US, but we expect this gap to narrow somewhat as the company's nationwide US product launch has begun. The ADRs closed Friday at US$1.88, giving the company a market value of about US$158 million. Avita has stated that it desires a Nasdaq uplisting in 2019, which should also serve to narrow the volume gap between the ADRs and ordinary shares.
The company announced this past week that, as approved by the shareholders at its annual general meeting, it has closed on the second tranche of an institutional placement that raised AUD 40 million (USD 28.7 million) in equity financing. The majority of the company's revenue to date has come from its contract with BARDA, the Biomedical Advanced Research and
Development Authority within the US Department of Health
and Human Services. Avita received AUD 9.7 million (USD 6.9 million) from BARDA in the fiscal year ended June 2018, while generating only AUD 1.7 million (USD 1.2 million) from product sales.
Avita has recognized a total of about US$80 million from BARDA to date, covering research and development and, most recently, the FDA application for RECELL and the Continued Access and Compassionate Use programs for US patients while the system was under review. The company has also used BARDA funds toward the development of a health economic model by a major health care information and technology provider to quantify the economic value of the RECELL System versus standard of care for the treatment of severe burns. The model can be tailored to patient populations relevant to individual hospitals and healthcare systems. Avita projects that a burn center with 200 patients would reduce annual total treatment costs from $43.3 million to $30.3 million, saving 30% or $13.0 million, using the RECELL system.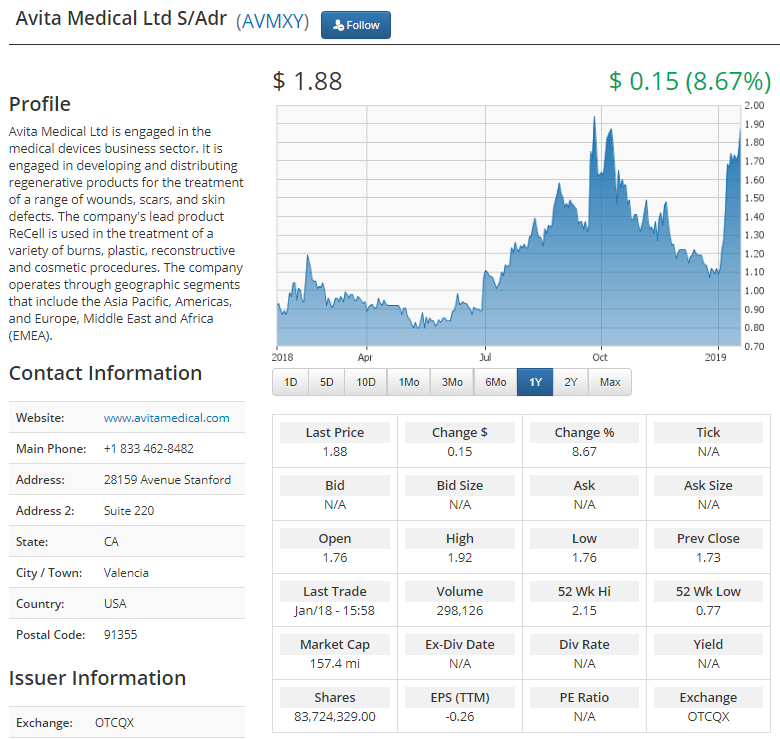 Please email us at [email protected] to see our Case Studies and Testimonials.
Please click here for information on Tradier, our equity trading platform.
Please click here to receive our free daily newsletter.