AVEO Oncology Shows Positive Phase 3 Results in Renal Cell Carcinoma
Edward Kim Follow |

Renal cell carcinoma is the most common type of kidney cancer affecting adults, in which cancer cells form in the tubules of the kidneys. Over 63,000 new cases of kidney cancer will be diagnosed in the US in 2018, according to the American Cancer Society, and about 15,000 people will die from the disease. 338,000 people worldwide are diagnosed with kidney cancer each year, according to the International Kidney Cancer Coalition.

Cambridge, Massachusetts, based AVEO Oncology AVEO is developing a pipeline of therapies for cancer and other areas of unmet need. The company announced positive topline results after the close yesterday from the primary analysis of its Phase 3 "TIVO-3" trial comparing tivozanib to sorafenib (marketed as Nexavar by Bayer and Onyx) in 351 subjects with highly refractory advanced or metastatic renal cell carcinoma who have failed at least two prior treatment regimens. The primary endpoint of the study was achieved, tivozanib demonstrating a statistically significant benefit in progression-free survival (PFS). Patients on tivozanib showed a 44% improvement in median PFS and 26% reduction in risk of progression or death. According to AVEO, this was the first and only positive result from a Phase 3 study in third and fourth-line renal cell carcinoma. The company plans to file a new drug application with the FDA in about six months.




Source: AVEO Oncology


Tivozanib is an oral, once-daily, vascular endothelial growth factor (VEGF) tyrosine kinase inhibitor (TKI) that was approved in August 2017 in the European Union, Norway and Iceland for the treatment of adult patients with advanced renal cell carcinoma. VEGF is a key mediator of new blood vessel development (angiogenesis), which can fuel the growth of cancer in the body, while tyrosine kinases play a critical role in the signaling of growth factors such as VEGF. Tivozanib is a potent, selective and long half-life inhibitor of all three VEGF receptors and is designed to optimize the blocking of VEGF, thereby inhibiting angiogenesis, while while minimizing off-target toxicities. Tivozanib is marketed in the EU as Fotivda by EUSA Pharma, AVEO's European licensee.

It's been a long road for AVEO and tivozanib. In 2013, the FDA rejected AVEO's application for tivozanib, saying that the trial results were uninterpretable and inconclusive, and recommending that another Phase 3 trial be conducted. In 2015, the company decided to pursue approval in the European market for tivozanib, a decision which was rewarded by the drug's approval in 2017. It's been over seven years since the stock traded in the $20s, but this data from the most recent Phase 3 trial may give long investors reasons to participate once again, particularly at about a tenth of the former price.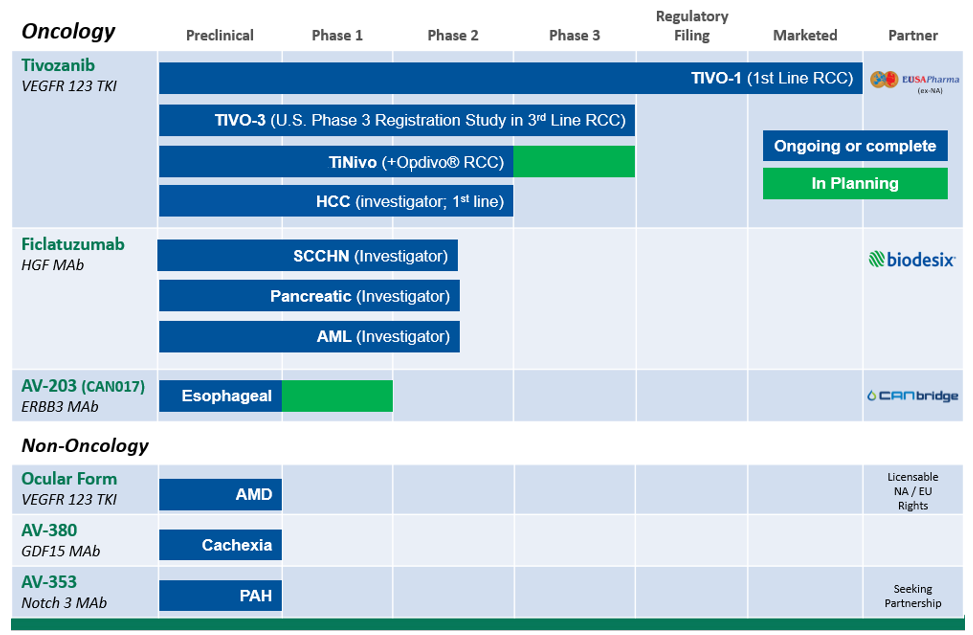 Please email us at content@equities.com to see our Case Studies and Testimonials.

Please click here for information on our new trading platform.
Please click here to receive our free daily newsletter.
DISCLOSURE: The author has no positions or any beneficial interest in, and has received no compensation from, the companies mentioned in this article.

---
The views and opinions expressed in this article are those of the authors, and do not necessarily represent the views of equities.com. Readers should not consider statements made by the author as formal recommendations and should consult their financial advisor before making any investment decisions. To read our full disclosure, please go to: http://www.equities.com/disclaimer.
Market Movers
Sponsored Financial Content